Byelections
Byelections results in 13 states, 1 UT: All updates
The counting of votes are underway in 13 states and one union territory, where byelections were held on Oct 30. Three Lok Sabha and 29 assembly constituencies went to bypolls last Saturday. The three Lok Sabha seats are Mandi (Himachal Pradesh), Khandwa (Madhya Pradesh) and the union territory of Dadra and Nagar Haveli. Five assembly seats in Assam, four in West Bengal, three each in Himachal Pradesh, Madhya Pradesh and Meghalaya, two each in Bihar, Karnataka, Rajasthan and one each in Andhra Pradesh, Haryana, Maharashtra, Mizoram and Telangana went to bypolls.
LIVE
Updates

Congress set to sweep Himachal Pradesh bypolls
02 Nov 2021, 04:22 pm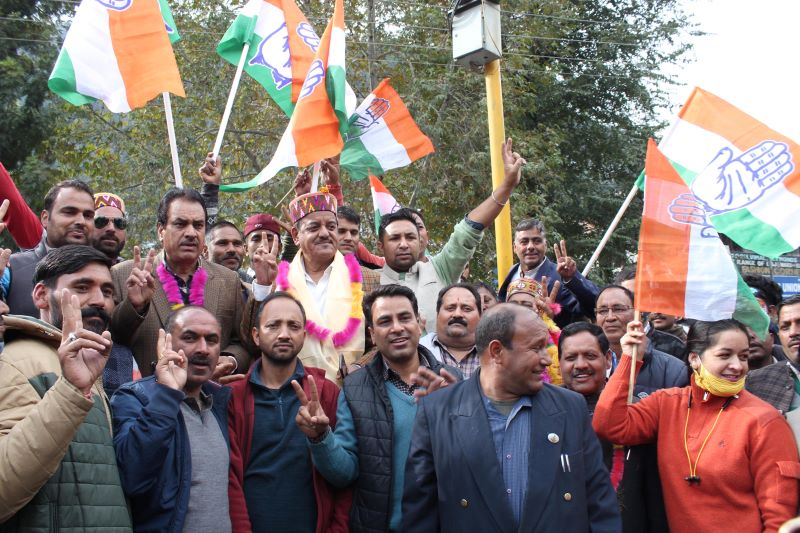 Congress looked all set to sweep the by-elections held on four seats in Himachal Pradesh, as the grand old party won the Jubbal Kotkhai Assembly seat by 6,104 votes, while it was leading on two assembly and one Lok Sabha seat, as final round of counting was on.
Congress candidate Pratibha Singh established a lead of above 8,000 votes for the Mandi Parliamentary segment against rival BJP candidate Brigadier Khushal Thakur in a neck-to-neck fight.
In the Jubbal Kotkhai Assembly, BJP candidate Neelam Saraik lost her deposit, as she garnered just 5.04% votes.
Congress candidate and former MLA Rohit Thakur won by 6,104 votes over BJP rebel Chetan Bragta, son of former BJP MLA Narendra Bragta.
In Fatehpur Assembly, the Congress candidate was leading by 4597 votes against rival BJP nominee Baldev Thakur in the triangular contest. BJP rebel and former Minister and MLA Rahan Sushant got 10626 votes and saved his deposit.
In the Arki Assembly by-election, Congress party candidate Sanjay Awasthi is leading by 5,047 votes to BJP candidate Rattan Singh Pal.
Congress seems to be retaining Arki and Fatehpur Assembly seat and likely to wrest the Mandi Parliamentary and Jubbal Kotkhai Assembly constituency.
Haryana: INLD leads in Elenabad
02 Nov 2021, 03:57 pm
INLD candidate Abhay Singh Chautala is leading in Haryana's Elenabad seat where bypoll was held last Saturday. 
Assam: BJP wins Mariani bypoll
02 Nov 2021, 03:55 pm
BJP candidate Rupjyoti Kurmi has won Mariani bypoll in Assam by over 40,000 votes. 
Rajasthan: Congress wins Dhariabad bypoll
02 Nov 2021, 03:54 pm
Congress candidate Nagraj Meena has won the Dhariabad bypoll in Rajasthan by 18,725 votes. 
TMC sweeps all four Bengal bypolls by record margins
02 Nov 2021, 03:45 pm
In another setback for the Bharatiya Janata Party (BJP), the Trinamool Congress (TMC) won all four byelections, which were held in West Bengal last Saturday, including two seats which were earlier won by the saffron brigade.
In a record margin, TMC candidate Udayan Guha won from Dinhata by over 1,64,089  lakh votes.
In Santipur, TMC's Braja Kishor Goswami won by a margin of 63,892 votes.
In Khardah seat, which fell vacant after the demise of TMC's winning candidate Kajal Sinha, West Bengal Minister Shobhandeb Chattopadhyay retained the party's seat winning by 93,832 votes.
TMC's Subrata Mondal won from Gosaba by a huge margin of 1,43,051 votes.
MNF wins Mizoram's Tuirial seat
02 Nov 2021, 02:17 pm
Ruling Mizo National Front (MNF) won Tuirial assembly seat.
MNF candidate K Laldawngliana defeated his nearest opponent of Zoram People's Movement (ZPM) candidate Laltlanmawia by a margin of 1284 votes.
According to the Election Commission, Laldawngliana secured 5820 votes while ZPM candidate Laltlanmawia received 4536 votes.
NPP leads in two seats in Meghalaya
02 Nov 2021, 01:20 pm
In Meghalaya, NPP has won Mawryngkneng, Rajabala assembly seats and UDP has won Mawphlang seat.
In Mizoram, MNF has won the Tuirial seat.
Congress leads in Mandi Lok Sabha bypolls
02 Nov 2021, 12:41 pm
Congress' Pratibha Singh leading with 5,955 votes against nearest BJP rival Bg Khushal Thakur in Mandi Lok Sabha bypolls. 
Congress leads in Himachal bypolls
02 Nov 2021, 12:40 pm
Himachal Assembly bypolls: Congress' Rohit Thakur leading by 4,985 votes against nearest rival Independent Chetan Bragta from Jubbal Kotkhai.
TMC wins in Dinhata by mammoth margin
02 Nov 2021, 12:38 pm
TMC candidate Udayan Guha has won from Dinhata constituency in West Bengal by a mammoth margin of over 1.63 lakh votes. 
Congress increases lead in Madhya Pradesh's Raigaon
02 Nov 2021, 12:27 pm
Madhya Pradesh's ruling Bharatiya Janata Party is leading in Khandwa parliamentary constituency; Prithvipur and Jobat assembly segments while the main opposition Congress increased its lead by a margin exceeding 1,400 votes in Raigaon assembly segment after seven to eight rounds of counting of by-election votes on Tuesday.
BJP leads in three Assam seats
02 Nov 2021, 12:17 pm
BJP candidate Phani Talukdar is leading by 27,203 votes in Bhabanipur assembly seat.
UPPL candidate Jiron Basumatary is leading by 14,890 votes in Gossaigaon seat.
BJP candidate Rupjyoti Kurmi leads by 2,874 votes in Mariani.
UPPL candidate Jolen Daimary leads by 18,681 votes in Tamulpur seat.
BJP candidate Sushanta Borgohain leads by 10,309 votes in Thowra seat.
Congress leads in Rajasthan bypolls
02 Nov 2021, 12:16 pm
Congress is ahead of the BJP in Rajasthan's Vallabhnagar and Dhariawad, where bypolls were held last Saturday. 
INLD leads in Haryana's Elenabad
02 Nov 2021, 12:14 pm
INLD candidate Abhay Singh Chautala is ahead of BJP's Gobind Kanda in Haryana's Elenabad. 
Shiv Sena leads in Dadar and Nagar Haveli
02 Nov 2021, 12:05 pm
Shiv Sena candidate Kalaben Delkar is leading in Dadar and Nagar Haveli Lok Sabha constituency. 
BJP-Congress neck-to-neck fight in Himachal's Mandi
02 Nov 2021, 12:03 pm
The BJP and Congress are closely fighting in Himachal Pradesh's Mandi. The BJP is ahead in one of three assembly seats which went to bypolls last Saturday. 
TMC leads in all four seats in Bengal
02 Nov 2021, 12:01 pm
West Bengal Chief Minister Mamata Banerjee-led Trinamool Congress (TMC) is leading in all four seats which went to the byelections Oct 30 in the state. While the TMC is leading by a huge margin in Gosaba and Dinhata constituencies, Banerjee's party is well ahead of the nearest rivals in Khardah and Shantipur.