Yaas
Image Credit: UNI
Cyclone Yaas: All Updates
The landfall process of Cyclone Yaas has started north of Dhamra and south of Balasore in Odisha, the India Meteorological Department said on Wednesday. The cyclone is also set to affect West Bengal. Since Wednesday morning, the coastal areas of Digha, Mandarmani in West Bengal were flooded by the high tides ahead of the cyclone landfall in the state.
LIVE
Updates

Cyclone Yaas may cross West Bengal by Wednesday evening
26 May 2021, 05:29 pm
After making the fall at Dhamra port in Bhadrak district in Odisha in the morning, the Cyclone Yaas is likely to cross West Bengal coast by Wednesday evening.
India Meteorological Department (IMD) said that the landfall and has brought heavy rains in the coastal areas of Odisha and West Bengal and likely to take at least another 24 hours before Cyclone Yaas degenerates in severity. It may be slightly lower than Cyclone Tauktae.
The severe cyclonic storm 'Yaas' lay centred at 1530 hrs IST today over northeast Odisha near latitude 21.65°n and longitude 86.65°e, about 30 km west-northwest of Balasore and 30 km south-southwest of Baripada, the officials further said, adding that it is likely to move northwestwards and weaken gradually into a cyclonic storm during next three hours.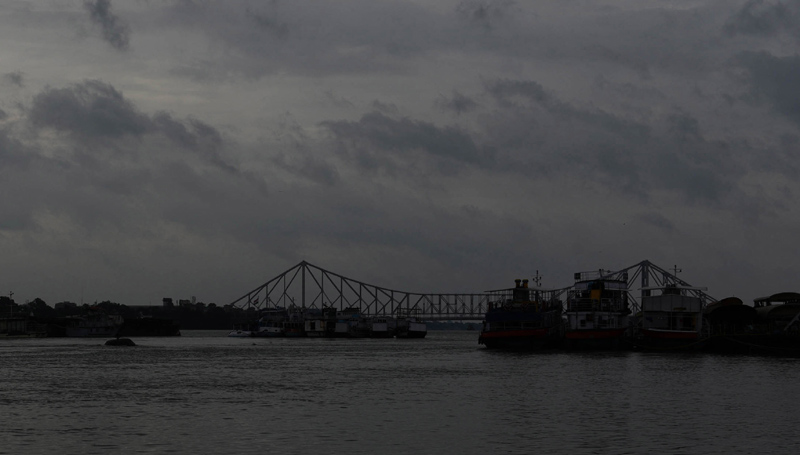 The Indian Navy, Air Force and NDRF teams have been deployed for the rescue operations and the Union Home Ministry is in touch with all states to provide the assistance if needed.
Over 10 lakh people have been relocated to storm shelters in Odisha and West Bengal. While other states such as Andhra Pradesh, Tamil Nadu and Andaman and Nicobar islands have also put a contingency plan in action, it is Odisha that is likely to be at the centre of the devastating storm, the officials said.
Cyclone Yaas: Large parts of West Bengal left inundated
26 May 2021, 05:01 pm
Rising river water levels due to the landfall of cyclone 'Yaas' have inundated large parts of West Bengal's coastal districts of Purba Medinipur and South 24 Parganas, as sea waves were seen touching coconut tree-tops and cars floating in floodwaters.
According to the state administration, massive damage occurred due to high tides. The Meteorological department said the tide height touched more than 5.5 meter in many places in East Midnapore and South 24 Parganas. Many places were flooded as a result of sea water entering the coastal villages in these two districts.
The seaside towns of Digha and Mandarmoni in Purba Medinipur and Fraserganj and Gosaba in South 24 Parganas were among the areas affected by a storm surge of more than 2 metres above the astronomical tide level.
The Indian Army Wednesday launched a rescue column to rescue 32 civilians stuck due to a surge in water levels in East Midnapore.
Seventeen Army personnel have been deployed in East Midnapore to evacuate people and to carry out the rescue operations.
"To provide immediate support to people in emerging situation due to #CycloneYaas, briefing, joint recce, liaison and coordination with West Bengal government has been completed. Rescue and Relief columns are pre-positioned across areas expected to be affected for immediate response," an Army official said.
The army teams have rescued a large number of people in Howrah. Logistics and medical aid are being extended to the locals.
According to the administration, the water level of Ganga is increasing in Kolkata also. Under the influence of Cyclone Yaas, rain lashed Kolkata on Wednesday. All lock gates have already been closed to stop the river water from entering into the city area. All flyovers have also been closed due to possibility of high winds accompanied by heavy rainfall.
Barrackpore in North 24 Parganas experiences a weather change, receives light to moderate rainfall and wind.
Eastern Railway General Manager Manoj Joshi said, "We've established dedicated round-the-clock control rooms. All trains have been cancelled. Sufficient storage of oxygen has been done for Covid patients. We've also positioned our diesel locomotives in case of overhead wiring failure.
Meanwhile, Skygazers in the city will miss an opportunity to watch a celestial spectacle on Wednesday evening with the overcast sky and cyclone Yaas set to obliterate a bigger, brighter full moon on a night when several parts of the world will view a total lunar eclipse.
"Catching a glimpse of the lunar eclipse would be difficult as it ends shortly after the moonrise in Kolkata. But what would have been spectacular is the full moon that will be 30% bigger and14% brighter than usual as it will be closest to the earth in its elliptical orbit at a distance of 3,57,309km against the average distance of 3,84,400km," said MP Birla Institute of Fundamental Research and MP Birla Planetarium director Debiprosad Duari.
Though a total lunar eclipse, it could have been only partially viewed from Kolkata between moonrise at 6.15pm and the end of partial eclipse at 6.22pm.
The next total lunar eclipse will occur on May 16, 2022, but it will not be visible from Indian subcontinent. The eclipse that can be viewed from India is on November 8, 2022.
Over 20,000 mud houses, temporary shelters damaged by Yaas: Bengal CM
26 May 2021, 03:04 pm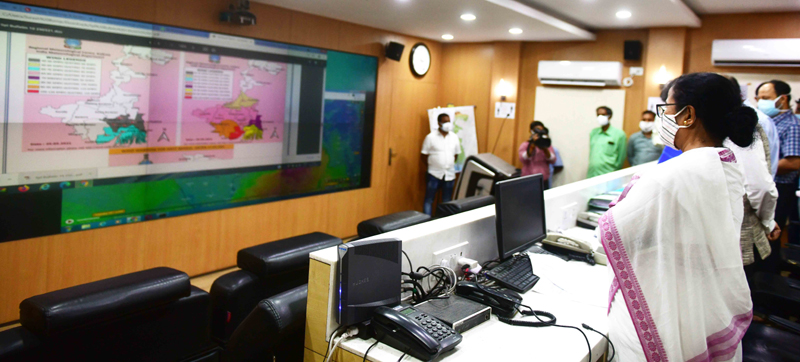 West Bengal Chief Minister Mamata Banerjee told reporters that about 20,000 mud houses and temporary shelters had been damaged in the state.
She said, "In Midnapore 70 km embankment flooded and in South 24 Parganas at least 15 areas, seawater entered into the villages."
"The people of Nandigram also called me some time ago. They said, the Sonachura and kendamari area already flooded," the Chief Minister said.
"Because of the high tide with the cyclonic storm, it caused havoc in the coastal districts. Already we evacuated 11.5 lakh people and requested them not to return to their house.
(Inputs and Image Credit: UNI)
Cyclone Yaas destroys tens of thousands of mud houses in eastern India
26 May 2021, 03:03 pm
Very severe cyclonic storm Yaas destroyed tens of thousands of mud houses in eastern India on Wednesday, forcing the closure of the busiest regional airport in the city.
As a precaution, Netaji Subhas Chandra Bose International Airport (NSCBIA) in the city has closed for operations from 8.30 am to 7.45 pm and no flights will be operating to or from Kolkata, officials said.
Very severe cyclonic storm Yaas weakened
26 May 2021, 02:52 pm
THE VERY SEVERE CYCLONIC STORM 'YAAS' (PRONOUNCED AS 'YASS') WEAKENED INTO SEVERE CYCLONIC STORM AND LAY CENTRED AT 1230 HRS IST OF THE 26TH MAY, 2021 OVER NORTH COASTAL ODISHA NEAR LATITUDE 21.45°N AND LONGITUDE 86.8°E, ABOUT 15 KM WEST-SOUTHWEST OF BALASORE. pic.twitter.com/rDLDgu4T3p

— India Meteorological Department (@Indiametdept) May 26, 2021
Sea waves near Digha beach
26 May 2021, 02:50 pm
Mamata Banerjee's meeting with Disaster Management on Cyclone Yaas
26 May 2021, 02:48 pm
Yaas is biggest cyclone ever: Bengal Minister Akhil Giri
26 May 2021, 02:07 pm
In an interview with News 18, West Bengal Minister and lawmaker from Midnapore district, Akhil Giri, said, "We haven't seen such a big cyclone ever. This is even bigger than Amphan."
Flyovers in Kolkata closed as a precautionary measure: Mamata Banerjee
26 May 2021, 02:05 pm
In her press briefining in the morning, West Bengal Chief Minister Mamata Banerjee said all flyovers in Kolkata have been shut to avoid any accident. 
(Image Credit: UNI)
Electric supply switched off in parts of Kolkata: CESC
26 May 2021, 02:00 pm
The CESC said, "Due to the rising water levels in the rivers due to high tide and out of abundant caution considering public safety, supply to the following areas have been switched off for the time being around 1 PM - Chetla Hat, Nepal Bhattacharya St, Kalighat Mandir Area, Apurba Mitra Rd, Sadananda Rd under Cal. South Region. 
"Supply will be restored as soon as the water recedes. Please bear with us."
Location of Army Rescue and Relief Columns
26 May 2021, 01:59 pm
West Bengal
- Total 17 Columns have been pre-positioned for assistance to State Administration.
- Two Columns at Nadia and West Midnapore.
- Two Columns at Purulia and West Burdhman.
- Two Columns at Jhargram and Bakura.
- One Column at Birbhum.
- Two Columns at Howrah and Kolkata Port.
- Two Columns at North and South 24 Parganas.
- Three  Columns at Kolkata East, central and East Midnapore.
- One Column for Kolkata South.
- One Column at Hoogly.
- One Column at Behala ( Kolkata).
Odisha 
- Three Columns and one Engineer Task Forces for Balasore.
Light to moderate rainfall expected in Odisha, Bengal: IMD
26 May 2021, 01:57 pm
"Light to moderate rainfall at most places with heavy to very heavy rainfall over Medinipur, South 24 Parganas and heavy rainfall at isolated places in Howrah, Hooghly,Kolkata & north 24 Parganas districts on 25th, extremely heavy rainfall at isolated places over Medinipur and heavy to very heavy rainfall at isolated places over Jhargram, Bankura, south 24 Parganas and heavy falls at isolated places over Purulia, Nadia, Murshidabad, east Bardhaman, Howrah, Hooghly, Kolkata, north 24 Parganas, Haldia, Darjeeling, Kalimpong Districts on 26th May and heavy rain at isolated places in Jhargram, west Medinipur, Bankura,  Purulia, west Bardhaman, Bhirbhum, Malda,  Darjeeling, Kalimpong, Jalpaiguri on 27th May," IMD said in a statement.
Evacuation done in West Bengal
26 May 2021, 01:57 pm
According to reports, large number of people have been evacuated from the coastal regions of West Bengal.
Landfall process started in Odisha
26 May 2021, 01:56 pm
"LANDFALL PROCESS started around 0830 hrs IST. At 0830 hrs IST, located about 40 KM SOUTH-SOUTHEAST OF BALASORE," the Indian Meteorological Department said in a tweet.
Sub: Hourly update in association with Yaas
LANDFALL PROCESS started around 0830 hrs IST.
At 0830 hrs IST, located about 40 KM SOUTH-SOUTHEAST OF BALASORE. pic.twitter.com/We7MYWufAo

— India Meteorological Department (@Indiametdept) May 26, 2021