Tagore songs album on bliss and Vedic hymns released
Kolkata, June 18 (IBNS): Anandam, an album of Vedic verses and hymns on bliss and Rabindranath Tagore's songs based on them, was released on Wednesday here by some of the popular cultural personalities of the city associated with the works of the Bard.
Starmark in association with Hindustan Musical Products Ltd.,hosted the event at its South City Mall outlet.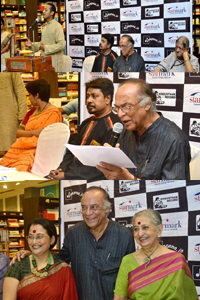 The album is of Vedic verses and humns on bliss and songs of Rabindranath Tagore, with a commentary in English.
At the launch a brief presentation was made by those who have contributed in the making of the album- Sayan Mukherjee (Vedic verses and hymns) , singers Debasish and Rohini Raychaudhuri and actor Barun Chanda.
"Today the album is getting released ,and I hope people will love it. I am thankful to everyone who have come to support it," said Debasish Roychowdhury.
The idea of 'Anandam' has come from the word 'ananda' which means bliss.The concept of 'Ananda' involves a sublimation and transcendence of both happiness and sorrow.
Educationist Bharati Roy speaking at the launch said: "I have cancelled my work and come here today because I love to hear Debasish and Rohini, they sing from the bottom of their heart. Secondly the theme is extremely beautiful. I wish the album a huge success."
TV personality and actress Chaitali Dasgupta was also present at the launch.
(Reporting by Tanusree Kar , image by Avishek Mitra)