Tata Sampann hosts masterclass to focus on the health benefits of Indian spices
Kolkata/IBNS: Part of Tata Consumer Products Limited, Tata Sampann, recently organized an online discussion and masterclass involving various food specialists to focus on the health benefits of Indian spices, one of the key ingredients marketed by the brand.
Celebrity chef Sanjeev Kapoor, new-age celebrity mother Mira Rajput Kapoor, nutritionist Kavita Devgan, and Dr. Manoj Nesari, Advisor (Ayurveda), Ministry of AYUSH, participated in the discussion.
Brand ambassador Sanjeev Kapoor, the creator of Tata Sampann's masala recipes, said, "Tata Sampann does not interfere with the state of natural oils of spices, which is why they're known to be loaded with wholesome goodness."
Said nutritionist and author, Kavita Devgan, "There's no better time than now to pay attention to your spice rack and revisit some age-old recipes that are known to build immunity."
"For instance, curcumin found in turmeric has anti-inflammatory properties and is known to support the immune system. Black pepper also has an impressive antioxidant effect that contributes to better immunity. Plus the natural oil and multiple antioxidants present in the spices add to their goodness," she said.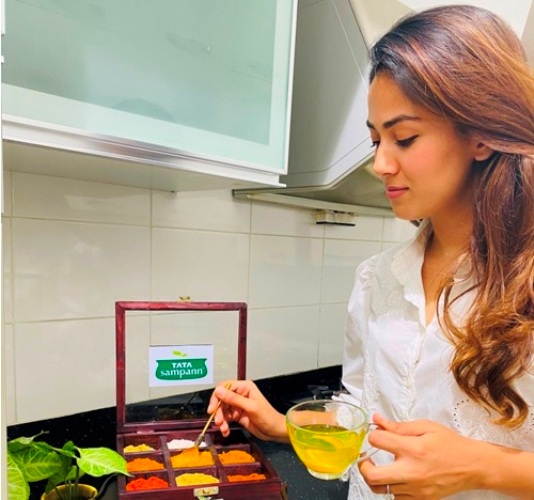 Mira Kapoor said, "My go-to spice for immunity-building is haldi. It is such a versatile ingredient and has been known for its immunity-building properties for centuries - it blends so well in any kadha. I ensure my family has immunity-boosting haldi-kadha daily - I believe it helps spice up our health from within and also the natural oils present in spices further add to their goodness."
Dr. Manoj Nesari said, "Medicinal plants commonly used as spices like Ginger, Turmeric, Cinnamon etc. are nature's gift to mankind. They help in digesting food, improving our immunity, in correcting cellular metabolism etc."
He also said that institutes under the Ministry of AYUSH as well as under other Union ministries have undertaken extensive research to generate clinical evidence as well as to identify their mode of action.
Tata Consumer Products is a focused consumer products company uniting the food and beverage interests of the Tata Group under one umbrella.