Kolkata's fusion food vegan restaurant Hakuna Matata celebrates fourth birthday
Kolkata: Hakuna Matata, a global fusion vegetarian restaurant, in Kolkata's iconic entertainment hub Park Street celebrated its fourth birthday recently in style, living up to the spirit of its title by screening "The Lion King" for its well-wishers and unveiling a few more mouth-watering dishes.
"Hakuna Matata" is our inspiration to present to you the vegetarian global fusion restaurant in the Heart of the city of joy," said its owner Prabhas Datta who invited his friends, associates, celebrities and media persons for an exclusive screening of "The Lion King" at the Quest Mall's luxurious movie theatre Insignia, Inox.
This phrase- Hakuna Matata- is the catchphrase of this all-time favorite globally renowned movie, "The Lion King", which re-released in 3D last month, just a couple of days before this food joint Hakuna Matata's 4th birthday on July 25.
"Paying a homage to our inspiration, Hakuna Matata celebrated its 4th birthday by treating all its stakeholders to this very movie by organizing a private screening," he said.
Celebrities like Arpita Chatterjee (actor and producer), Rita Bhimani (corporate PR expert), Nayantara Pal Chowdhury (Honorary Consul of Norway and business personality), Bridgette Jones (eminent Stylist) and Dolly Jain (eminent saree drapist) were present at the screening and the cake cutting by Datta and his wife.
"Hakuna Matata stands for more than just food. It endeavors to provide a whole new culinary experience to people, with a pinch of adventure and a dash of fun. Whether you groove with our sundowner beverages, sing away the blues at our karaoke events, or churn out yummy dishes at our chef's special culinary workshops, we aim to provide a platform for all. And the final cherry on the cake -the free WIFI – so that you make our place, your very own space!" said Datta.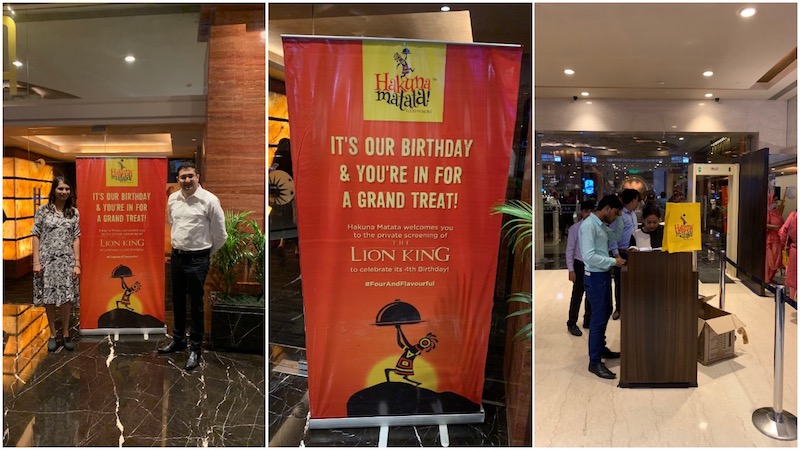 There was a lucky draw organized at the restaurant wherein lucky winners won tickets to this screening. Further, winners from various online contests also won this chance.
Since this movie is an animated child friendly movie, a few children from an NGO were taken to give them a beautiful experience.
It was a social gathering of friends and family, celebrities, media, bloggers & press, regular customers, contest winners and last but not the least children from NGO, said Datta.
The movie was followed by a Lion King themed cake-cutting ceremony and as a goodwill gesture, the invitees were acknowledged by gifting them with personalized gifts.
The upcoming all new fusion menu was unveiled too by giving a sneak peek glimpse of some of the mouthwatering dishes
Some of the mouthwatering names from the new menu are-
Activated Charcoal Paneer
Let's not burn the Green – Salad
Mushroom Galauti
Jackfruit Galauti
Vietnamese Summer Roll
Soya Ginger Udon etc.