Zoctr to grow into a 18-city operation in 12 months: Nidhi Saxena
Zoctr Health is creating India's first fully integrated Healthcare Aggregator Platform to address Home Health, Telehealth and Remote Monitoring based services using the iZoctr Website and Mobile App. Brain-child of a management professional with several years of professional experience in the IT Services industry and setting up a successful clinical research organisation, Karmic LifeSciences, Nidhi Saxena is fired up with a vision to cause a disruptive shift in the way healthcare is delivered in India by introducing a proprietary and fully integrated Home and Telehealth services with high personalization, affordability, accessibility and scalability. Zoctr aims to offer a seamless post discharge experience to Post Acute, Post Operative, Terminally ill and Chronic patients.
IBNS correspondent Supriyo Hazra caught up with her in Kolkata for a quick chat on her company and her future plans. Excerpts:

Was it any personal medical problem you faced that made you think about Zoctr?

I have been associated with the healthcare industry for the past seven-eight years. I quit my job in the US wanting to set up a business that has the potential to make a deep social impact. Healthcare was a natural choice for me. Moreover, it's a big business that is both under-served and inflation-proof.
A personal experience led to strengthening my conviction to start Zoctr. My father, who was operated at a well-known Delhi hospital, developed post surgery complications and the surgeon put his hands up. He needed a repeat surgery before things came under control. This experience helped me realise that post discharge, the hospital and doctors get busy attending to new patients. This is the time when the patient suffers from high emotional anxiety and pain and craves for attention. The patient's family does not get someone at the hospital to speak to. This is in sharp contrast to the West, where the entire treatment is outcome based.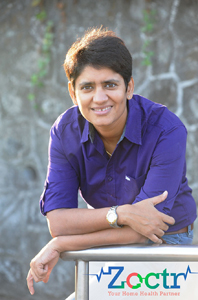 The hospitals can hardly solve medical conditions of in-patients like Parkinson's, Alzheimer's, or diabetes that goes out of control, among others. Hence the need for long term support and rehabilitation of the patients. This inflection point led to the start of Zoctr.

So was it the personal experience of your father that had brought you to start Zoctr?

Not really, but in some sense it strengthened my conviction that we were on the right course.

Do you think that this process of providing app-based medical support to patients is financially profitable for people who are running it?

It's a socially impactful field to venture into. We are an eight-month old company. While most dotcoms do very little for the first three years, in under a year we are already serving 600-700 patients. When a terminal cancer or stroke patient needs home support then it is the quality of the care that matters the most. The challenges are more on the execution and operations side. Selection and re-training of Nursing resources is one of them. Quality of professional ethics too need to be dealt with. Given a growing latent demand, process driven execution can lead to a profitable business.

What are the benchmarks you keep in mind while selecting staff and how to deal with complaints from your clients?

See, as it is said, there are good professionals and not so good professionals. There are certain people who do their work with full dedication, others are mostly callous and in some cases only a commercial consideration drives them. We focus on the training, psychographic profiling and police records of people getting associated with us. We take all these steps in advance. We also look at adding soft skills dimension, a big focus area for us. Hence, if we find the attitude of our nurse or doctors not up to the mark we will reject them. We also have a strong feedback mechanism. We take customer feedback over phone, e-mail and in person. Our coordinators are Zoctr employees and they also keep monitoring situations. In case, we come to know about any complaints then we take immediate action. We think about keeping our patients happy and this is something really important for our company. We also give importance to technology and there are situations of abuse which can be dicey and dangerous for the company. We keep video cameras for child care. We can track our resources on GPS and have provided for an emergency button in the app for our patients and staff. So, at the press of a button an emergency alarm is triggered and we get activated in five seconds. So, all these issues are very important and we are continuously looking to solve the challenges that we are facing.

What are the challenges you are facing while running an app?

The first issue that comes to my mind is user adoption. We have to keep in mind that how can I make my clients hooked to my app so that they visit the app often and eventually get used to it. Then there are crucial issues like ensuring a fine user experience. We are mindful that a portal that is slow to open, the user will log out quickly. So, the challenge is to constantly take feedback from end users and our team and then keep improving on it. We are a few weeks away from the live version and hopefully we will be able to solve all problems and challenges we are facing. Marketing and digital marketing are important drivers which we need to keep in mind while running the app.

Are you facing any challenge in the sector from other apps?

No, there is no direct competition between us and others as all of them have separate positioning. Say a portal focused on doctor appointment booking will give us competition only in that area. But in the 'comprehensive home healthcare segment' that we focus on there is no competition at all. We have a distinct advantage here.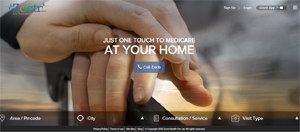 Why did you select Mumbai as the first place to launch Zoctr services

See, Mumbai is somewhere where I stay and it is our headquarters. It was a home base for us and the market is huge. In Mumbai, we connected with hospitals because of our past relationship and they were ready to tie up with us.
Delhi was second city for us to enter. (As per independent surveys Delhi is the biggest home healthcare market. After Delhi, Pune and Ahmadabad appeared important as NRIs have their families there. In early phases of Zoctr growth it was easy for us to manage these locations due to proximity to Mumbai. In South India, especially in Bangalore, we had a bit of competition and hence decided to delay our entry there.
Our model is far superior from the perspective of the hospital's strategic partnership. In the next 12 months we plan to grow to 18 Indian cities, including metros.

Are you planning to open a full time hospital in future?

No, I don't have any such plans.

What are your expectations from the next five years?

Healthcare is both exciting and growing business. Zoctr is a strong platform. For example NRIs in the US looking for nursing care for their parents say in Park Street in Kolkata can get information on their mobile about the qualified and registered nurses in the area. They get all information about them and are informed that they will be visiting their parents tomorrow. So, while the parents select one and their children pay online. To cater thousands of patients we need to create a robust system that supports them. In the past few months I am really happy with the way the system and processes have developed. I believe we can do wonders if we stay focused on strengthening Zoctr processes and technology platform.
What brought you to Kolkata?

When we traditionally think about the big Indian cities and specially the five metros then Kolkata naturally comes in our minds. So, once we started operations in Mumbai and Delhi, the next in line was Chennai, Kolkata and Bangalore. The quality of hospitals in Kolkata points to an increasing number of robust healthcare providers in the city. Moreover, the population in the city is quite huge. We see a lot of patients from neighbouring Bihar, Odisha and South Asian countries like Bangladesh come here for treatment. These factors led to our addressing the Kolkata market ahead of cities in South India.
So, we are meeting several top hospitals, nursing bureaus and other players in the healthcare industry. All these points to the fact that Kolkata is a large market. Zoctr plans to partner with 3-4 hospitals here and start offering services to nearly 1000 patients in Kolkata in the coming quarter.
With Zoctr looking into the pan India perspective then we have an ambition to cover 45 percent of the population, we feel that Kolkata was an obvious choice for us.