Music was her only religion
The birth centenary of great ghazal exponent Begum Akhtar is being celebrated through different events beginning this year. One is scheduled for the Nehru Centre in London, conceived by Rita Ganguly, her well-known disciple. She reveals many facets of her guru to Shoma A. Chatterji on a recent visit to Kolkata
Begum Akhtar , the' Mallika-e-Ghazal' or Queen of Ghazal whose birth centenary falls this year, was a tail-blazer in her time and remained so till her demise. Her mellifluous voice ornamented ghazal, thumri and dadra style of light Hindustani classical vocal music like no other. At the same time she was a great teacher who let her students find their own voices, as Rita Ganguly, a reputed singer on her own right with a Padmashri and Sangeet Natak Akademi award under her belt, would reveal.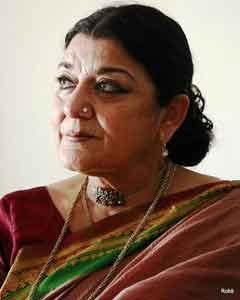 "Her influence was so deep that it took me eight long years to come out of her aura and come to terms with my own music. She taught me not just music, but also how to compose music, how to perform a single bandish in three different ways," says Ganguly. Her elder sister was late Gita Ghatak, also a gifted and trained singer of great renown.

As an able disciple Ganguly has been trying to popularise her guru's legacy for forty long years and has also founded the Begum Akhtar Academy of Ghazals . Earlier this month, she released Ae Mohabbat – reminiscising Begum Akhtar which encapsulates in words, her memories of the great artiste in a wonderfully brought out book filled with photographic reproductions of Begum in her many avatars through her life. Ganguly co-authored the book with publisher Jyoti Sabharwal.

A valuable lesson Akhatri Bai Faizabadi, as she was known, had imbibed in her was "the value of secularism and communal harmony. When we travelled together, I would keep the Muslim fasts and she would dedicate herself to some Hindu rituals though we sustained respective religious identities. Ammi had founded an organization for artistes called Kaladharmi. Her thinking was inclusive because she believed and considered that an artiste had only one religion and that was art," Ganguly says. In her honour, Kaladharmi continues to celebrate her contribution to music.

Ganguly reveals that Begum Akhtar always insisted that her disciples should develop their own style and not imitate her. "She taught us to create and define our styles not only through riyaaz and training but also through extensive and intensive research. For example, if I was to render a ghazal around the concept of ishq meaning love, Ammi would expect us to read at least 20 different poets and shayars who have written on ishq to get at the core of how to express the emotion while rendering a nazm or a thumri or a ghazal on this subject. This means that one had to learn to read, write and understand Urdu."

Disciples often sit behind their guru during a performance on stage and Ganguly did too but, she remembers, "During one performance, Ammi told me not to sit behind her but next to her because I needed to be confident enough to hold the stage on my own later."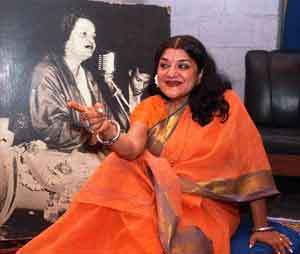 Ganguly is happy about the turn of events that will become historical markers of Begum Akhtar in the near future. A special coin has been released by the government to commemorate her, a road in Kolkata is being named Begum Akhtar Sarani. In Lucknow, the street she lived in will be named Begum Akhtar Marg. An unnamed road in Faizabad, where she was born will be named after her too and the house she was born in will become a museum. It is adjacent to a garden created by Nawab Asaf-ud-Daula which houses the mausoleum of his wife. "This could become a good tourist visit point and if it also becomes the ground for an annual festival in honour of Ammi, it would be an excellent source of revenue, and popularity not to forget the enrichment of the visitors to this world of music," Ganguly says.
Begum Akhtar discouraged the use of the harmonium. Says Ganguly, "Many may not be aware that All India Radio did not allow the harmonium for vocalists. The same rule applied in Santiniketan where I studied for some years. This was because changes in scale or a raga during a single performance demands the harmonium as support for improvisations. Ammi would tell us to free ourselves of the harmonium as support so that we become independent performers." This was another way of emphasising riyaaz, riyaaz and more riyaaz which would perfect the way we would slip from one scale to another or from one raga to another.
How does the teaching and the execution of music by the great teachers she has been trained by differ, you ask Ganguly. "Personalities are distinct from one another. I have learnt different things from different gurus – Shambhu Maharaj, classical drupad from Gopeshwar Bandopadhyay, thumri from Siddheshari Begum and so on. I have learnt something from each one of them. Siddheswari Begum and Ammi were not on good terms for 30 long years. Yet Ammi took me to her house at 11 o' clock at night to break the ice and asked her to take me on as a shishya. This is what sets Ammi apart from many others," reminisces Ganguly.
However, she admits that Begum Akhtar led a lonely and sad personal life. When she got married, her husband did not encourage her to perform and she stayed away for six years. Then she experienced six miscarriages. That affected her enough for her to give up music for eight long years. A return to music was recommended to her after the miscarriages as a curative measure to make her get out of her depression and it worked. But she could perhaps never get out of the trauma of losing her twin Zohra at a very young age. "She had two last wishes – one was to die a suhaagan and the other was to die while performing. She was a great human being and simplicity was one thing I learnt from her as a humane and human value," Ganguly sums up.
Images courtesy the writer