Jewel in the crown
Jewellery has been a woman's personal grooming asset from ancient times and India is no exception. Today with imitation and costume jewellery flooding the market, women have even more options to dress up and dazzle, says Anju Munshi
Diamonds might be a girl's best friend but it comes with a price tag many may not be able to afford. Precious gemstone jewellery, diamonds and turquoise combined with pearls in necklaces, sparkling coloured stones such as garnets, emeralds, sapphires, and topaz are any woman's dream – but an expensive dream. So here comes today imitation jewellery or costume jewellery to satsify the fashionable women but with a limited budget.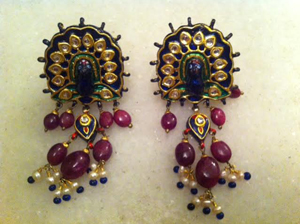 The market today is flooded with exquisite designs in classic and modern style jewellery. The one gram gold polished stuff with precious and semi precious stones is sure winner. Look-alikes of jewelleries from international brands like Tiffany, Cartier, Chanel and Prada are just across the counter in the Indian market .

Costume jewellery as we loosely call it today, is true to its name - jewellery that can match costumes of different kinds. Gold comes in traditional designs and has a limited scope but most importantly, it is an expensive metal. Bollywood films have popularised kundan and minakari jewellery with films like Parineeta, Choker Bali and Devdas . Today copies of jewellery film stars have been wearing are readily available in the market. Traditional kundan studded gold plated necklace, sitahar (long necklace), jhumka earrings , head lockets with beads detailing are sold by the names of the films, selling anywhere between Rs1,500 to Rs 7,000 . Even gold plated kundan stone and emerald earrings, head locket and mixed bangles that Aishwarya Bachchan wore in Umrao Jaan or at the premiere of Devdas at the Cannes Film Festival in 2002 are there to choose from.

Mangalmani Jewellers and Keshab Mahalaxmi Jewellers of Mumbai not only deal in gold and diamond jewellery but also in polki and kundan imitations. They have bridal sets like bangles, kadas, bracelets and earrings that are either bought by the wedding parties to be worn by the bride or is taken on rent for the wedding. "Besides the traditional jewellery, there are items that are used for making the wedding pictures look rich and beautiful," they say. "We rent out haath phool , armlets ,handlets and waist bands , maang tika etc on a regular basis as there's a big demand for these items ," says Sahib Chand, sales executive at Mangalmani Jewellers .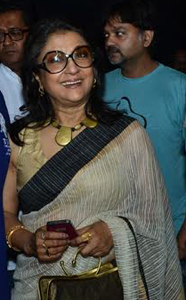 Imitation jewellery as it is called is not only cheaper but spells convenience too. "For weddings when I travel, I don't carry my original gold and diamond jewellery, but have kept a set of artificial jewellery that serves the purpose," says Arti Agarwal of Kolkata. Artificial jewellery is safer to carry, safer to wear and easy to maintain.
Interestingly, this is not a new concept. It goes back to the early nineteenth century when women avoided wearing expensive jewellery and kept their precious metals and gemstones in banks , wearing only the copies. Insurance was expensive and the fear of theft was prime in the mind. These fake counterparts were a viable and a good alternative for wealthy women. "The copies were so good they were undetectable without close examination", says Percy Mason , 80, based in New York city ,who inherited valuables from her French aunt and would hear her talk about imitations in jewellery art .

The original costume jewellery was made during the Georgian era when stones and costly metals were melted to obtain cheaper metals . Much later during the Victorian period and the Industrial Revolution, jewellery that was once only owned and worn by royalty, nobility, and clergy was replicated and produced for the masses , says Mason.
Clever imitations have kept the traditional designs alive too. With time, new metals were invented; alloys of brass, copper and zinc are given a gold and silver plating .This is called rolled-gold or one gram gold jewellery . "Thanks to the costume jewellery these traditional designs have survived . We study a lot of designs and then come out with our creative ideas," says Jagdish Garg , a goldsmith in Kolkata's New Market area .
Bengal's loha jewellery is reminiscent of a stamping technique in the Victorian era, he says, that allowed jewellers to create gold pieces with hollow (fapa)work. This hollow work gold was often engraved and then filled with black enamel for a obtain a 'heavy' effect. A mixture of silver, lead, copper, and sulphur is used to fill voids caused by engraving instead of enamel. If the Victorian era focused on gold, the Edwardian sensibility was more interested in the setting stones. There was an emphasis on diamonds and diamond-cutting technologies.

Today costume jewellery is offering opportunities to women who are keen to make a career in this field. "Women are imaginative and creative and can use this skill fruitfully in something they like," says Aalia Rohatgi from National Institute of Fashion Technology, Kolkata .

The aesthetics are changing too and the jewellers are quickly catching on the trend. They make use of less valuable materials including base metals, glass, plastic, and synthetic stones. The affordable cost is attracting customers by the horde..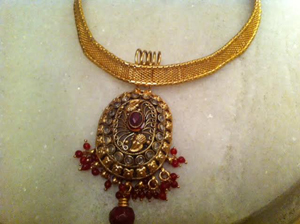 Whether it was Mughal , Indian ,Victorian ,Georgian, Edwardian, art deco, retro, jewellery has always been refashioned and copied. Mainak Agarwal , a jewellery designer from Meerut says that the choice of jewellery helps to assess a person . "Gold , a no- risk wear makes you a play-safe traditional person; silver and costume jewellery is for the arty, experimenter type; diamonds spell independence; semi precious stones in silver and white metal show confidence," he assesses.

Today the global market makes it possible for the average jewellery consumer to select from different cultural styles and modes of fashion from around the world too. If Indian jewellery sells well in the stores of New York and Milan, then Victorian style lockets, cameos, chokers, tear drop pendants and hair pins along with brooches are flooding the Indian market.

(Photo: Filmmaker Aparna Sen in an event in Kolkata wearing a costume jewellery. )