Making as entrepreneurs
Entrepreneurship is the mantra of the day with terms like start-ups, crowd funding, venture capitalists, etc. becoming household words. What it takes to be a successful entrepreneur? New York based SPAN writer Carrie Loewenthal Massey talks to two Indian entrepreneurs who participated in the 2016 Global Entrepreneurship Summit in California to find out about their journey to success
Both Elsa Marie D'Silva and Sishir Garemella believed they could change the world for the better through entrepreneurship. So, they each took a shot.

D'Silva had reached the glass ceiling in the aviation industry in India. She had climbed the ladder from being a flight attendant with Jet Airways to becoming the vice president of network planning and charters at Kingfisher Airlines. But she wanted to do something to give back, especially to women and children. So in 2012, in the aftermath of the gang rape of a woman on a bus in New Delhi [the Nirbhaya case], D'Silva founded 'Safecity', a nonprofit organisation that uses an online platform to crowdsource stories of sexual harassment and abuse in public spaces. These help identify hotspots in a city where women have experienced or witnessed any form of abuse.

Garemella started Sunvest Energy Private Limited in 2015, a Mumbai-based solar energy company focused on the residential and small-scale rooftop market. "Accessibility to affordable power is a basic human need, crucial in eliminating poverty and creating a level playing field in society," he says. For Garemella, "rooftop solar is best positioned to address the present challenges of energy security."

Both D'Silva and Garemella are now seeing their efforts pay off. D'Silva has expanded Safecity's reach by organising awareness workshops for parents, teachers and children on issues like child sexual abuse and sexual harassment. Safecity has also developed a mentoring program for girls and women. Garemella, on the other hand, has positioned Sunvest to reach its first milestone of 100 rooftop solar installations.

Here's what the entrepreneurs say has helped them reach where they are today.

Don't be afraid to go it alone…with lots of input

Garemella says that entrepreneurship is similar to his hobby of running marathons. It's a lonely and hard journey for which "a support structure can be immensely useful." Just as runners join groups to be best prepared on race day and to meet people going through the same set of challenges, with whom they can talk through solutions, entrepreneurs benefit from a "willingness of stakeholders within the ecosystem to talk to each other and explore ideas," he says.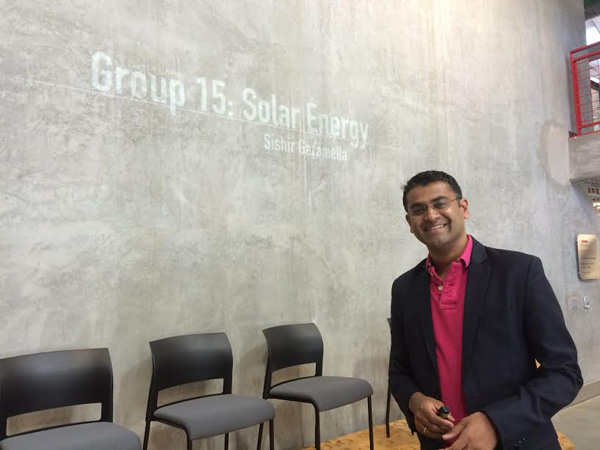 Garemella experienced this willingness at the 2016 Global Entrepreneurship Summit, held at Stanford University in Silicon Valley, California, in June. There, in addition to "listening to inspiring people such as [then] President Barack Obama, Mark Zuckerberg of Facebook, Sundar Pichai of Google, Travis Kalanick of Uber," Garemella says he got the feeling that, among entrepreneurs, there is no crazy idea. "Every idea has to be discussed and evaluated. Such openness was great to see," he says.

D'Silva also attended the summit, where she had the chance to discuss her biggest challenges as an entrepreneur in the nonprofit sector in India. Sharing these struggles at the summit helped D'Silva "receive validation that a lot of these struggles you think are personal, are really universal." She also met an investor who agreed to give her the funds she would need to develop a mobile app for Safecity.

Experience, experimentation and persistence

Having a support system can give you confidence and so can working for someone else before—or while—striking out on your own, says D'Silva. She has translated her ability to optimise resources, a skill she honed while working in aviation, into running a really tight ship at Safecity, where she has "kept costs low and had maximum impact with the least amount of resources," she says. As she was starting Safecity, D'Silva volunteered with an organisation in Mumbai that focused on public safety. This helped her learn how to mobilise a community around an issue.

For Garemella, the freedom to be wrong has been crucial. "We put so much pressure on ourselves to be right. But, innovation and creativity happen when you let yourself and the people around you be comfortable with experimentation," he says. Entrepreneurship involves a lot of failures on a daily basis, and success, he says, comes to those with "the mental, physical and emotional stamina to pursue their work and hold on to their beliefs."

A pragmatic, holistic approach

Entrepreneurs often need their passions to see them through challenging financial times. D'Silva, who self-funded Safecity and funneled all revenues right back into the business, couldn't pay herself until recently. She survived for a while on her savings from her previous job. So, she encourages new entrepreneurs to make sure they have a nest egg.
"If you don't have that bank balance to support you for the first three years, it's going to be really difficult. Often, when there's no money coming in and nothing's working out, you wonder, 'Am I doing the right thing? Am I silly?' "
D'Silva advises entrepreneurs to take one more precautionary measure: invest in self-care.
"You spend a lot of your time developing your business and you neglect your family, you neglect your friends and you neglect your own health," she says. "To give you energy and to sustain your motivation, you need time to recharge."

(Courtesy SPAN)