Pakistan observers sniff eyewash on Masood Azhar, Hafiz Saeed ahead of FATF ruling
Islamabad/IBNS: In what can be seen as a golden eyewash at a time when the threat of being blacklisted by international terror financing and money laundering watchdog Financial Action Task Force (FATF) looms large over it, Pakistan last week convicted Lashkar-e-Taiba (LeT) founder Hafiz Saeed, who was arrested last year, in two terror financing cases. However, the reality inside Pakistan can be different with strong beliefs by observers that Pakistan is stage-managing the episode and even claiming that another top terrorist, Masood Azhar, the mastermind of the Pulwama attack last year February in India killing 40 soldiers, has gone missing.
Hafiz was slapped with a prison sentence of five and a half years and a fine of Rs 15,000 in each case. The sentences of both cases will run concurrently. The court also granted him the benefit of Section 382-B of the Code of Criminal Procedure (reduction of period of sentence of imprisonment), reported Dawn News.
Saeed is accused by India of masterminding the 2008 Mumbai terror attack incident. The LeT founder has been designated as a global terrorist by both the UN and the US as well.
Saeed is wanted in India for several terror attack cases. The US government had earlier placed a 10 million bounty on his head.
However, there seems to be a hidden truth behind the entire episode. It is perceived by Indian and global geopolitics and terrorism experts that the move is to evade further sanctions of FATF.
Actually, the outfit continues to raise funds and indulge in terror activities, according to enforcement agencies.
On Jan 31, three alleged Jaish terrorists were killed in a police encounter on the Jammu-Srinagar highway in India. Three more, including one Qari Yasir — said to be involved in the Pulwama attack— were gunned down by security forces on January 25.
Jaishe-e-Mohammed leader Masood Azhar, said Pakistan, has gone missing though Intelligence reports said Azhar has been taken to a secure location by the Pakistan Army and ISI.
Masood Azhar's Movements Restricted? It is raising funds, circulating messages:
After the Pulwama attack in February 2019, Azhar's movements were restricted, it was reported.
"He currently stays in Rawalpindi and Islamabad safe-houses and has been meeting Taliban and Haqqani network functionaries," said a senior Indian official.
The outfit is raising funds and operating under the direct command of his family members.
Meanwhile, the FATF meeting, which started yesterday and will continue till Feb 21, will decide on Pakistan.
The decision of the FATF's plenary session (February 16-21) on whether to retain Pakistan on its "greylist" of countries of concern, downgrade it to its 'blacklist' for non-compliance, or let it off for progress shown, will be finalised on Friday at the end of the session, reported The Hindu.
At the last meeting of the Asia Pacific Group in Beijing last November, Pakistan had been judged as having cleared 14 of the 27-point action plan checklist it was given by the group on countering terror financing and black money laundering, reported the newspaper.
Pakistan has informed FATF that Jaish-e-Mohammad (JeM) founder and his family are "missing."
However, sources said he is interacting with his followers through text messages.
"The latest one attributed to him was released on January 30 and circulated among JeM cadres. It targeted the Indian government for counter-terror operations in Kashmir over the past 30 years. Another message had surfaced hours after the special status of the erstwhile State of Jammu and Kashmir under Article 370 was revoked in August last year. The statement was spread via a mobile chat application," sources said.
According to media reports, ahead of FATF discussion on Pakistan, the country's intelligence agency Inter-Services Intelligence (ISI) has met the commanders of JeM in Rawalpindi. "The Pakistan government has assured the JeM and other terrorist groups that it will gradually remove the restrictions against terrorist organizations," the report said.
Recent activities of Azhar's group recorded:
The agencies claim to have recorded the recent activities of the outfit. On January 15, its prominent functionaries attended an event in Markaz Sanan Bil Salma in Khyber Pakhtunkhwa's Peshawar, sources said.
The next day, Azhar's younger brother Talha Saif was present at the release of a book titled "Saifullahi Nisbat," authored by the outfit's chief.
Saif addressed the gathering, during which he targeted the "superpowers of the world" for attempts to eliminate the outfit and its chief. He said the JeM Amir (Azhar) had "sacrificed his freedom" for the cause.
In the run-up to the FATF meeting, among those arrested by the Pakistani authorities in January was Azhar's another younger brother Abdul Rauf Asghar, who is the JeM's operations chief. However, as alleged, he was released later along with some others.
Among those also let off was Masood Ilyas Qasimi, who heads the outfit's preaching wing, Abdur Rauf (JeM head in Rajanpur), Abu Jundal Shafique (JeM head in Pakistan's South Punjab), Abdul Mallik Mochi, Qari Zahoor Ahmed, and Imdadullah Haidri.
"The cadres have been cautioned against photographing or publicising fund-raising activities on the social media. The JeM's student wing 'Al Murabitoon Shoba' has been roped in to interact with students of various schools and colleges for indoctrination in a clandestine manner," an Indian official said.
Indian agencies have also shared details with key allies on the Balakot camp that, as confirmed by the then Army chief Bipin Rawat in September 2019, was reactivated just months after the post-Pulwama attack "airstrike".
It is headed by Azhar's brother-in-law Yusuf Azhar, it is alleged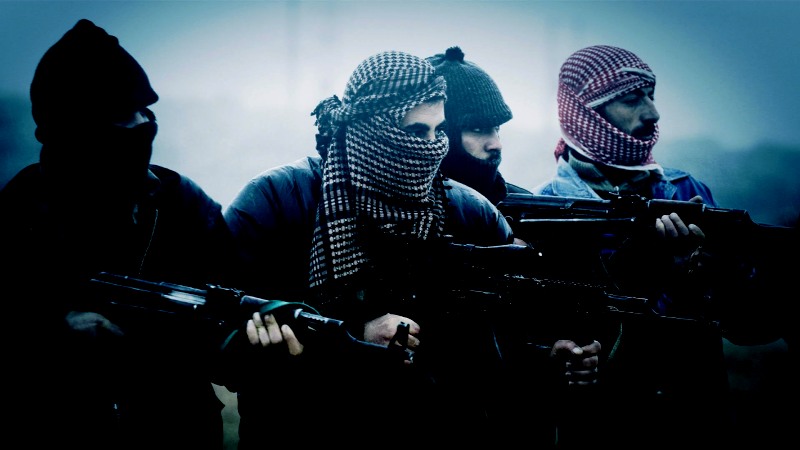 JeM releases video vowing to take revenge:
Hinting that the group is active, JeM recently released a video and promising revenge against alleged Indian brutalities in Kashmir.
The video was released a year after Pulwama area in Kashmir witnessed a massive terror attack that left 40 Indian security personnel killed.
It has also been released at a time when US President Donald Trump is gearing up to visit India in the last week of February.
He will visit India for the first time since becoming President from Feb 24 to 25.
However, intelligence sources speaking to The Week say it may not be related to his visit as it could have been made before the trip was announced.
According to intelligence reports, the video was released from Pakistan-Occupied-Kashmir (PoK). It was allegedly made by the younger brother of JeM chief Maulana Masood Azhar, who was designated a 'global terrorist' by the United Nations in May 2019, reported the Indian magazine.