Plane Crash
Image: Fuerzas Militares de Colombia
Colombia air crash miracle: 4 children found alive after 40 days
Bogota: Four Colombian children, who went missing after their plane crashed on May 1, have been rescued after 40 days from the Amazon jungle.
The siblings were reportedly recovered by the rescuers involving soldiers and locals near the border between Colombia's Caqueta and Guaviare provinces. The children who fended for themselves in the forest after surviving the crash are aged 13, nine, four and one.Their mother and two pilots died in the crash.
Colombia's President Gustavo Petro announced on Twitter: "A joy for the whole country! The 4 children who were lost 40 days ago in the Colombian jungle appeared alive."
He later told reporters as quoted by CNN: "Their learning from indigenous families and their learning of living in the jungle has saved them."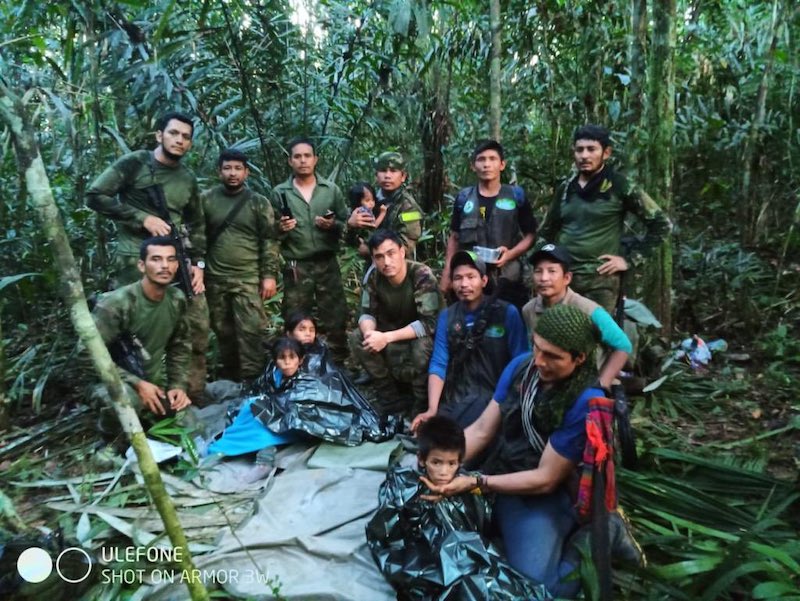 Petro said the children were all together when they were found, adding they had demonstrated an example of "total survival that will be remembered in history."
"They are children of the jungle and now they are children of Colombia," he said.
The President also posted several images of the missing children on Twitter.
In the images, the four children could be seen surrounded by their rescuers in the forest.
The children belonged to the Huitoto indigenous group.
A video shared by Colombia's ministry of defence showed the children being air-lifted into a helicopter in the dark above the tall trees of the jungle. They have been flown to the nation's capital Bogota, where ambulances have taken them to hospital for further medical treatment, reports BBC.
The children's grandmother, Fatima Valencia, was quoted as saying by the British media: "I am very grateful, and to mother earth as well, that they were set free."
According to reports, the Cessna 206 aircraft, in which the children were traveling with their mother, was flying from Araracuara, in Amazonas province, to San José del Guaviare.
The pilot had issued a mayday alert due to engine failure before it crashed.
The bodies of the three adults were found at the crash site by the army, but it appeared that the children had escaped the wreckage and wandered into the rainforest to find help, reports BBC.
A massive search was launched in May to find the missing children.
Image: Fuerzas Militares de Colombia