Image: Wallpaper
Germany: Merkel elected for the fourth time, party witnesses its worst result
Berlin, Sep 25 (IBNS): German Chancellor Angela Merkel won her fourth election on the trot but her party witnessed its worst result in the polls, reports said.
Even with that result, Merkel's conservative CDU/CSU will remain the largest party in parliament.
However, troubles have started brewing for the 63-year old politician and her party, as its current coalition partner, the social democratic SPD, says it will go into opposition after historic losses, a BBC report said.
Speaking about the result, Social Democrats (SPD), leader Martin SchulzIt told supporters that, "It is a difficult and bitter day for social democrats in Germany. We haven't reached our objective."
Merkel said, "Today we can say that we now have a mandate to assume responsibility and we're going to assume this responsibility calmly, talking with our partners of course."
The election wasn't devoid of surprises either, as nationalist AfD has won its first seats in the parliament.
The AfD won 12.6 per cent of the votes and took the third place, inviting protests.
Protesters gathered outside the AfD headquarters and displayed placards reading 'refugees are welcome'.
The AfD is a right-wing, anti-Islam party, who experts believe capitalised on Merkel immigration and Islam policies, which angered many natives.
The party's programme is deemed heavily anti-immigrant and anti-Islam.
It has also called for a ban on mosques and considers Islam incompatible with the culture of Germany.
Following the election success, AfD leader Beatrix van Storch was quoted as saying by the BBC, "We'll start debates on migration, we'll start debates on Islam, we'll start debates on ever closer union."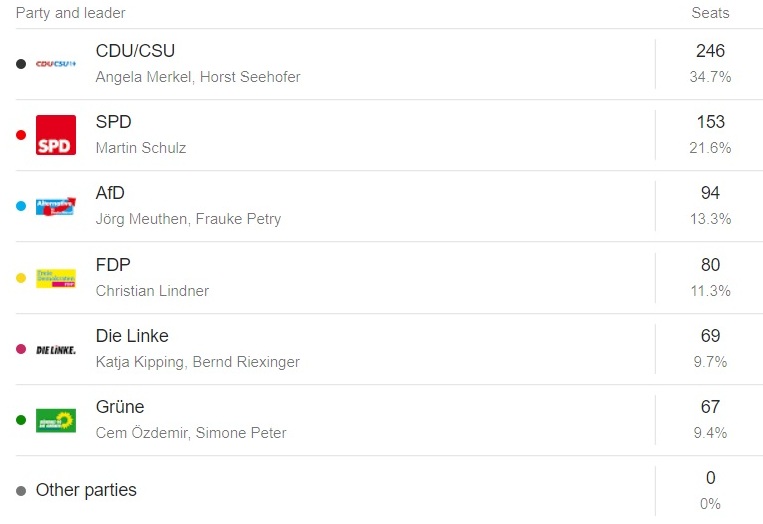 Meanwhile, according to German broadcaster ZDF, the nation is heading towards a "Jamaica" coalition.
The term has been coined keeping in mind the colour of flags the parties have, which is akin to the Jamaican flag.
It includes the black CDU/CSU, the yellow, business-friendly Free Democrats (FDP) and the Greens.
Reportedly, no party wants to work with the AfD.
banner Image: Wallpaper
Infographics: screengrab from Google