Records tumble as Leonard and Guteni write new event record at TSK 25K
Kolkata/IBNS: Leonard Barsoton of Kenya and Guteni Shone of Ethiopia rewrote the event records to light up the lazy Sunday as they shattered records by winning the men's and women's titles respectively in Tata Steel Kolkata 25K Race here.
Leonard Barsoton of Kenya rewrote the event record with a timing of 1:13:05, a huge 40 seconds lesser than the record set by Kenenisa Bekele at 1:13:48. Guteni Shone of Ethiopia breasted the winning tape in the women's category with a timing of 1:22:09 knocking off over four minutes from the one set by Degetu Azimeraw at 1:26:01.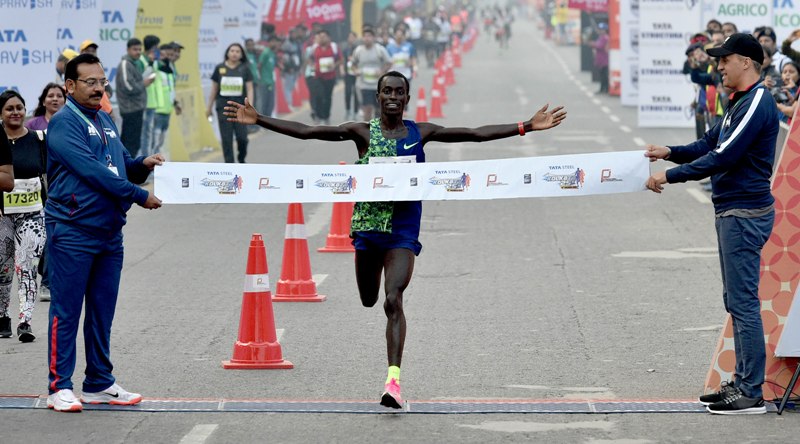 Leonard said: "It is so special to have broken the record of someone as legendary as Kenenisa Bekele. It makes my win special, even more because till two weeks back I was not sure I would come here."
Leonard, who plans to come back for Bengaluru 10K, said: "It was a tough race and a tough course. There was close competition till the 20K mark after which I broke free from the pack. I have been training hard this year, leading a disciplined life—sleeping early, rising early and training hard. This year in Valencia I had one of my best timings."
Leonard next plans to take part in RAK Half Marathon in Dubai and also look at the European circuit.

Guteni was equally excited at breaking the record. The thoroughly drenched and yet excited Ethiopean said: "I am very happy to have won and broken the record here. I have practiced very hard throughout the year and it is yielding results now. The temperature was a little hot and since the running was through the city there were many turns and bents making the race tough. Moreover, you did not know what kind of surface to expect next. So you had to keep guessing. All of that made the course challenging and worth the run."
In fact the top three International Elites in both men's and women's category bettered the event record. In the men's category the second and third places were taken by Betesfa Getahun with a timing of 1:13:33 and compatriot Bayelign Yegsaw 1:13:36. In the women's race the silver and bronze went to Desi Jisa with a timing of 1:23:32 and Tejitu Daba with a timing of 1:24:32.
Till the 20 KM mark Felix, Leonard and Betesfa were together at 59:05 minutes, before Leonard began tearing away from the pack with a sharp injection of pace. He had arrived with quite a reputation as has been the silver medallist over 10,000 metres at the African Games and has to his kitty one of the fastest timing of the year.
Srinu Bugatha (1:18:31) and Kiranjeet Kaur (1:38:56) won the Indian challenge in the men's women's category respectively in a tough field. The second and third places were taken by Tirtha Pun (1:18:39) and Harshad Mhatre (1:20:03) in the men's category and Shyamali Singh (1:39:02) and Arati Patil (1:39:40) respectively.
The Services guy, who won here, has already the Airtel Delhi Half Marathon under his belt. Srinu told exclusively: "In the last three attempts I came second, but this time I was determined to come first. I am planning for the Tata Mumbai marathon and this race gives me a great platform."
After Mumbai Marathon, he plans to head for the Barcelona Marathon in March. "I am trying to go under 2:15 hours so that I can qualify for other international events. This time the course here is tougher with a flyover and sharp bents and turns and it makes the running far more challenging," Srinu said.
Kiranjeet Kaur has a point to prove and she has proved it aplomb winning it here. Till the 15 Km mark she and Shyamali were neck and neck, she said adding: "I saw she was varying her pace and trying to throw me off my rhythm. So I broke off after the 18 KM mark and knew I could win it. The course was challenging and the flyover was a new thing."
She said that she would next take part in the National Cross Country to qualify for the Asian Cross Country. For that she is heading off to Kenya for two-month training with Athens Olympics bronze medal winner Paul Kipsiele Koech. She however plans to take part in the Bengaluru 10K where she had come third last time. "I want to win there also," she signed off.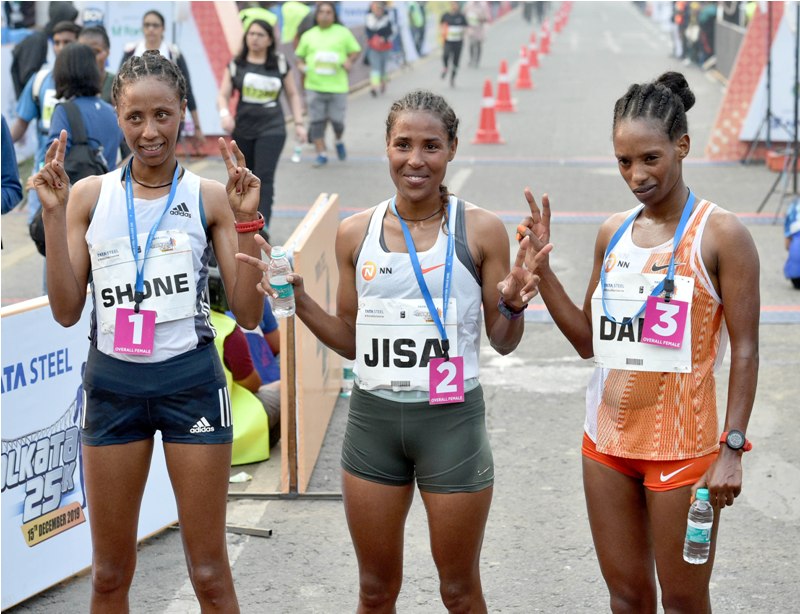 Coming back to the race at the 12.5 Km mark Filex Chemonges of Uganda, Leonard Barsoton (Kenya) and Betesfa Getahun (Ethiopia) led the pack for the elite men at 37: 11 minutes, while in the women's pack of Guteni Shone(Ethiopia), Desi Jisa (Bahrain) and Sasho Insermu (Ethiopia) led with a timing of 42 minutes.
Till the 15K mark the Indian pack led by Srinu Bugatha, Balliappa A P and Tirtha Tun led at 47:14 after which Srinu picked his pace, while the women's team was led by Shyamali till the 20K mark, when she slowed down giving Kiranjeet a slender lead that she held on to till the finish line.
With the new route the race has become tougher with a flyover in play now along with an average incline sharper than before. The race has moved into the city proper where the runners went through city streets with traffic and general commuters on one side.
Race Categories and Participants:
25K Run (Including Vijay Diwas Cup)—3800 registered
Open 10K Run (Including Police Cup)—5695 registered
Ananda Run—4531 registered
Senior Citizens Run—1014 registered

Champions with Disability—405 registered
Grand Total---15445
New Route for 25k Run:-
Holding Area (Rangers Ground) - Western Flank of Red Road in front of Md. Sporting Ground - Red Road (Western flank) –Khidderpore Road (Northern flank) -Right turn on Hastings Crossing – St. Georges Gate Road (Western Flank) - Strand Road (Western Flank) - Right turn – Kingsway (Southern flank) – R R Avenue (Southern flank) – Mayo Road– Right turn - J L Nehru Road (Western flank) – Left turn near Outram Road crossing - Park Street (Southern flank) - Right on Park Circus 7 Point Crossing - Syed Amir Ali Avenue (Western flank) - AshutoshChowdary Avenue (Western flank) - Gariahat Flyover (Western flank) – Right turn on Golpark - Southern Avenue (Southern flank)) – Right turn – SP Mukherjee Road (Western flank) - HazraCrossing – Left turn - Hazra Road – Kalighat Bridge - Judges Court Road – Right turn - Hasting Park Road – Right turn - Belvedere Road - Bhawani Bhawan –Belvedere Road – Cross National Library – Right turn - AliporeRoad (Western flank) – Cross Alipore Zoo –Zeerut Bridge - Left turn - AJC Bose Road - Hastings Crossing - Right Turn - Khidderpore Road (Southern flank) - Right Turn - Lovers Lane (foul) - Hospital Road (Western flank) - U Turn before A.J.C. Bose Road/DL Khan Road Crossing - Hospital Road (Eastern flank) - Right Turn - Queensway - U Turn before Queensway/Cathedral Road Crossing - Queensway - Right Turn – Casurina Avenue (Foul) - Khidderepore Road (Eastern flank)) – JN Island - Red Road (Eastern flank) - Finish on Red Road, opp. Basket Ball Court.