Sri Lanka Tourism
Singing sensation Yohani joins Sri Lanka tourism to woo Indian filmmakers
Mumbai/Colombo/Bangalore: Sri Lanka Tourism Promotion Bureau (SLTPB), together with Sri Lankan Airlines and the International Film Producers' Association of Sri Lanka (IFPA), recently organized a Film Tourism Promotional campaign in Bangalore and Mumbai to target major Indian movie industries by promoting Sri Lanka as "the ideal film location destination in South Asia".
The film tourism promotional campaign mainly targeted Bollywood (Hindi), Kollywood (Tamil), Tollywood (Telugu), Sandalwood (Kannada), Mollywood (Malayalam),Bhojpuri Film Industry, Marathi Film Industry, Bengali Cinema, and Punjab Entertainment Industry.
"Realizing the immediate economic benefits can be created by having international film productions in Sri Lanka and direct impact on Indian tourists arrivals by popularizing Sri Lanka Tourism via Indian Films, TV Shows, and other OTT platforms, Sri Lankan Airlines, Sri Lanka Deputy High Commission- Chennai and Sri Lanka Consul General Office- in Mumbai also supported for this destination promotion which was undertaken in the first half of October at Innovative International Film Festival (IIFF)- Bangalore and India International Film Conclave (IIFTC)- Mumbai," read a statement issued by the Sri Lanka Tourism Promotion Bureau.
Sri Lanka's legendary film producer and director Chandran Rutnam also took part in the film tourism promotion in India.
He is the first ever film director in Sri Lanka as well as in Asia to collaborate with Hollywood film legends like Steven Spielberg and George Lucas on their globally popular Indiana Jones movie franchise.
Indiana Jones and the Temple of Doom was shot in Sri Lanka in 1983.
He was also honored by Indian film producers for his contribution to international cinema over the years.
In his statement, Rutnam said: "This international film location promotion was a timely and important action and I must thank the Sri Lanka Tourism Promotion Bureau as well as the Ministry of Tourism for putting the effort in to get this promotion successful."
"In a period where we seek all possible options to bring more foreign revenue into the country, these kinds of targeted promotions will make our job easy and give us the backing to convince more international film producers to choose Sri Lanka," he said.
Rutnam further said: "As a result of this film tourism promotion, I was able to tie up with a film production that was going to neighboring Malaysia, which I was able to divert to Sri Lanka. A 90-day shoot that is set to start shooting in the middle of November, continuing through the Christmas season, right up to the end of February, bringing in Forex up to $4 million and employment to the local film industry. I have also signed with an Indian / Australian Production to shoot in February, March and April 2023."
Sri Lanka Tourism and Film Delegation was honored by the South Indian Film Directors at the 5th Edition of the Innovative International Film Festival which took place in Bangalore, Karnataka.
The destination presentations conducted by Sri Lanka Tourism during both events in Bangalore and Mumbai held the attention of Indian Film Producers, Directors, Location Managers, and all the other competitive destinations.
Situational updates of Sri Lanka, filming facilities available, and incentives expected to be offered by the Sri Lankan Government were highlighted within these presentations, read the statement.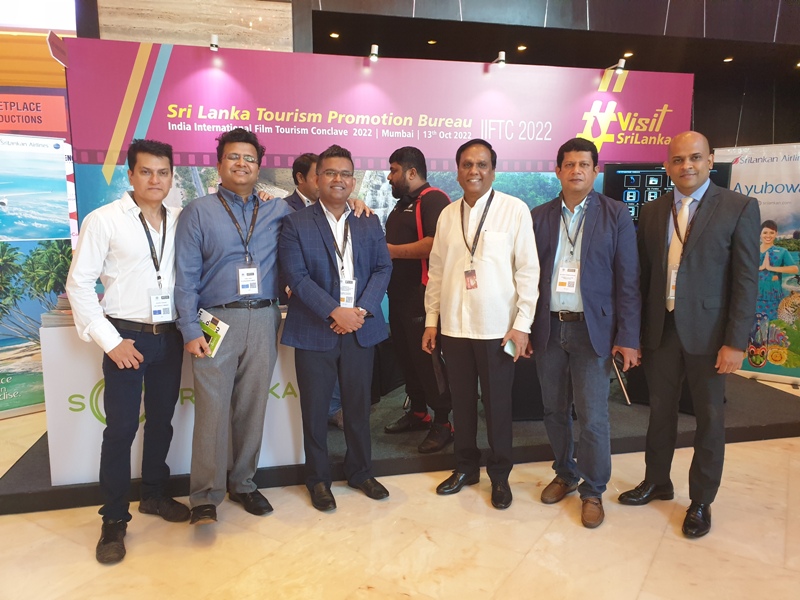 On behalf of Sri Lanka Tourism, Chaminda Munasinghe, Assistant Director of Public Relations, conducted the country presentation and invited everyone to 'Visit Sri Lanka'.
Sri Lanka's International Sensation, Singer and Music Producer Yohani De Silva also made a guest appearance at IIFTC -2022 to support Sri Lankan Film Tourism Promotion.
She was also honored with a special impact award for her contribution to the Indian Cinema Industry.