Patiala clash
Image credit: UNI
Curfew imposed in Punjab's Patiala after two groups clash, police fire in air to disperse crowd
Patiala/IBNS: A curfew has been imposed in Punjab's Patiala as groups from two communities clashed during an anti-Khalistan protest march here on Friday.
Two people sustained injuries as groups from two communities clashed after one tried to stage a march while the other opposed it.
The police had to fire in the air to disperse the crowd.
A curfew has been imposed in the city from 7 pm on Friday till 6 am on Saturday.
Members from both sides pelted stones at each other and also brandished swords. Police fired in the air to control the situation.
The protesters raised slogans and blocked the Fountain roundabout.
According to Indian Express, Nihangs, who first gathered at Dukh Niwaran Sahib gurdwara to counter the call for a march given by the Shiv Sena (Bal Thackeray) led by Harish Singla, marched towards the Kali Mata temple raising pro-Khalistan slogans as the cops tried to control them, the police said. Nihang is an order of Sikh warriors.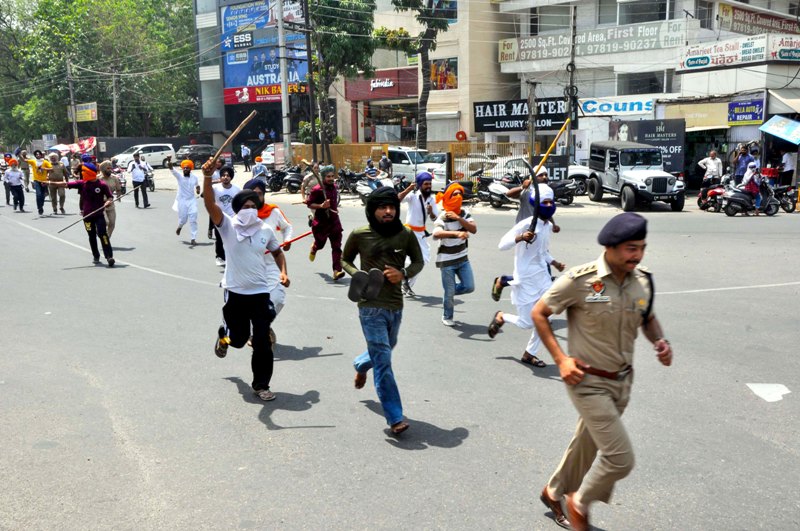 In a message, Patiala Deputy Commissioner Sakshi Sawhney urged people to maintain peace and harmony.
She said if there was any dispute or misunderstanding, it was important to resolve it by dialogue. She said the situation was under control.
"Peace and harmony is central to all our religions and their basic ethos. Even if there is any dispute or misunderstanding, it is important to resolve it by dialogue. As such, the District Administration appeals to all brothers and sisters of Patiala and Punjab to continue to maintain peace and brotherhood," the statement said.
Punjab Chief Minister Bhagwant Mann said the incident of clashes in Patiala was deeply unfortunate.
"The incident of clashes in Patiala is deeply unfortunate. I spoke with the DGP. Peace has been restored in the area. We are closely monitoring the situation... Punjab's peace and harmony is of utmost importance," he stated.
He called a meeting of the DGP and all the top officials to "fix accountability" in the Patiala incident and directed an immediate investigation of the case.
Reacting to the incident, Congress leader Rahul Gandhi tweeted: "Visuals from Patiala are disturbing. I repeat, peace and harmony are most imperative in a sensitive border state like Punjab. This is not the place to carry out experiments."
He added: "Earnestly appeal to the Punjab government to ensure law and order is maintained."
Visuals from Patiala are disturbing.

I repeat, Peace & Harmony are most imperative in a sensitive border state like Punjab. This is not the place to carry out experiments.

Earnestly appeal to the Punjab govt to ensure law and order is maintained.

— Rahul Gandhi (@RahulGandhi) April 29, 2022