Uttarakhand Flood
Image Credit: UNI
Glacier burst wreaks havoc in Uttarakhand; Over 150 missing, 10 bodies recovered
Dehradun/IBNS/UNI: In a major catastrophe, at least 150 people were feared dead, when a glacial lake outburst flood struck Raini village in Chamoli district of Uttarakhand on Sunday, leaving a trail of destruction in the area.
The bodies of 10 people have been recovered so far, official reports said. Relief and rescue operations, involving Army, Navy, Airforce and NDRF teams, were continuing on a war footing.
Scores of hutments and residential houses were washed away in the flash floods, triggered by the breach of a portion of the Nanda Devi glacier at around 1045 hrs, flooding the Alaknanda river.
The gushing river water uprooted hundreds of trees that came in its way.
The flow of water from the country's tallest dam - Tehri dam - was stopped, to facilitate the smooth passage of rising waters on Rishi Ganga and Alaknanda.
All the villages and low lying areas on the banks were immediately vacated after the disaster and water flow from Srinagar dam was increased to manage higher water flows.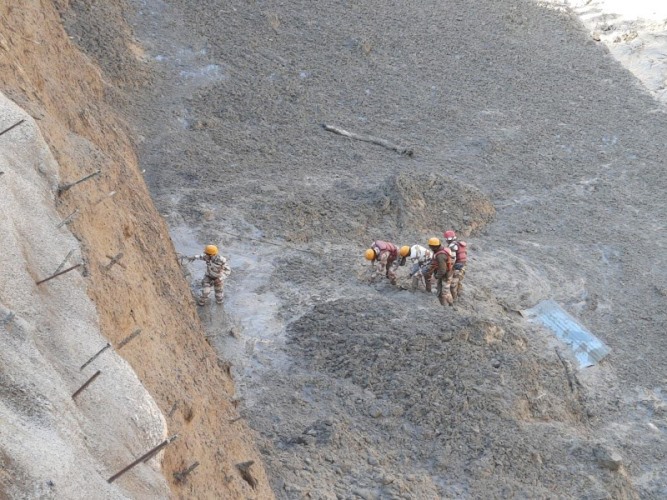 A 13.3 MW Rishiganga Power Project plant, which came in way of flash floods, was completely destroyed.
''Around 29-30 people are missing from the project site,'' Uttarakhand Chief Minister Trivendra Singh Rawat, who was closely monitoring the situation throughout the day, said in a media briefing in the evening.
The Chief Minister further said that an NTPC project site at Tapovan, which was just five km away from the Rishiganga power project area, was also damaged. He said as many as 176 labourers and workers were on duty at the project site.
About 35-40 workers were trapped inside a tunnel and efforts were being made to rescue them. However, 16 of the workers trapped in another tunnel, were later rescued by the ITBP personnel.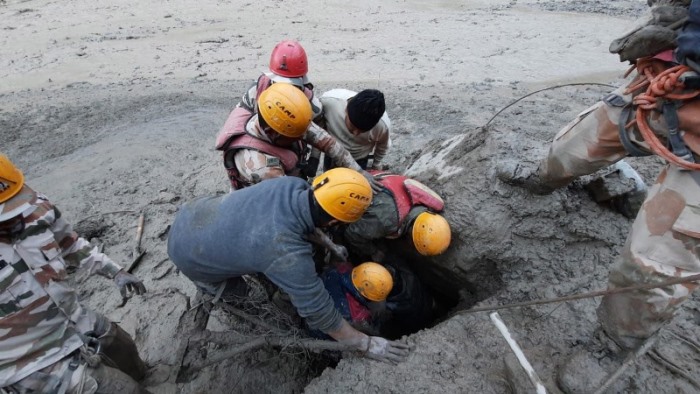 President Ram Nath Kovind, Prime Minister Narendra Modi, Union Home Minister Amit Shah and Union Minister for Environment, Forest and Climate Change Prakash Javadekar expressed deep worries about the massive glacier burst.
''India stands with Uttarakhand and the nation prays for everyone's safety there. Have been continuously speaking to senior authorities and getting updates on NDRF deployment, rescue work and relief operations,'' the Prime Minister wrote on his official Twitter handle.
The PM spoke to Mr Rawat and took stock of the situation.
Mr Modi announced an ex-gratia relief of Rs two lakh each from the Prime Minister's National Relief Fund (PMNRF) to the next of kin of those who lost their lives and Rs 50,000 for those seriously injured in the calamity.
Chamoli police have alerted the people of the district to stay away from all the riparian areas of Uttarakhand.
The water flow has now become normal in Srinagar.
(Anyone requiring help can contact following emergency numbers -1070, 1905 and 9557444486)