Nidhi Razdan
Ex-NDTV journalist Nidhi Razdan now claims her Harvard offer was fake, a 'very serious phishing attack'
New Delhi: Setting the social media abuzz, former NDTV journalist Nidhi Razdan on Friday announced that she faced a "very serious phishing attack" which made her believe that she had been offered a teaching position at Harvard University.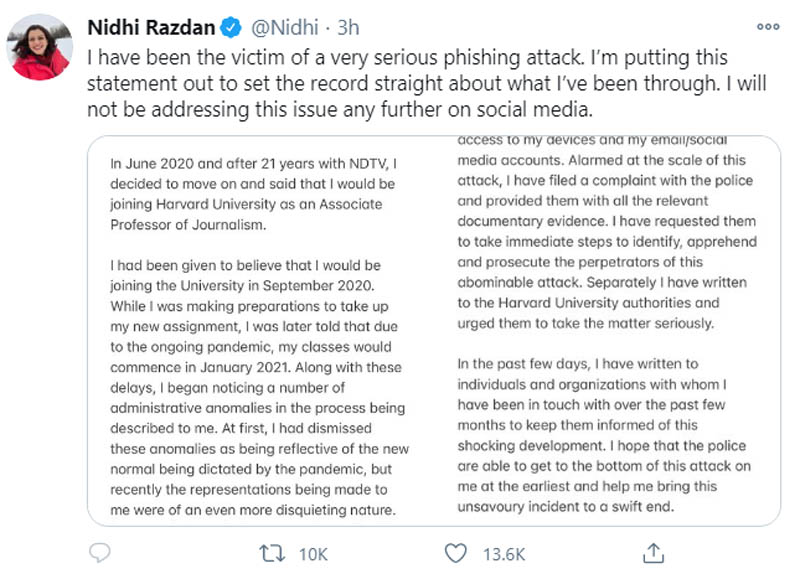 Last year on June 13, the journalist had announced she would be resigning from NDTV to join the university as an Associate Professor of Journalism.
She now said in a statement posted on Twitter: "I had been given to believe that I would be joining the University in September 2020."
"While I was making preparations to take up my new assignment in January 2021. Along with these delays, I began noticing a number of administrative anomalies in the process being described to me," she said.
"At first, I had dismissed these anomalies as being reflective of the new normal being dictated by the pandemic, but recently the representations being made to me were of an even more disquieting nature. As a result, I reached out to senior authorities at Harvard University for clarity. Upon their request, I shared some of the correspondence that I believed I had received from the University," the former NDTV journalist said in her statement.
Meanwhile, she announced she is taking a break from social media and will return 'refreshed'.
"I've been overwhelmed by the calls & messages of support including the DMs here. I apologise for not writing back immediately. I'm taking a well earned break from social media for a few days & will return refreshed and as good as new. In the mean time keep safe everyone," she tweeted.
Reactions started pouring in after her claim of being scammed with the job offer.
One Joshua Benton took to Twitter to state that "For the record, @Harvard has no school of journalism, no department of journalism, and no professors of journalism. (It does have @niemanfdn ! But we have no faculty and no classes. And it does have @ShorensteinCtr , but no journalism-specific faculty.)
Another Nick Soule pointed out that she created the Harvard story to become famous.
"She created Harvard story to become influential. A quick check with my sources have revealed that things have gone wrong and she is being sued in the States for using Harvard's name. That's the reason she has come up with phishing story as suggested by her attorney in States I'll update further as and when I receive more inputs from my sources," he wrote on Twitter.
.
Ashoka University withdrew its tweets after introducing Nidhi Razdan as Associate Professor.