Friends of Canada-India group demonstrate against China in Vancouver
Vancouver: Demanding release of Canadians in China, members of Friends of Canada-India group demonstrated outside the Chinese Consulate In Vancouver on Saturday.
Former Canadian diplomat Michael Korvig and his Canadian friend and colleague Michael Spavor at the International Crisis Group, have been detained in china since December 10, 2018, as retaliation for Canada's arrest of Meng Wanzhou, the Executive at Huawei Technologies Co. Ltd. They have marked 555th day of bogus imprisonment in China, reported DesibuzzCanada.
"Both the Canadians are detained in inhuman and deplorable conditions where light stays 24 hours a day, cut off from the rest of the world. Canadian diplomats have been prevented from meeting the two individuals. They should not have been arrested in the first place since there is no legitimate case against them," Maninder Gill, the President of the Friends of Canada-India, was quoted as saying by the news portal.
He said the protest aims to send a strong message to Beijing.
"We protest and send a strong message to the Beijing government that Canadians cannot be held hostage and used as pawns in their failed diplomatic approach and poor human rights record," he said.
"The comparison of the two cases of Ms. Wanzhou and the two Canadians are like apples and oranges, is a testament to disrespect for human rights and international protocol by the Chinese government.
"Despite Canada and China having a long history of friendship and mutual respect, Canada and Canadians will not tolerate the bullying tactics, callous act and blackmail by China," continued Gill.
He asked Chinese government released the detained people immediately.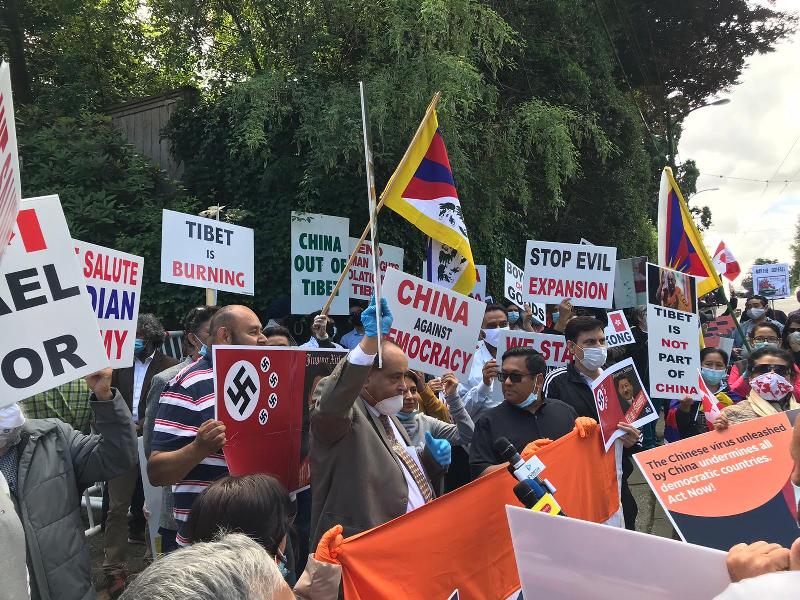 The protesters were also seen holding placards in their hands which read: "We stand with India."
The Indian and Chinese soldiers were engaged in a bitter standoff at the borders last month.
In one such violent standoff, at least 20 Indian soldiers were killed, touching the relationship between the two neighbours to new low.