India-China standoff continues in eastern Ladakh as US slams China for its provocations
New Delhi/IBNS: A standoff between the armed forces of India and China continued in Galwan Valley in eastern Ladakh even as USA in an unprecedented remark slammed China for its aggression.
Two weeks after scuffles and stone-pelting between Indian and Chinese soldiers in Naku La area in north Sikkim and Pangong Tso in eastern Ladakh, Chinese activities along the LAC have increased, reports said, with increased boat patrolling and Chinese helicopter violating Indian airspace.
China's state-run Global Times earlier reported quoting an unnamed source that "Chinese border defense troops have bolstered border control measures and made necessary moves in response to India's recent, illegal construction of defense facilities across the border into Chinese territory in the Galwan Valley region."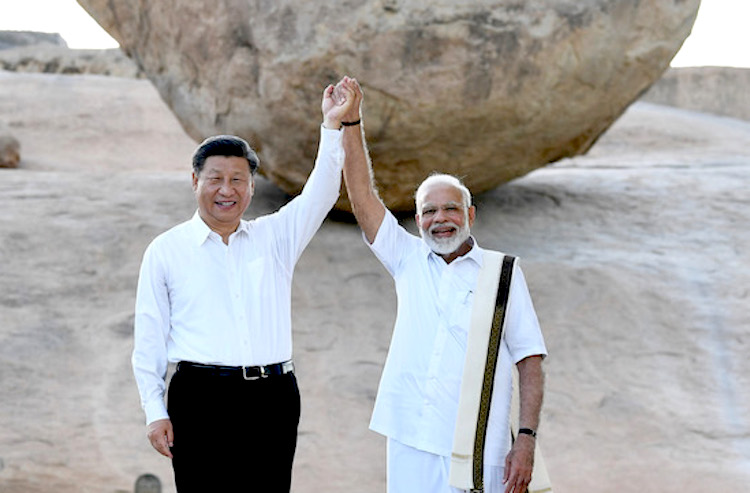 PM Modi and Chinese President Xi Jinping during Oct 2019 informal summit
An Economic Times report said India had to send additional troops to the River Galwan flashpoint in Ladakh and construct defensive positions after China upped its military presence in the region.
However, for once China's aggression along the Indian borders was called out by USA, which is now in a slanging match with China since the outbreak of Covid-19.
Unprovoked Chinese intrusions into Indian territories have drawn international attention with the United States stating the border disputes with China -- be it in Ladakh or in the South China Sea -- are a "reminder of the threat by China".
Principal Deputy Assistant Secretary of State, Bureau of South and Central Asian Affairs, told a media group over the Zoom app: "This is a reminder that Chinese aggression is not always rhetorical and whether it's in the South China Sea or whether it's along the border with India, we continue to see provocations and disturbing behaviour by China that raises questions about how China seeks to use its growing power."
She added: "That's why you've seen a rallying of like-minded nations whether it is in ASEAN or through other diplomatic groupings like the trilateral with the US, Japan and India, or the Quad -- conversations globally about how we can reinforce the principles of the post-World War II global order that supported free and open trade, that raised all boats including the Chinese boat," added Alice Wells.
The Line of Actual Control (LAC), or the disputed boundary between India and China, is divided into three sectors: western, middle and eastern.
There are disagreements between India and China over the exact location of the LAC in several areas. While India claims that the LAC is 3,488 km long, the Chinese think it is around 2,000 km long.
Both the Indian Army and the Chinese Army try and dominate each other by patrolling the areas up to the points each perceives the LAC, often leading to conflicting situations such as those reported in Naku La in Sikkim earlier this month.
An Indian Express report on Thursday said the number of Chinese patrol boats in Pangong Tso lake has gone up three times whereas they used only three boats earlier.
"Nearly one-third of Chinese transgressions in the western sector (of the LAC) happen in Pangong Tso. Not only have they substantially increased the number of boats on the lake, but their patrolling behaviour is also increasingly more aggressive. It is not a healthy thing when you consider what has been going on in the Finger Area since late April," sources said, the report added.
In an interview to NDTV Marshal RKS Bhadauria said "(Chinese) helicopter activity has seen a spurt."
"Whenever there is activity, as per our standard operating procedures, we deploy aircraft to monitor. That was done. There was nothing there that we are not aware of," he said.
Army Chief General M M Naravane said in a statement that "temporary and short duration faceoffs between the border guarding troops do occur along the LAC due to the differing perceptions of the alignment of boundaries which are not resolved".
He claimed that the troops from both the sides were aggressive which led to the scuffles in two different points under different commands and said, "there were two incidents at Eastern Ladakh and North Sikkim where aggressive behaviour by both sides resulted in minor injuries to troops post which both sides disengaged after dialogue and interaction at the local level".
In the first week of May, Chinese choppers were spotted flying close to the Line of Actual Control (LAC) between India and China in Eastern Ladakh after around 250 troops of both sides were engaged in a face-off near Pangong Lake in the area last week, official sources said.
According to reports, the situation escalated so much that the Indian Air Force had to deploy Sukhoi-30 fighter aircraft during the face off.