1800 people related to Tabligh Jamaat have been shifted to 9 hospitals or quarantined centers across Delhi: Health Ministry
New Delhi/IBNS: With the increase in COVID-19 cases recorded in India in the past 24 hours, the Ministry of Health on Wednesday said 1800 people related to Tabligh Jamaat have been shifted to 9 hospitals or quarantined centers across Delhi.
Right under the nose of the Delhi Police which falls under the Narendra Modi government, Tablighi Jamaat, the Islamic missionary movement, turned a busy, crowded Nizamuddin in the national capital into the hotspot of the spread of COVID-19 keeping 1.3 billion people of the massive country on toes.
The Ministry said although the cases have increased in India due to Tablighi Jamaat congregation in Delhi but it did not highlight national trend.
"The recent rise in cases does not represent a national trend," Lav Aggarwal, joint secretary in the Union health ministry, said while addressing a press conference.
At a time the idea of social distancing was embraced both by the Centre and the state governments, Tablighi Jamaat, an "orthodox" missionary, congregated around 3,000 people at Alami Markaz Banglewali Masjid in Nizamuddin here flouting all norms of self-isolation.
Reports suggest around 2000-3000 preachers had congregated at the event of Tablighi Jamaat preachers in mid-March, just days after the Delhi government had banned the gatherings of 200 people at any place in the wake of the outbreak of Novel Coronavirus.
As the Tablighi Jamaat is defending themselves saying the Delhi government had ordered a ban on a gathering of 50 people at any place only on Mar 16 after the event was hosted, a Mojo TV report highlighted a Mar 13 letter from the Aam Aadmi Party (AAP) government ordering a ban on 200 people.
According to a Hindustan Times report, Union Home Minister Amit Shah had on Mar 28-29 midnight sent National Security Adviser (NSA) Ajit Doval to Nizamuddin Markaz, Maulana Saad, to convince him to get the occupants of the mosque to get tested for COVID-19.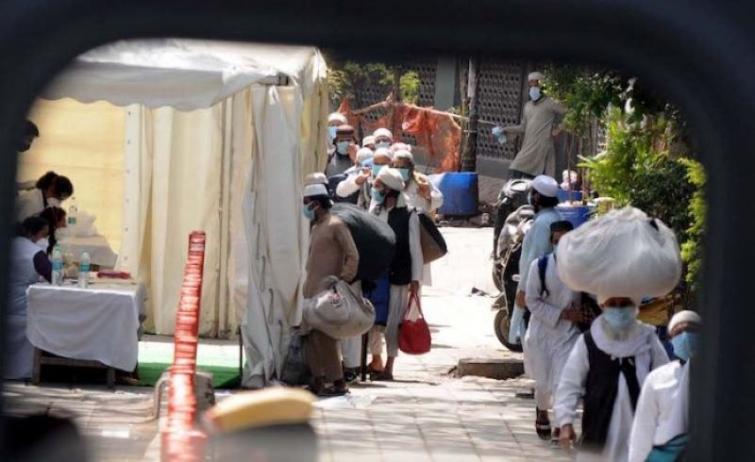 But all that happened only after the Delhi police had failed to convince Markaz.
even of the total number of deceased (over 50) so far in the country were incidentally the attendees of the event creating panic among the people across the country.
Six of those seven attendees had died in Telangana after they had fled to the southern state of India.
"Six people from Telangana who attended a religious congregation at Markaz in Nizamuddin area of New Delhi from 13-15 March succumbed after they contracted #Coronavirus. Two died in Gandhi Hospital while one each died in Apollo Hospital, Global Hospital, Nizamabad and Gadwal," a tweet posted by Telangana CMO on Mar 30 read.