In Kerala, PM Modi says he will treat the state like his constituency Varanasi despite no LS seat gain
Guruvayur, Jun 8 (UNI/IBNS) On a visit to Kerala and addressing his first ever public meeting after becoming Prime Minister for a second term, Narendra Modi said though Kerala did not offer the BJP any seat in the last election, he would still consider it as his constituency like Varanasi.
Assuring that his NDA government would strive for the development of the nation and progress of each of the 130 crore people, he said: "I know Kerala did not open account in the last election but I will consider it like my constituency of Varanasi in getting all care for my government".
The Prime Minister said this while addressing an Abhinandan rally after offering prayers at the Sree Krishna temple here.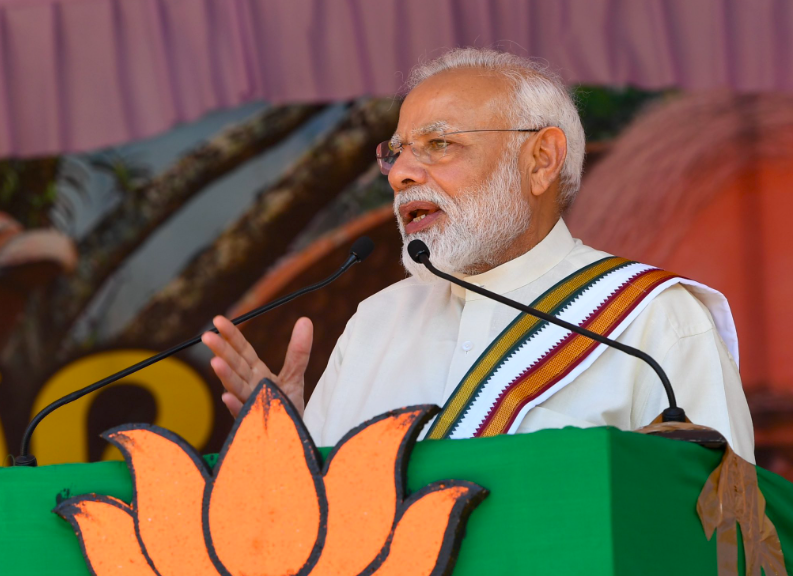 Modi said his government is committed to taking care of all, irrespective of their ideology and political thinking. Once the election is over and a new government is in power, there is no discrimination against those who voted against. "Our government is not working after assessing who voted for us and who not," he said.
"Election and victory is not the criteria, but it is the service to the nation. The progress of the whole nation is his aim and Kerala will not be left alone", he said during his 30 minute speech.
The Prime Minister did not criticise the left government but simply expressed regret over the state government in not joining the Ayushman Bharat scheme in which Rs 5 lakh would be given to each every year for critical treatment.
He began his speech in Malayalam wishing everyone the blessings of Guruvayurappan and said as native of Gujarat he was lucky to worship Lord Krishna,who grew up in Dwaraka.
Considerable importance is attached as he chose Guruvayur as the first place to visit and address a public rally after the landslide majority of his party in the recent elections. Although he did not make any significant announcement, he gave an indication that the Centre would extend all assistance to the progress of the temple.
The Prime Minister said Guruvayur is known for its elephant population,but at the same time all animals, including cows should be given protection. For this, his government had set up separate departments for animal welfare and fisheries.A special scheme has been introduced for the treatment of animals which is the backbone of rural economy.
I come to Kerala with a deep sense of gratitude to the people.

Yes, our Party did not win a seat here but I will serve the state with even greater vigour and deepen the bond with its wonderful citizens.

Highlighted our vision for agriculture, tourism, healthcare and more. pic.twitter.com/lbG7Y6OXIK

— Narendra Modi (@narendramodi) June 8, 2019
Assuring all central assistance and aid to stop spreading of Nipah virus in the state, he said the Centre would work with the state government in all its efforts to overcome the menace.
He said the Centre would launch a Heritage Tourism plan in Kerala as the state is known for its spirituality that has immense potential for tourism. He said India is now ranked third by the world Travel and Tourism organisation.
Mr Modi also said under the Prasad scheme, the government has plans to connect pilgrim centres through seven special projects.
At the outset, the Prime minister said people may be wondering why he had come to Kerala to express his thanks despite his party could not win a single seat in the election. "Our tradition is to thank all people irrespective of to whom they voted. They have all participated in the biggest exercise of election.
Later he left for Kochi for his onward visit to Maldives and Sri Lanka.