OPINION: Nursing deep wounds inflicted by a Modi sweep, Indian liberals are both despondent and defiant
The 2019 election verdict came in stronger than the average of exit polls, with the NDA tally aggregating at 355 seats which resoundingly paved the way for a Narendra Modi govt. 2.0. He is now on a bigger democratic podium, along with approximately 60 crore total Indians who cast their ballots for or against him, after an intense and polarising campaign. The re-election of BJP is seen as a vote for Hindu nationalist Modi, the 68-year-old charismatic PM with RSS roots and whose fiery speeches and active social media presence evoke emotionally charged reactions from both supporters and critics in India and across the world. It was more like a Presidential election this time in India with the voters left with one choice- to vote for Modi or not.
But the thumping victory of Modi and the BJP have left the Indian liberals in a state of shock and desperation. Earlier, they had done everything possible to discredit Modi's administration since 2014.The picture is no different in 2019.
While the collective opposition will have to be content with a 'Moral Victory' in the 2019 Lok Sabha elections if they choose to call it so,the liberals on social media are incapable of hiding their concern and despondency over the poll results.
As the figures started to trickle in, signaling PM Modi's second term as the Prime Minister, many liberals couldn't stop themselves from having a meltdown on social media.
There is Anti-Modi Derangement Syndrome, in which depressed liberal voters reflexively oppose anything Modi says, for any reason.
Many western educated Indian liberals had vowed to leave India if Modi won. Now with Trump in DC they can't even return to their 'natural' habitat.
Though the opposition's campaign was mostly directionless and often pedestrian laced with personal attacks, the BJP had mobilised all its organisational resources very well and the overall strategic planning of the BJP's campaign, led by Amit Shah, was miles ahead of the Opposition.
From cyber warriors to door-to-door campaigning, the BJP led NDA had left no stone unturned to draw people's attention across the nation.
In the end, the Opposition has been left flabbergasted with having no answer to this intense electoral onslaught dealt by the saffron.
"Sesham kopena purayet" — "Rage is the only option left" — goes the ancient Indian saying. All that the nation sees from the liberals and Opposition now is illogical and irrational anger and rage.
This mandate has rejected and decimated of what Modi himself described as the "Khan Market cacophony" of pseudo-secular/liberal cartels that held a disproportionate sway and stranglehold over the intellectual and policy establishment of the country.
Under Modi 2.0, the remnants of that cartel could be discarded from the country's academic, cultural and intellectual landscape.
They're more aghast at the fact that Sadhvi Pragya Singh Thakur, who was allegedly tortured in custody as an accused in a 'Hindu Terror claim', has made her way to the Lok Sabha with a thumping majority defeating Congress veteran Digvijay Singh in Bhopal.
The much anticipated victory of Gautam Gambhir over another liberal AAP candidate Atishi Marlena did the rest.
Senior journalist Barkha Dutt, known as a prominent liberal who is on the loggerheads with the BJP,tweeted: "PM bowed before the constitution in a powerful image of supplication to democratic values. I hope one of the first decisions of the prime minister is to sack Pragya Thakur who stands for the antithesis of India's constitutional values."

PM bowed before the constitution in a powerful image of supplication to democratic values. I hope one of the first decisions of the prime minister is to sack Pragya Thakur who stands for the antithesis of India's constitutional values.

— barkha dutt (@BDUTT) May 26, 2019
Left with little, the left-liberal brigade has now resorted to shaming the Hindu community for giving a decisive mandate in favor of PM Modi.
When Shehla Rashid Shora played the religion card when the initial leads gave BJP a head start, the left liberals, dumbstruck by the magnitude of the victory, found their long lost voice. In most of the tweets, the left liberals haven't only shamed the Hindu community, but also tried to justify the absurd hoax of 'Hindu Terror'.
In a New York Times article, Noble laureate Amartya Sen, a left-leaning economist and an old critic of the Modi regime, has expressed his anguish. "This is an impressive achievement, but how Mr. Modi been able to do it?"
Modi's ad-libbed speeches aim to rouse feelings of national pride among the public. Supporters believe that he has raised India's international profile.
They love that he speaks in Hindi on his international visits, as compared to previous Indian leaders who mostly talk in English. Critics, however, see Modi as an authoritarian who seeks to expand his powers and quell dissent, akin to other populist leaders such as in Hungary and Turkey.
"A fiery orator, he [Modi] has been able to influence others' thinking with his striking readiness to make political use of hatred and loathing – for people with different ways of life (Leftist, rationalists, liberal intellectuals) and for those with different origins and religious beliefs, such as Muslims." said Amartya Sen, who almost spoke like a spokesperson of India's opposition trying to make a sense of the poll outcome.
"India's general election was dominated by scare-mongering rhetoric, used very efficiently by Mr. Modi", he added.
Nearly 80% of India's population is Hindu followed by Muslims, Christians and others. In the spring and summer of 2017, 10 Muslim men were lynched or killed publicly in suspected hate crimes, many of them in states where the BJP was the ruling party, according to Amnesty International.
Several Muslim voters say they worry about a palpable difference in society's attitude toward them in recent years while many feel say they can't be openly critical of the government or Modi for fear that they will be branded as unpatriotic.
"Secularism is basically tottering on its knees in India," says Subir Sinha, a professor at the School of Oriental and African Studies - University of London, to U.S.News.
Liberals fear that Modi's government will undermine important institutions and curb civil liberties, a development that they say has already been happening in recent years.
A September 2018 report by the United Nations named India among countries where new cases of intimidation of human rights-defenders were listed.
Amnesty International and Greenpeace India have said that the government tried to intimidate them by freezing their bank accounts in the past two years.
In the next five years, one can expect "a more blatant kind of attack on individuals and institutions who don't adhere to their ideologies," says Ajay Gudavarthy, associate professor at Jawaharlal Nehru University in New Delhi.
"I am not bitter. I am not angry. I am stumped. Which may be worse. It is time for me and others of my ilk (hamey kuch bhi kaho – libtards, sickulars, presstitudes), to figure out our own complex emotions and priorities." said writer and columnist Shobhaa De in an article on Times of India.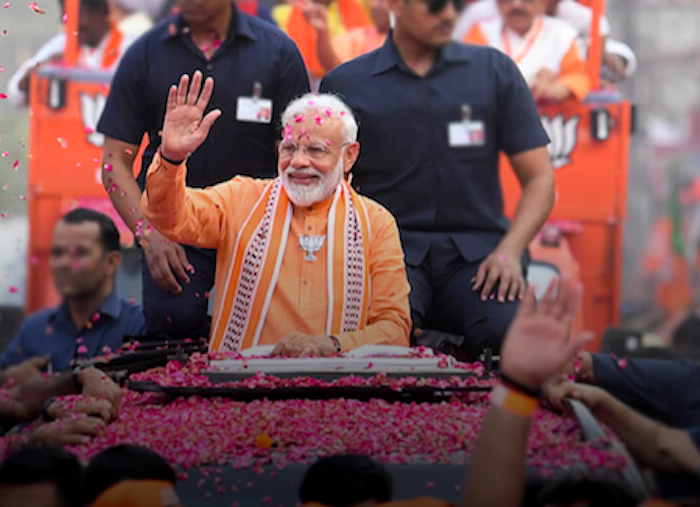 Two days after he received a massive mandate in the Lok Sabha elections, Narendra Modi, in an effort to reform his party's image to a more secular line, reached out to minorities and gave a new slogan of 'Sabka Vishwas' (trust of all).
"Sabka Saath, Sabka Vishwas" is a mantra which shows the perfect way for the development of all segments of Indian society. We have to also move forward with commitment towards the security of all and prosperity of the nation," said Modi.
But as Gautam Chikermane of New Delhi-based think tank group Observer Research Foundation (ORF) in his article titled "Six headwinds Modi will face in Season 2" says, the toxic political discourse against Modi will continue.
"Whatever the new government now does, howsoever useful it be, the toxicity of political discourse is here to stay. We have seen manipulation of facts, events and incidents turned into headlines over the past five years. There is no way that those narratives — led by a media that, with an exaggerated sense of self-importance, sees itself in the role of the Opposition — will end with Verdict 2019," Chikermane writes.
He said while "Modi in Season 2 will consolidate and strengthen his control over national conversations", allegations of institutional destruction will continue.
"From the Comptroller General of India and the Election Commission of India to the Central Bureau of Investigation, Centre-State relations and the Reserve Bank of India, the past five years have seen every discussion, difference of opinion or discord between the government and institutional pillars of India's democracy come under the allegation that Modi has destroyed them.
"These allegations have found their way to the highest judiciary, the Supreme Court. Easy as these allegations are to make, impossible they are to prove or stand in a court of law. But the raging discourse around them creates a sense that every action of the Modi government was made to destroy institutional independence," he writes.
With news of resignation of top leaders of the opposition coming in, the voices of left-liberals is ranging from dead silence to showing serious concern and even spewing hatred which is quite ironic in itself. Narendra Modi and his government have a long road ahead.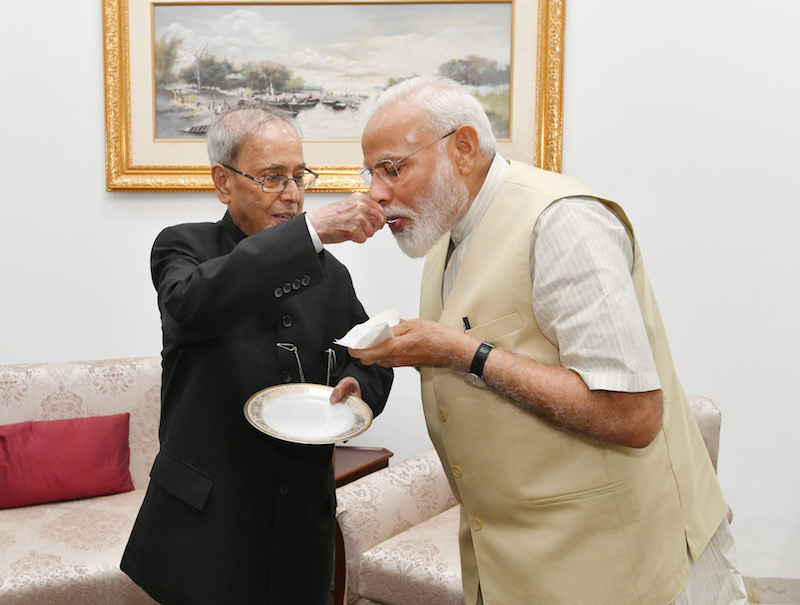 Image: Modi being fed sweets by former president Pranab Mukherjee after the former called on him after poll victory.