Verdict 2019: Narendra Modi set to become PM for second term as BJP storms back to power
New Delhi, May 23 (IBNS): Narendra Modi, whose tenure witnessed measures like GST and demonetization and a fierce attack from a united Opposition over everything from Rafale to his foreign visits, is all set to return as the Prime Minister of the country for a second term with his Bharatiya Janata Party (BJP) guided by its chief election strategy architect and national president Amit Shah marching ahead in the Lok Sabha polls as counting of votes progressed on Thursday.
The Congress-led UPA is once again facing the heat as they are just ahead in 90 seats, way behind NDA's 330.
Other parties are ahead in 113 seats.
Prime Minister Narendra Modi is marching ahead in his Varanasi seat where he is leading by 163299 votes.
Opposition leaders receive shock:
Most of the prime minister aspirants from the opposition camp, including the likes of N Chandrababu Naidu and BSP chief Mayawati, suffered major setback in the 2019 polls as strong pro-incumbency wave helped BJP to storm back to power in the Centre.
In Andhra Pradesh, the TDP regime headed for a rout with Jagan Mohan Reddy-led YSR Congress leading in as many as 24 out of 25 seats while TDP managed to pick up only one seat.
In Uttar Pradesh, Mayawati-led BSP was ahead in only 11 seats while its partners Samajwadi Party and RLD were ahead in eight and two seats respectively.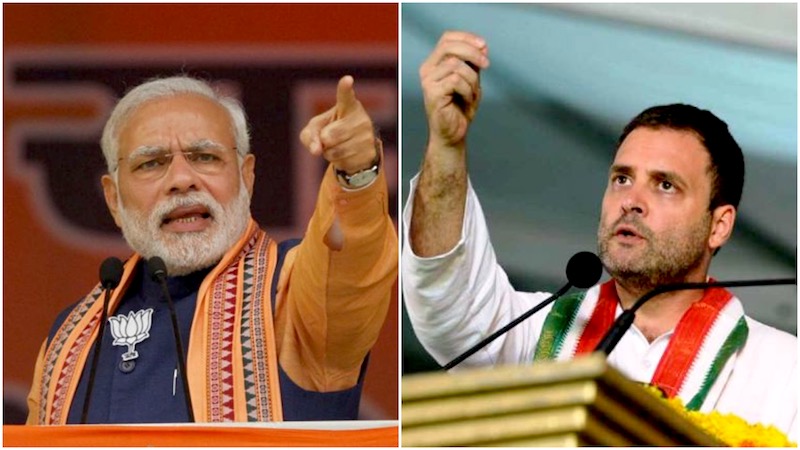 In contrast, the BJP, which won 71 seats in 2014, was comfortable in 57 seats giving a big setback to opposition camp. The Congress which could not finalise an alliance with the BSP-SP-RLD combine was leading only in one seat.
Rahul Gandhi stung by Smriti Irani in Amethi:
Congress president Rahul Gandhi was trailing in Amethi by a margin of 4,674 votes against Union Minister and BJP candidate Smriti Irani.
He is leading in the Wayanad seat.
Rahul's Amethi is considered as a Congress stronghold.
He is a sitting MP from Amethi and had defeated Smriti Irani from the same constituency in 2014.
Mamata Banerjee finds herself in tough situation:
Another regional outfit and its maverick leader Mamata Banerjee, who also harboured high ambitions of being one of the PM contenders, could not put up an impressive show with BJP set to win at least 17 seats.
NDA set to win in Bihar:
In Bihar, RJD of Lalu Prasad Yadav was heading in only two constituency with NDA constituents BJP and JD(U) likely to win 16 seats each and LJP of Ram Vilas Paswan appeared comfortable in all six seats it contested.
The opposition alliance also seemed to be heading for a big setback in Patna Sahib with Congress candidate Shatrughan Sinha trailing behind Ravi Shankar Prasad of BJP by margin of 76,404 votes.
Misha Bharti, Lalu Prasad's daughter, however, established early leads in Patliputra constituency.
Telangana, Maharashtra: Opposition parities fight
In Telangana, K Chandrasekhar Rao-led TRS though put up an impressive show but in the wake of BJP's convincing victory at the national level will have to give up its national ambition for the time being.
In Maharshtra, NCP led by Maratha strongman Sharad Pawar also had to face the brunt of electorate as it can possibly win in only three constituencies.
Pawar had taken several initiatives to unite the opposition parties to build up a formidable alliance against the BJP.
In Delhi, AAP also suffered major setback.