Kolkata to host Saumi Nandy's solo exhibition
Kolkata Nov 19 (IBNS): Artist Saumi Nandy, who is gearing up to host a solo painting exhibition in Kolkata, said she will love people to see art in every object they see everyday.
"Art is everywhere and I want to see people finding it in every object they see around them," Nandy said.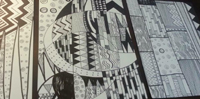 Nandy said she is not limited to a particular medium for creating her works.

She said: "I like to call myself an abstract non figurative artist . Art to me is a way of life.As an artist, I have never limited myself to a articular medium.Art is everywhere around us.I have tried to bring my art my life my poetry into objects of everyday life. "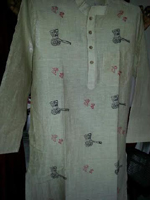 The solo exhibition of paintings and utility products of Saumi Nandy and installations by Debasish Saha, which is titled 'Black and White', will be inaugurated at Academy of Fine Arts, South Gallery on Nov 22 by artist Wasim Kapoor.

The exhibition will continue till Nov 28.

Speaking on selecting Kolkata as the venue, Nandy said: "It is a city where I was born and I spent several years of my life here. I love this city and hence selected it as a venue for my exhibition."