Wild jumbo brings traffic to a standstill in Guwahati
Guwahati, Apr 30 (IBNS): A wild elephant terrorised the Guwahati city on Tuesday evening.
The wild jumbo that strayed from Amchang Wildlife Sanctuary into Sixmile area in the capital city of Assam created panic among the residents and brought traffic to a standstill for several hours.
The elephant walked on the GS road in Guwahati city and created a long line of traffic.
As traffic movement was stopped on the GS road, people climbed the dividers and took out their phones to capture the wild jumbo.
The elephant reached ABC point near Rajiv Bhawan in the city while the police had a tough time to control the crowd.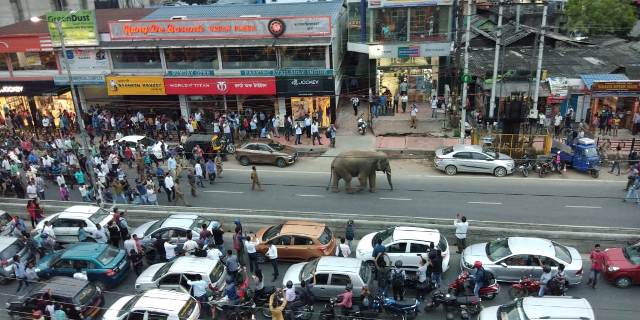 The Assam police and the forest guards guarded the elephant to ensure the jumbo was not hurt.
In the morning hours, the elephant was spotted in Hengrabari, Borbari and Magzine, Panjabari areas in the city.
Later, the forest department tranquilised the wild jumbo.
(By Hemanta Kumar Nath, Guwahati)