Cheetahs
PM Modi clicking pictures at the launch of Project Cheetah at Kuno National Park | Image Credit: UNI
PM Modi releases 8 Namibian cheetahs in Madhya Pradesh national park on 72nd birthday
Prime Minister Narendra Modi began his 72nd birthday by releasing eight cheetahs from Namibia in Madhya Pradesh's Kuno National Park Saturday in an ambitious project to reintroduce the animals in the South Asian nation after their extinction some 70 years ago.
The relocation of the cheetahs, who were flown to Gwalior from Africa, marked the carnivore's presence in India and concluded the seven-decade-long hiatus.
The release of wild Cheetahs by the Prime Minister in Kuno National Park is a part of his efforts to revitalise and diversify India's wildlife and its habitat. Cheetah was declared extinct from India in 1952.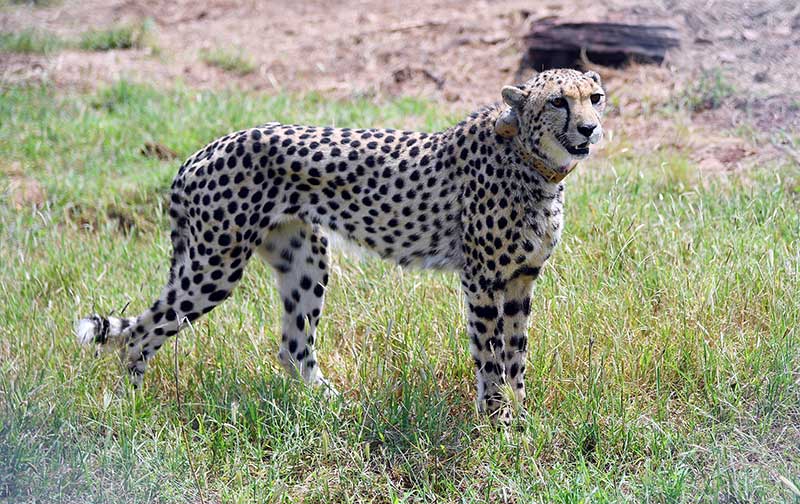 The Cheetahs that would be released are from Namibia and have been brought under an MoU signed earlier this year. The introduction of Cheetah in India is being done under Project Cheetah, which is world's first inter-continental large wild carnivore translocation project.
The cheetahs, who have now got radio collars installed, will be monitored by a team through satellite including their location for 24 hours.
Speaking at the event, the Prime Minister said, "This is a historic moment. Cheetahs will make us more environmentally conscious."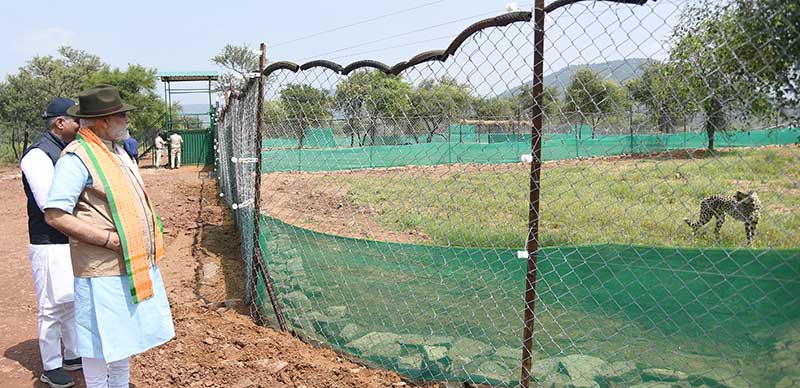 The Challenges
Mongabay India reports: Discussions to bring the cheetah back to India were initiated in 2009 by the Wildlife Trust of India. The introduction is parked under the Action Plan for Introduction of Cheetah in India.
Over five years, more than 50 cheetahs from South Africa and Namibia, will be introduced in various Indian national parks, including Kuno.
As much as Rs. 38.70 crores under the ongoing centrally-sponsored scheme of Project Tiger has been allocated to the cheetah introduction project for the years 2021-22 to 2025-26. The deal with South Africa is yet to be inked.
Competing predators may pose a challenge to the survival of cheetahs in Kuno, say experts.
"The leopard density at Kuno is particularly high. Competing predators in Kuno National Park include leopards, wolves, sloth bears and striped hyena," said Vincent van der Merwe, manager of Cheetah Metapopulation Project, The Metapopulation Initiative, while talking to Mongabay-India. "These predators can jeopardise cheetah survival through the killing of their young, whilst leopards are known to kill adult cheetahs on occasion," he added.
Indian wildlife biologist and conservation scientist Ravi Chellam echoes van der Merwe. "I expect cheetahs to face challenges with other carnivores, especially leopards, wolves, sloth bears and the occasional tiger. The presence of dogs in the larger landscape also poses risks," said Chellam. Chellam is also the CEO of Metastring Foundation and Coordinator of Biodiversity Collaborative.
Seven cheetahs were successfully reintroduced from South Africa to Malawi in the African continent in 2017. This reintroduction is considered successful as all cheetahs showed release site fidelity, and all females birthed their first litter within four months of release, according to a Cambridge University Press research paper assessing the success of Malawi reintroduction.
"Within two years of reintroduction, the newly established population consisted of 14 cheetahs, with demographic attributes similar to those recorded in the source populations," the paper added.
But the reintroductions into Malawi were less challenging as both reintroduction sites were fully fenced.
"We anticipate challenges in India initially. However, this is a long-term project. Fencing is very important for this kind of project. In South Africa and Malawi, fencing proved to be a valuable tool in eliminating ranging behaviour in South Africa and Malawi, allowing for population growth. There have been no successful cheetah reintroductions into unfenced systems," said van der Merwe in an interaction with Mongabay-India.
Al Jazeera quotes Laurie Marker, founder of the Namibia-based charity Cheetah Conservation Fund (CCF), which has been central to the project logistics. "I don't have a lot of worries."
"Cheetahs are very adaptable and [I'm] assuming that they will adapt well into this environment," said Laurie Marker.