Mercedes-Benz redefines open-top motoring, launches the fascinating C-Class Cabriolet
Kolkata, Oct 31 (IBNS): India's largest luxury car manufacturer, Mercedes-Benz on Wednesday announced an exciting addition to its Dream Car portfolio – the new C-Class Cabriolet. With this new sporty two-door Cabriolet, Mercedes-Benz India also introduces a completely new BS VI petrol engine.
The M 264 four-cylinder motor churns out 190kW, which allows the C 300 to attain 100 km/h from standstill in just 6.2 seconds.
The new C 300 Cabriolet comes with a host of external and internal enhancements to offer an enjoyable driving experience.
The new C-Class Cabriolet was launched by Mr. Michael Jopp, Vice President, Sales & Marketing Mercedes-Benz India.
Michael Jopp, Vice President, Sales & Marketing Mercedes-Benz India said, "Following the successful launch of the new C-Class, we are glad to introduce the stylish and suave new C-Class Cabriolet, which further extends the C-Class range with open top motoring. The new C-Class Cabriolet truly redefines open top motoring for those ardent enthusiasts who seek driving performance all year round. We are certain that the new C-Class Cabriolet will offer enhanced luxury and comfort to our customers and will continue to delight them. This fascinating cabriolet is aimed at the young target audience who enjoy driving an open-top luxury car."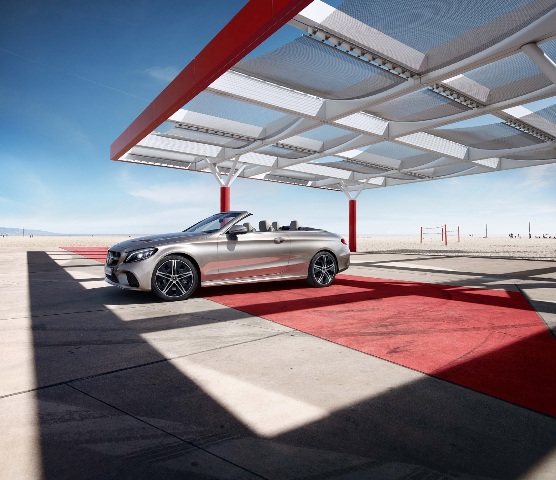 Jopp added, "Bringing in the latest products from our fascinating global portfolio is key to our success and has been highly applauded by our discerning customers. Be it, drop top cabriolets, stylish coupes and jaw dropping AMGs, we believe in offering our patrons and brand enthusiasts the best of driving performance and exquisite products. The introduction of the C-Class Cabriolet reiterates our 'top of the pyramid' strategy for the Indian market. We aim to continue our product offensive in India."
The C-Class Cabriolet is efficient and aerodynamic with the roof open, as well as closed, due to the reduction in aerodynamic drag, which also saves fuel. Innovative equipment such as the AIRCAP system noticeably reduces the airflow in the interior. The exterior design of the C-Class cabriolet is characterised by a striking front end design with sporty bumper and diamond grille with the central Mercedes star. The new Cabriolet comes with MULTIBEAM LED headlamps with pixel-specific beam range and coverage control – this is currently the most innovative light and sight system offered by Mercedes-Benz.