Soumitra Chatterjee
Avishek Mitra/IBNS
RIP Legend: Soumitra Chatterjee's last rites performed with full state honours
Kolkata: With full state honours, the last rites of Bengali acting legend Soumitra Chatterjee was performed in south Kolkata's Keoratola crematorium on Sunday.
Ending decades of a memorable journey on the big screen, Soumitra Chatterjee passed away on Sunday, leaving behind works which will be cherished by generations to come.
Soumitra Chatterjee's mortal remains was kept in Rabindra Sadan, the cultural epicentre of the city, earlier in the day for his countless admirers to pay tribute to their beloved icon.
Later, his body was brought from Rabindra Sadan to the crematorium where throngs of people had joined his last journey to catch a glimpse of the actor who had worked with equal brilliance in both commercial and arthouse movies.
West Bengal Chief Minister Mamata Banerjee and other top officials were present in the crematorium to pay tributes to the thespian who will also be remembered for his strong performance in several movies directed by Oscar-winning filmmaker Satyajit Ray.
Politicians, including Indian PM Narendra Modi, Tollywood and other Indian actors and people from different fields of life posted their condolences for the entire day on social media as they paid their last tributes to the legend.
President Ram Nath Kovind on Sunday mourned the death of legendary Bengali actor Soumitra Chatterjee and said he has made immense contribution to the craft of acting.
"Soumitra Chatterjee's performances won him several national and international awards including Dadasaheb Phalke Award, Padma Bhushan and Légion d'Honneur. Condolences to his family, the film fraternity and millions of fans across the world," the President said in a statement.
Indian PM Narendra Modi on Sunday condoled the death of Bengali film legend Soumitra Chatterjee and said his demise is a colossal loss to the world of cinema.
"Shri Soumitra Chatterjee's death is a colossal loss to the world of cinema, cultural life of West Bengal and India," Modi tweeted.
Chatterjee,85, a Dadasaheb Phalke Award recipient Soumitra Chatterjee passed away on Sunday at around 12-15 pm at the Belle Vue Clinic here, according to hospital sources.
I have never met anyone who knew so much: Sharmila Tagore remembers Soumitra Chatterjee
He battled the deadly coronavirus for days at a private hospital here and turned negative, but finally succumbed to his ailments after almost 40 days' fight. He was on ventilation for the past few days.
Chatterjee (or Chattopadhayay in Bengali), who had tested Covid-19, was shifted to an intensive care unit after his Covid-19 symptoms worsened. However, he was declared Covid negative later. But finally the end came on Sunday shortly after noon.
The actor, who was a favourite of maestro Satyajit Ray having starred in his iconic Apu trilogy, and had later earned huge popularity playing Feluda, a private detective character also created by the late Oscar winning filmmaker, is survived by his wife Deepa Chatterjee, a son and a daughter.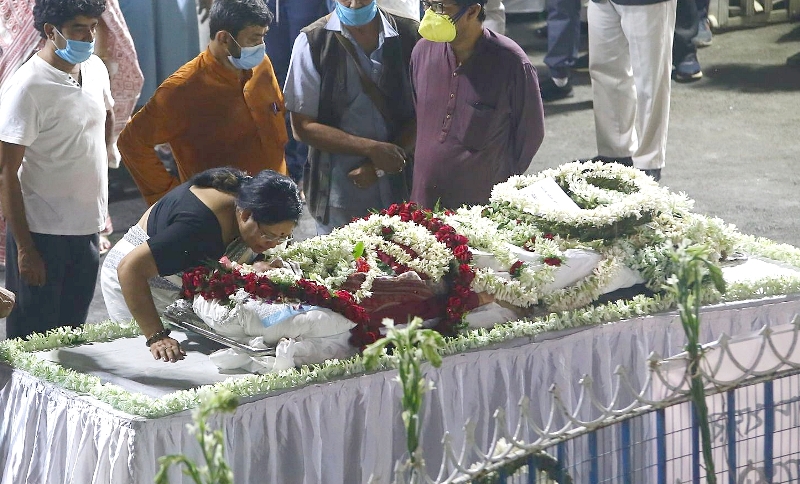 Chatterjee, who had started his career in the All India Radio (AIR) as an announcer, made his film debut with Ray's Apur Sansar, which was the third part of Apu trilogy.
Following Apur Sansar, he went on to act in Ray masterpieces like Abhijan, Charulata, Aranyer Din Ratri, Sonar Kella, Joi Baba Felunath, Ghare Baire and Jhinder Bandi.
Chatterjee, who had created his own fan following along with critical acclaim and international recognition, was a hero in many films during a golden period of Bengali cinema in the 1960s and 70s, when his contempoary was late matinee idol Uttam Kumar.
Decades since making his debut, Chatterjee till his last days was relevant as the only surviving Bengali screen icon, with his prolific portrayals in countless commercial and arthouse films.
Some of his recent films which have been widely appreciated are Bela Seshe, Posto, Mayurakshi, Sanjhbati, Basu Poribar, et al.
Obit: Soumitra Chatterjee (1935-2020): The last of the Bengali celluloid Mohicans
After months of anti-Covid-19 lockdown, the legendary actor had in July resumed shooting for actor-filmmaker Parambrata Chattopadhyay's Abhijaan.
Chatterjee was conferred the Dadasaheb Phalke Award, the highest award in cinema given by the Indian government, in 2012.
He had won two national awards and was in 2004 conferred Padma Bhushan, the third highest civilian award in India.
Chatterjee was one of the major Indian film actors on whom France had conferred the Legion of Honour, the highest French civilian award, in 2018, for his contribution to cinema.
(Images By Avishek Mitra/IBNS)