Satyajit Ray | Pather Panchali
Image credit: Sudipta Chanda Facebook
India Post, Theism Group release special cover to commemorate Satyajit Ray's birth centenary year
Kolkata/IBNS: Theism Group in association with Department of Posts,( West Bengal Circle) released a special cover to commemorate the birth centenary year of illustrious filmmaker-author Satyajit Ray besides 66 years of his debut directorial venture Pather Panchali on Thursday.
On Sept 23, 1955, Ray was felicitated for Pather Panchali at the Senate Hall in Calcutta University.
It was an auspicious occasion to be remembered forever that the Department of Post, India hosted the endeavour at the most prestigious Rotunda, GPO, Kolkata.
Several eminent personalities were present on the occasion including his son and noted filmmaker Sandip Ray, Debasis Mukhopadhyay, a well known Satyajit researcher, Ekta Bhattacharya who designed the special cover and Niraj Kumar, PMG, Kolkata Region among others.
The entire project has been designed by Sudipta Chanda of The Dreamers Music PR Agency while the evening was hosted by noted interdisciplinary artist Sujoy Prosad Chatterjee.
Sandip Ray said, "It gives me immense pleasure that my father's birth centenary year is being celebrated in such a big way. I am really thankful to Theism Group and the Department of Posts, India."
"It's also a proud moment for Pather Panchali, a classic which completes 66 years made by my father. It's giving me immense pleasure to release the special cover on such an important day," Ray added.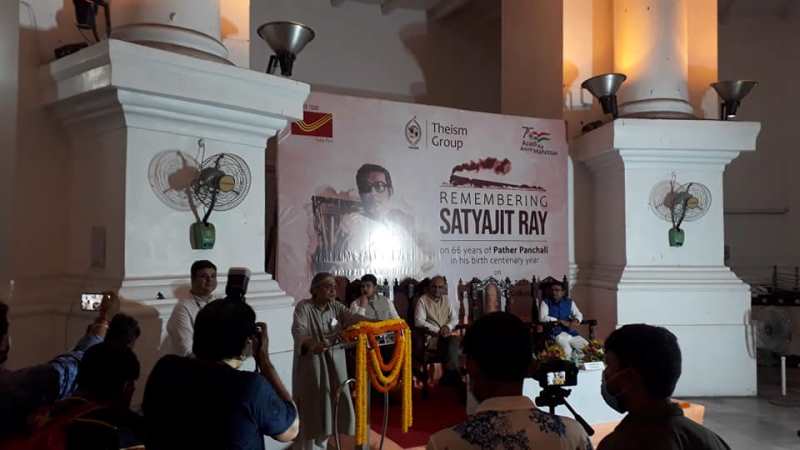 Ritam Saha, CDO & Director, Theism Group, said, "We feel honoured to present such a unique thing a special cover on Satyajit Ray to commemorate his birth centenary year. It's an achievement for us too."
Debasis Mukhopadhyay talked about the relevance of the day and why it was released on Sept 23.
Sujoy Prosad Chatterjee rendered a Tagore song Ami Chini Go Chini Tomare which Ray used in Charulata.
The evening kicked off with a small video remembering the classic Pather Panchali.