Jugjugg Jeeyo
Varun Dhawan and Kiara Advani taking taxi ride on the street of Kolkata | Image Credit: Avishek Mitra/IBNS
Believe in the institution of marriage? Varun Dhawan, Kiara Advani bare hearts promoting Jugjugg Jeeyo
The marital status of Bollywood actors Varun Dhawan and Kiara Advani may be different but they have unanimously agreed upon believing in the institution of marriage, which forms the central plot of their upcoming Hindi film Jugjugg Jeeyo. After a taxi ride on the streets of Kolkata, Dhawan and Advani spoke at length with the media. IBNS-TWF correspondent Souvik Ghosh brings excerpts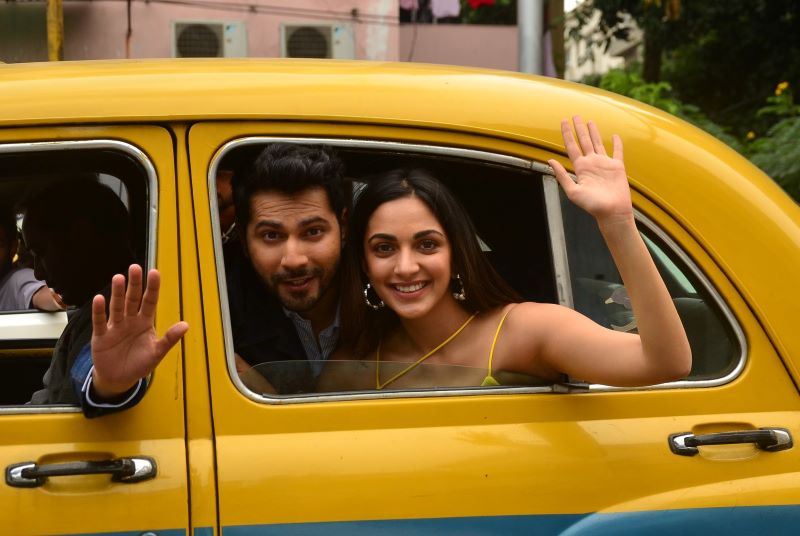 Q. Varun, your first film is releasing in two-and-a-half years' time!
A. (Dhawan): I am very excited. We have all been through a pandemic where we have lost someone or the other. The pandemic has changed our lives. But I am grateful to get back the time where we can meet, greet and interact. We were not sure whether this would ever return to this kind of life. I am grateful to God, doctors and scientists because of whom we could restart our lives. I want to restart my life on a very different note without unwanted tension and pressure. I love the audience and I am sure they will love me back.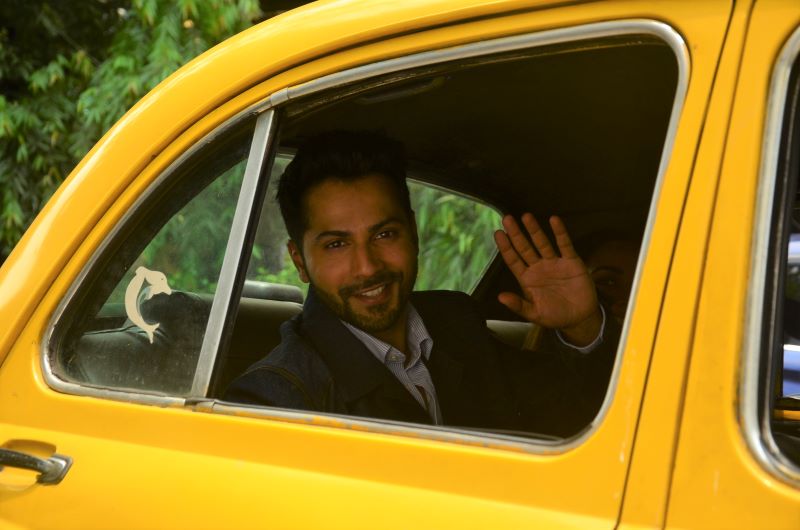 Q. Since you said about restarting, do you want to explore films like Shoojit Sircar's October once again?
A. (Dhawan): I appreciate the fact that people loved that film because it is very close to my heart. I have always tried to mix it up at least since the beginning of my career because I love all kinds of films. I can't ask for a better film than Jugjugg Jeeyo because it is about love and relationships.
I always believe that actors in India get love when they connect with the audience, for eg. Shah Rukh Khan. Despite having no release for so many years, he (Shah Rukh Khan) is still in people's hearts. So I don't want to show off my stardom. I want to make good films and not waste people's time.
Varun Dhawan, the son of filmmaker David Dhawan, made his acting debut with 2012 Karan Johar film Student of the Year along with Alia Bhatt and Sidharth Malhotra
Q. Since the film is about marriage, tell us about your individual take on this institution.
A. (Advani): I have been fortunate to see happy marriages in my home. I believe in the institution of marriage. Personally, I feel one should get married. Marriage is a chapter and a journey in life. Choosing the right life partner is more important. I believe in marrying only once. So I hope to get married with the right person with whom I can grow old.
(Dhawan): I feel one should marry once and I have already done it. But more than anything, this film is a family entertainer. It is made for pure entertainment. There is a situation in the film where me and my partner experience difficulties post marriage. Later in the film I learn that my oncreen father too wants to leave my mother. So from there, situational comedy begins and a very progressive message is imparted at the end of the film.
Kiara Advani is rumoured to be in a relationship with actor Sidharth Malhotra with whom she shared screen space in Shershaah
Q. Two generations have been shown in the film. Do you think people are not trusting the concept of relationship?
A. (Dhawan): I feel with the age of social media, people have grown individualistic. People go through phases. But human beings are social animals so they like to stay in a group. A team is very important. Love and humanity will always exist.
(Advani): And what is life without love? (smiles)
Q. What's the most important aspect that helps to make a marriage successful, Varun?
A. The most important thing is compatibility. One has to accept the flaws of his/her partner. Everyone has flaws which need to be accepted by the opposite person. Also with time, a flaw turns out to be good quality to one's partner. Moreover, I feel one should never lose emotional fidelity.
Q. Kiara, you are having a successful run in the box office with Shershaah, Bhool Bhulaiyaa 2. Does success make you choosy about roles or do you go with the flow?
A. I went with the flow when I signed these films. God has been very kind and the audience has given a lot of love. I just want to keep the same purity when I sit for a narration and say 'yes' to the script. I want to have that same purity with whatever films I choose.
I have always looked at films as an audience when I am hearing it. I hope there comes a day when people will just watch the film based on my choice. That's what happened with Shershaah or Bhool Bhulaiyaa (2) now. The love which I have got was so unanimous and I hope the same happens for Jugjugg Jeeyo.
(Images by Avishek Mitra/IBNS)