Himanta Biswa Sarma
Youth must take up agriculture instead of running after government jobs: Assam CM
Guwahati/IBNS: Assam Chief Minister Himanta Biswa Sarma Wednesday visited Gorukhuti in Darrang and launched several projects there.
He also took stock of the activities undertaken by Gorukhuti Multipurpose Agriculture Project headed by Chairman cum MLA Padma Hazarika.
It is to be mentioned that after assuming power as Chief Minister, Dr. Sarma had visited Gorukhuti in June and took a boat ride to assess the encroachment over vast areas by illegal settlers. After the visit, the state government took a decision in a Cabinet Meeting to free the encroached areas and start agricultural activities in a big way there.

Today the Assam Chief Minister visited Gorukhuti for the second time with a day-long programme to see the transformation and realisation of the vision of agricultural revolution by indigenous population here while protecting Assam's culture and values.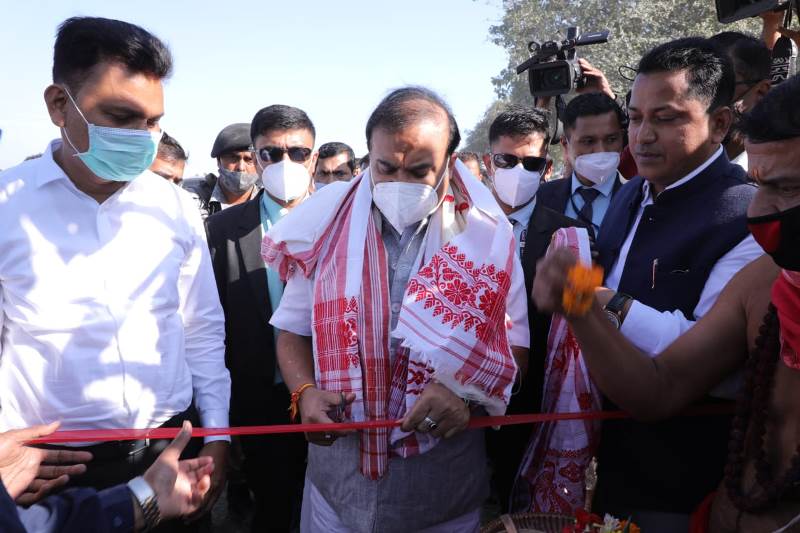 Lauding the efforts of Chairman of the project Padma Hazarika, MLAs Mrinal Saikia and Paramananda Rajbongshi for drastic transformation of the encroachment free land in Gorukhuti, Sarma during his speech at a public meeting said that all sections of the society must support the multipurpose agriculture project to make it one of the best in the country.
"We have to import eggs, fish, chicken, pork from outside and to prevent this, Assam must become self reliant for its food products to become a developed state", he said.
Saying that over 5000 bighas of land in Gorukhuti have been turned into agriculture fields out of which 2731 bighas have been utilised for mustard cultivation, the Chief Minister called on the youth of the state to take up agriculture in a big way instead of running after government jobs and easy money.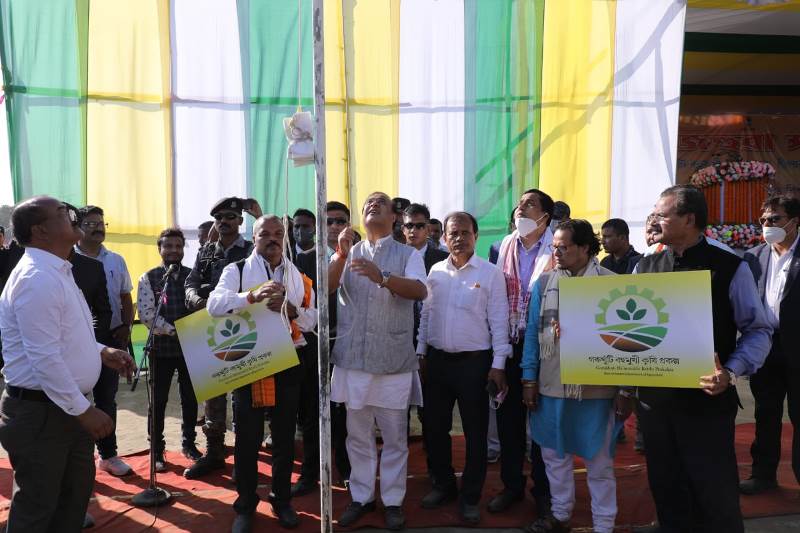 "Let us make Gorukhuti a shining example of Assamese pride and prestige which will inspire our youths to work hard and prosper. Assamese defeated Mughals 17 times and it is time to regain our lost glory with hard work and dedication," he said.

The Assam Chief Minister called on the youths to dedicate themselves in agricultural fields as Assam fertile land was occupied by illegal infiltrators who saw opportunities due to the local peoples' disinterestedness for hard work.
He said that Assam must aspire to compete with states like Gujarat and Punjab in dairy & agriculture. Assamese people have always been resilient against outside aggressors & the time has come to prove that again by taking control of the state's farming lands, he said.

The Assam Chief Minister also referred to the recent Jorhat incident where a youth was killed in broad daylight because of a street fight and said that moral degradation has taken place among sections of the youths and therefore they must be motivated to engage in productive work as able human resources
During the day-long visit, the Assam Chief Minister laid the foundation stone of Dholpur Bhagawat Namghar and interacted with Agro Soldier volunteers engaged in Gorukhuti Multipurpose Agriculture Project.