Etihad Airways
Image Credit: Etihad Airways website
Etihad Airways relaunches daily flights to Kolkata
Kolkata: UAE's national carrier Etihad Airways relaunched its daily flight service to the East Indian city of Kolkata on Sunday.
Kolkata becomes the airline's 8th destination in India.
From 26th March, 2023, @etihad Airways returns to the City of Joy, #Kolkata with direct flights to #AbuDhabi. Etihad will operate flights between NSCBI Airport, Kolkata and Abu Dhabi International Airport four times a week, on Tuesday, Thursday, Friday and Sunday. (1/2) pic.twitter.com/Vh2ZmacaUc

— Kolkata Airport (@aaikolairport) March 26, 2023
With a total of seven weekly nonstop services, the airline will once again connect Kolkata with the world through Abu Dhabi.
The first flight on the new service, EY256, departed Abu Dhabi with a full load of passengers at 1:50pm local time on 26 March and touched down at Kolkata's Netaji Subhash Chandra Bose Airport last night at 8:10pm local time.
The return flight, EY257, departed Kolkata at 9:05pm local time on 26 March, landing in Abu Dhabi shortly after midnight.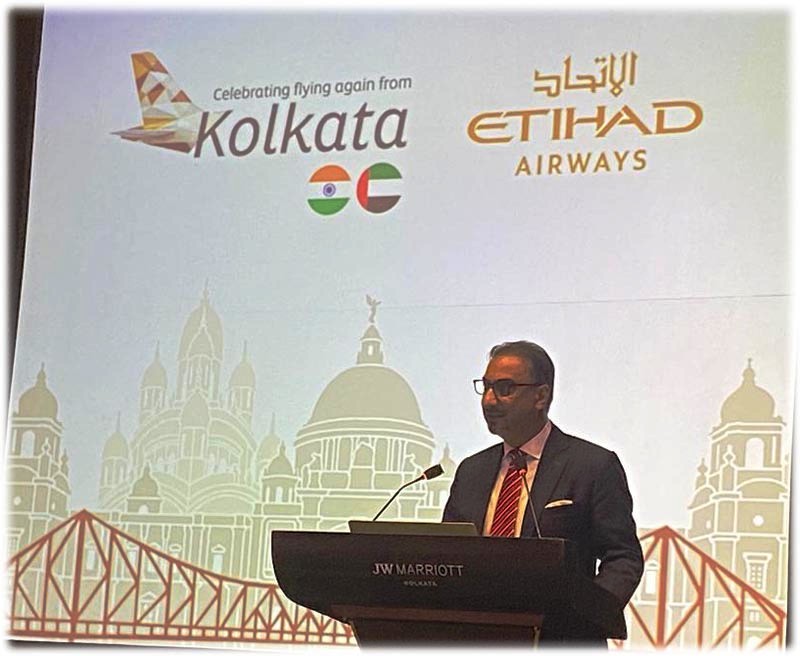 Speaking at an event in Kolkata, Amer N. Khan, Vice President Middle East, Africa, & The Sub-Continent, Etihad Airways, said: "I am thankful for the warm welcome we received here yesterday evening. The flight to Kolkata had full capacity passengers in it."
"We are looking forward to welcoming guests from this wonderful city to Abu Dhabi," he said.
He said India remains a 'critically important country' to the UAE and Abu Dhabi.
The flight service was closed due to COVID-19 outbreak. The service resumed on Sunday after three years.
The flights to Kolkata will be operated with an Airbus A320 aircraft, offering Etihad's award-winning service to guests in 8 seats in Business Class and 150 in Economy, convenient flight timings to the UAE's capital city and seamless connections to destinations across the airline's growing global network of 67 destinations.
Etihad said its passengers flying from Kolkata to the United States can benefit from the US Customs and Border Protection (CBP) facility in Abu Dhabi International Airport, the only US immigration preclearance service in the region that allows passengers to clear US immigration while they are still in Abu Dhabi, meaning travellers can get home quicker and easier.
How can the seats be booked?
Flights to and from Kolkata can be booked on etihad.com, the mobile app, Etihad Airways Contact Centres or travel agents.

(Reporting by Supriyo Hazra)