IndianClassicalDance
Khajuraho Dance Festival commences on February 20; coincides with G-20 Culture Working Group meeting
Kolkata/IBNS: One of India's most popular annual dance festivals, the Khajuraho Dance Festival, takes on greater significance in 2023 as the G-20 Culture Working Group meeting – to be attended by Prime Minister Narendra Modi and other global leaders – will also be held at the same time at this famous UNESCO World Heritage Site in Madhya Pradesh.
The Khajuraho Dance Festival will take place between February 20 and 26 while the G-20 Culture Working Group meeting will be held from February 23 to 25, this year.
The meeting will be attended by more than 200 delegates, including the presidents of the G-20 member states.
While the main festival centres on the Indian classical dance performances, such as Bharat Natyam, Kathak, Kuchipudi, etc., rendered by well-known artists from across the country, various cultural programmes are organised throughout the day in Khajuraho.


The lofty temples in the background add grandeur to the presentations.
The dances will be performed in the open-air auditoriums in front of the Chitragupta Temple and Vishvanatha Temple.

For the entertainment of adventure and art lovers, several adventure activities are being organised by the Madhya Pradesh Tourism Board, which include Camping, Village Tours, Heritage Walks, Segway Tours, E-bike Tours, and Water Sports.

Various cultural programmes are also being organised at the main venue.
These include Art Mart (where art and crafts by artists from India and abroad will be presented), modern dance performances by artists from India and five other nations, art exhibitions etc.
Sutra Dance Academy of Malaysia, a bastion of traditional & contemporary Indian visual art forms led by Padma Shri Datuk Ramli Ibrahim, is participating in Khajuraho Dance Festival, Madhya Pradesh🇮🇳, with its talented artists on 23 Feb to perform its masterpiece JAYA RAM (Odissi) pic.twitter.com/mkrDD7L7BH

— India in Malaysia (@hcikl) February 16, 2023
By staying in the Bear Valley Camp in the Jhinna village (Panna district), guests can attend team games, engage in live music or go on a stargazing treks, etc.; they can also go on boat safari and night jungle safari (extra charges applicable for both).
Or, you might like to go on an Old Khajuraho Village Tour in the evening; the tour starts from the Jawari Temple and ends at the Brahma Temple.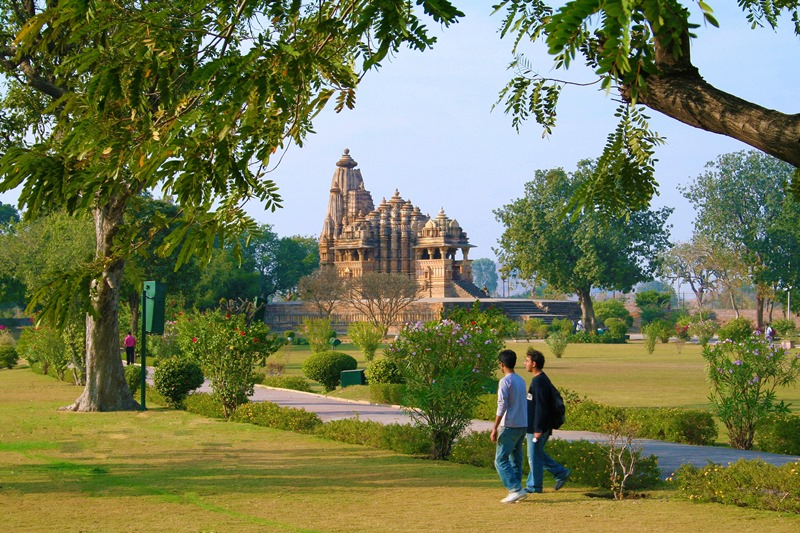 If you are interested in nature and wildlife, why not opt for 'Walk with the Pardi' which includes a visit to the Ranipur Waterfalls, Vulture Point, etc.
Arrangements have been made for water sports in Kutni (water body) where there will be speed boats and banana boats for the adventurous and shikaras for those who want to have a quiet ride.
You can also go rafting in the Ken River.
The 49th edition of the Khajuraho Dance Festival will be inaugurated on Monday evening in the presence of Vishnu Datt Sharma, Member of Parliament from Khajuraho, and the state's minister of Micro, Small & Medium Enterprises, Science & Technology - Om Prakash Sakhlecha, minister of Tourism and Culture - Usha Thakur, and Principal Secretary - Sheo Shekhar Shukla among others.
Information: Khajuraho domestic airport is connected to Delhi, Mumbai, Bhopal, Varanasi etc. Mahoba is the closest major railhead from Khajuraho, around 78 km away. The world heritage site is connected by road with major towns and cities of the state. MPT Hotels and Resorts operates several luxury tourist lodges in Khajuraho; there are also many private hotels ranging from star category to budget. For more details and booking, you may contact : Madhya Pradesh Tourism 'Chitrakoot', Room No.67, 6th Floor 230-A, A.J.C Bose Road,Kolkata-700 020; e-mail: mokolkata@mp.gov.in.