Canada Documentary
Image Credit: sevenhillpictures.com
Canadian documentary film 'Divine Musical Dancers' showcases sublime culture of South India
Canada/IBNS: Directed, produced, and written by Ken Kandiah from Canada, the documentary 'Divine Musical Dancers' showcases the celestial culture of South India through the performances of a celebrated dance group from Tamil Nadu — comprising of 4 states namely Chennai, Kerala, Karnataka, and Andhra Pradesh — in South India.
These performances are played generally in celebrations and welcoming ceremonies, in the procession of the day-to-day temple festivals, and most commonly in wedding ceremonies.
The performance of this dance group is accompanied by two musical instruments Nathan Nathanvaram and Melam. When played together, these two instruments produce the most sanctified music Mandala Isai, which is part of the essential component of traditional festivals and ceremonies in South India.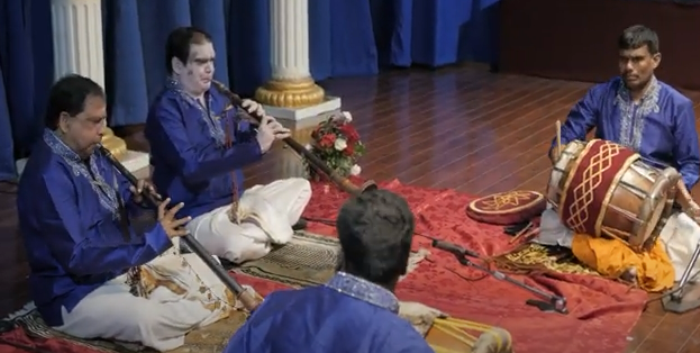 Based on the song produced by Indian deity Lord Shiva who performs his immortal dance called the Shiva Tandava, these performances describe Shiva's power traditionally attributed to Ravana, the King of Lanka, who is considered to be a great devotee of Shiva.
One of the oldest Indian classical dances originated in Tamil Nadu Bharatanatyam, which is performed in this documentary, is accompanied by Karnataka music and is led by one of the females performing those dances.
The song known as Vallik Kanavan is sung by Sudha Ragunathan, and the song Edayyagati Ð Koteeswarayer Ð Chalanata — Adi is sung by E. Gaayathri.
The female performances also play Samboo. Their texts are in 5 languages, namely Malayalam; Tamil; Telugu; Kannada, and Sanskrit.
Many other performances accompanied by musical instruments showcased include Raga Hamsathwani; Thaalam Adi; Raga Sheniurutti; Raga Nashighapooshani; and Raga Gambheera Nattai.
The cinematography is done by Francesco Bori and the sound provided by David Moffat.
Post-production of this documentary is expected to be completed by Aug 1, 2021.
The expected release date of this documentary is unknown.
Nathan Nathanvaram and Melam image credit: screenshot
(Reporting by Asha Bajaj)