Dev & Rukmini Maitra
Image credit: Rukmini Maitra Instagram
Tollywood superstar Dev, girlfriend Rukmini Maitra test COVID-19 positive
Kolkata/IBNS: Tollywood superstar-MP Dev and his actor-girlfriend Rukmini Maitra are the latest celebrities from Bengal to have tested positive for COVID-19.
Dev said he has almost no symptoms and both are currently under home isolation.
In a tweet, Dev wrote: "Thanku for the Concern. Got the results. Yes I am Positive with almost No Symptoms. Right now in a Home Isolation."
Thanku for the Concern ..

Got the results
Yes I am Positive with almost No Symptoms

Right now in a Home Isolation 🙏🏻

— Dev (@idevadhikari) January 5, 2022
Meanwhile, in an Instagram post, Rukmini Maitra shared: "This is to inform you all that I have tested positive for Covid. I am currently under isolation at home, under the medical guidance of our family doctor. These are testing time so stay strong and mask up."
"Hoping to be on my way to recovery soon," she wrote.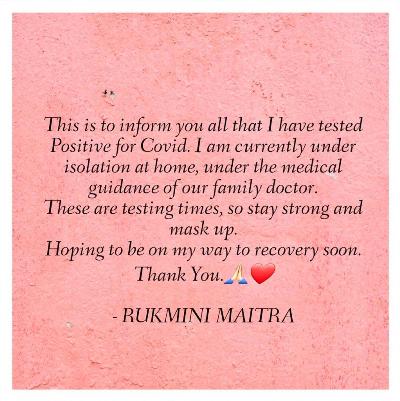 Earlier in the evening, actor and TMC MP Mimi Chakraborty informed that she has tested positive for Covid.
Image credit: Mimi Chakraborty Instagram
She also said that she had not gone out of her house in the past few days.
The actress is currently in home isolation and under the guidance of a doctor.
"I would request everyone to take proper precautions and always wear a mask to avoid any risk. Please be safe and mask up," Chakraborty shared in her Instagram story.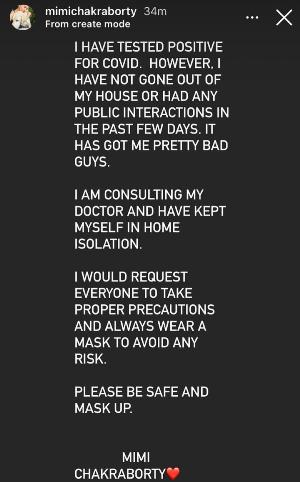 Actor Parambrata Chattopadhyay earlier in the day confirmed he has tested COVID-19 positive.
"Had mild symptoms in Mumbai on the 27th, but had tested negative. Returned to kolkata on the 30th. Became completely symptom-free by 2nd, but got a routine test done anyway day before, results came now and it's positive. Will test again in three days," he tweeted.
Following a surge in cases within the Tollywood film industry, the West Bengal government on Wednesday announced its decision of temporarily postponing the 27th Kolkata International Film Festival.
The festival was scheduled to start from Jan 7.