Alexx O'Nell | Golondaaj
Alexx O'Nell in Park Street, Kolkata | Image Credit: Avishek Mitra/IBNS
Filmmakers are writing characters for me now: India-based American actor Alexx O'Nell
Alexx O'Nell, India-based American actor-musician, is back with Dhrubo Banerjee's Bengali period sports drama Golondaaj, which stars actor-parliamentarian Dev in the lead. O'Nell acted in the web series REKKA earlier this year. In a candid conversation with IBNS correspondent Souvik Ghosh on a humid autumn afternoon, Alexx, who shared screen space with top actors like Amitabh Bachchan, Sushmita Sen, Prosenjit Chatterjee, talks about Golondaaj, working experience with Dev, his career and more
Tell us about your character in the film.
He is the main antagonist in the film. It is a very interesting and important role in a very meaningful film. Golondaaj at its core is about changing mindset. The shot that Nagendra Prasad Sarbadhikari takes, scores a goal and triumphs over this British regimental team was heard all round the world in the Indian revolution. It was the first shot of a non-violent revolution. The change in mindset occurs because Nagendra Prasad Sarbadhikari fights long and hard, on and off the field against someone who is (Major) Frederick Jackson, which is my character.
Frederick Jackson embodies the perspective against which Nagendra Prasad Sarbadhikari, his friend and community resist. Nagendra Prasad Sarbadhikari fights against Jackson's idea that Indians are inferior, belong to the second class and India itself deserves to be a colony.
Football is core to the film. Was the sport one of the reasons for which you said yes to the film, particularly when you yourself play the sport?
I was at a grocery shop when SVF contacted me for the film. When I was conveyed that the film is about football, I kept all the items at the store and asked for details (laughs). Football is very close to my heart. Since I have been coming to the state for several years now, I know how football is close to Bengali people's hearts. But back then (before this film), I didn't know the history of football in West Bengal and why the sport is such a big part of the culture.
How was your working experience with Tollywood superstar Dev?
Dev is wonderful. I have had the experience of working with some of the best actors, directors, producers in all of India. Fortunately or unfortunately, I don't have the background to really appreciate the concept of stardom as much. For instance, the first time I saw Prosenjit Chatterjee act was when I had worked with him. It is great for me because I do not get star-struck when I meet them. I meet them on an equal footing as a co-star or a scene-partner. Only later I realise that he/she is a huge star.
Similar thing happened with Dev, who is a massive star. But besides being a star, he is a great actor and a wonderful human being. Dev is a perfect example of an actor whose professionalism is above his/her stardom. Stars or actors, who help their co-actors, have the most illustrious career and Dev is one of them. He is a very giving actor and it was my privilege to work with him.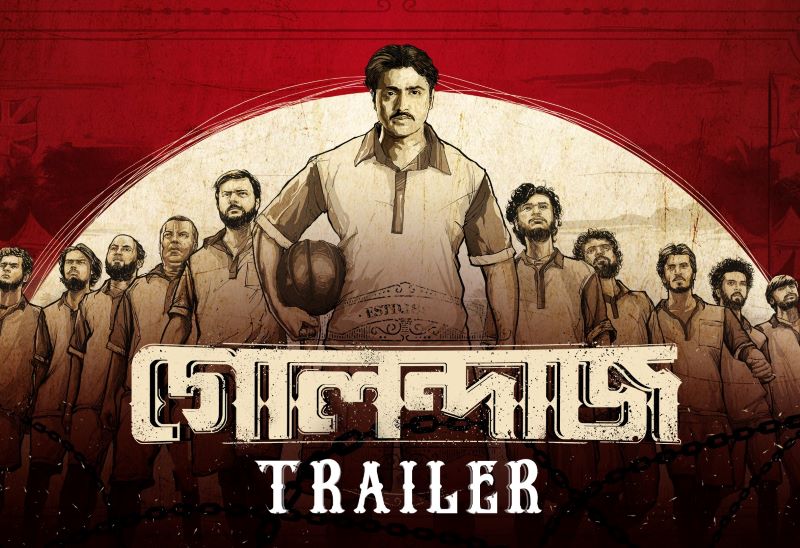 You have featured in 'REKKA' and now 'Golondaaj' in 2021. Are you interested in working more in Bengali films?
My career spans 15 years now in India. In between 'Yeti Obhijaan' and now, I had the distinct pleasure to work with Miss Universe Sushmita Sen in 'Aarya' which was so well received by the audience. I guess the language is immaterial. I am excited about great roles, stories and teams to work with. But I want to do more films in Bengali because I love being here. There is an intrinsic appreciation of arts in West Bengal.
You have worked in films of multiple languages. How do you think OTT has broken the language barrier in films?
It has made a massive difference. I think OTT has kind of revolutionised the entertainment industry, actors, producers, writers and most importantly audiences. Now a maker can find its audience or have his/her audience find the film while it was not possible previously. A niche content is now creatable on a much larger scale. A maker is no longer dependent on making everyone come to the theatres to watch his/her content. I don't think the theatre culture will ever go away because the feeling of watching films in a theatre is electric and gives an immersive experience but making the content available is better than insisting that it be consumed in a particular way.
Your character in 'Aarya' was also significant though Sushmita Sen was the anchor in the script. Is giving significance to each character of a film new to Indian cinema?
I don't think it's new but the exploration of characters in a two-hour film is often rushed. Also there is not much room for exploration of all characters in a film. Often, the audience is not accessed to the information regarding the motivation of a character. But in web series like Aarya, where I have been a part of, there is a benefit of time to build a character but also a definitive storyline. People nowadays binge-watch series of nine-ten episodes because of the fact that writers and directors are forced to cast beyond stars.
Your thought process before plunging into a film has definitely changed over the years now. How do you approach scripts now?
It is a joy and privilege to be asked to be a part of stories. I feel this is the best time of my career because people are writing characters for me. I'm saying 'no' a lot less because the roles that are brought to me are not one dimensional anymore. I have never been happier with the kinds of roles that are being offered to me. I have never felt so fortunate like this before. I like great writing, characterisation and stories. Beyond that, I see the person (director) who is giving the script before choosing a role. I see whether the person is believable if I don't bring anything new to the script but what is written on the page.
Gone are those days when a director takes full responsibility for an actor's performance. Now the directors want actors who will come with their own ideas and flesh out a character because the makers do not have the time and mind space to do that for every single character. So I look at the characterisation, story but also the team.
As you are saying you have your own perspective or a sense of every script, do you want to take the role of direction seriously?
No, no (laughs).
Why not?
There are a couple of reasons. First of all, directors are also excellent technicians. There is a lot of learning that goes into direction. Directors will have to be good, not the best, at everything including lights and camera. A director will have to be a jack of all trades and an expert of one. I don't think I can do that. I may do in the future but at the present moment, I am most comfortable under the direction of an excellent director. So I don't see direction soon though I direct my music videos.
(Images of Alexx O'Nell: Avishek Mitra/IBNS)