Bhupendra Patel
Image credit: UNI
Bhupendra Patel to take oath as Gujarat CM today
Gandhinagar: BJP leader Bhupendra Patel will take oath as the Chief Minister of Gujarat on Monday to start a new journey in his political career.
Gujarat Governor Acharya Devvrat has invited Patel to take oath as CM at around 2.20 pm.
राजभवन में भारतीय जनता पार्टी के विधायक दल के नवनियुक्त नेता श्री भूपेंद्रभाई पटेल जी ने अपने नेतृत्व में नई सरकार गठित करने का प्रस्ताव प्रस्तुत किया। प्रस्ताव को स्वीकार कर मुख्यमंत्री पद के शपथ ग्रहण के लिए उनको 13 सितंबर, 2021को दोपहर 2:20 बजे आमंत्रित किया। pic.twitter.com/gTZrUYKRdW

— Acharya Devvrat (@ADevvrat) September 12, 2021
Patel met the Governor on Sunday to stake a claim to the top post in the state.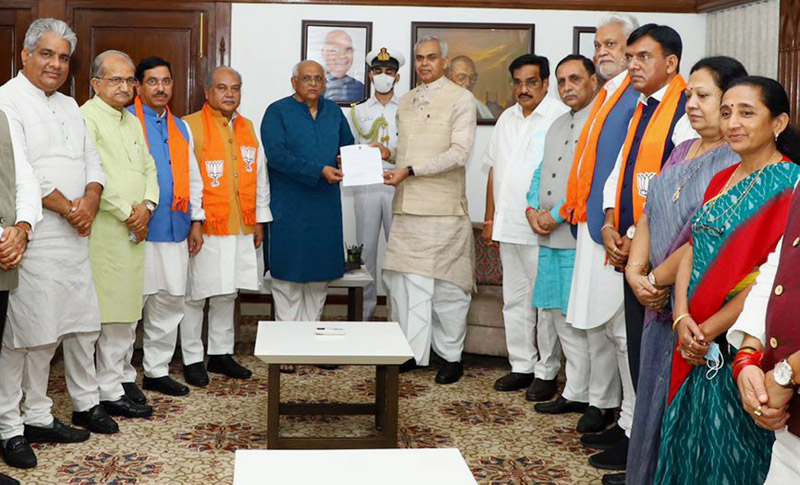 He was accompanied by former chief minister Vijay Rupani and state BJP chief CR Patil along with other party leaders.
Union Minister N.S. Tomar who was one of the observers appointed by the BJP for the process of selection made the announcement. He said Patel's name was proposed by Rupani, who insisted on being the proposer for the new chief minister.
Patel fought from the Ghatlodia seat with a margin of over 1,17,000 votes against Shashikant Patel from the Congress party. The seat was earlier held by former Gujarat chief minister Anandiben Patel who resigned and later was appointed as a governor.
Read: Bhupendra Patel to take oath as Gujarat CM tomorrow
A local BJP leader, with an old association with the Rashtriya Swayamsevak Sangh, Patel has earlier served in the local municipal bodies, also serving as a municipal councillor in Ahmedabad.
Gujarat Chief Minister Vijay Rupani resigned on Saturday as Chief Minister of the state leaving questions over who could be his successor.
Rupani, 65, represents Rajkot West assembly constituency. He had taken over as Chief Minister of Gujarat in August 2016 when Anandiben Patel had quit the office in the wake of agitation by Patidar community leader Hardik Patel.