Bengal polls 2021
Security forces patrolling near a polling booth in Bengal's Nandigram/Image credit: UNI
Amid tension between TMC-BJP workers in Nandigram, Bengal sees voters' turnout of 82.78 pct in 2nd phase
Kolkata/IBNS: Polling in 30 seats of West Bengal including the high-voltage Nandigram, which saw a prestige fight between state Chief Minister Mamata Banerjee and her former aide Suvendu Adhikari, concluded on Thursday evening with an overall voters' turnout of 80.43 pct till 5:30 PM.
The voters' turnout in Bankura has been 82.78 pct while in Nandigram AV, it has been 80.79 pct.
While 78.05 pct voters exercised their franchise in West Medinipur, East Medinipur saw a polling percentage of 81.23. Besides, South 24 Parganas recorded 79.66 pct turnout.
"Voting was held in 30 Assembly Constituencies of West Bengal with nearly 76 lakh electorates registered across 10,620 Polling Stations in Phase II. The number of Polling Stations have increased in view of the fact that the number of voters per polling station has been reduced from 1500 to 1000 keeping social distancing norms in view," the Election Commission said in a statement.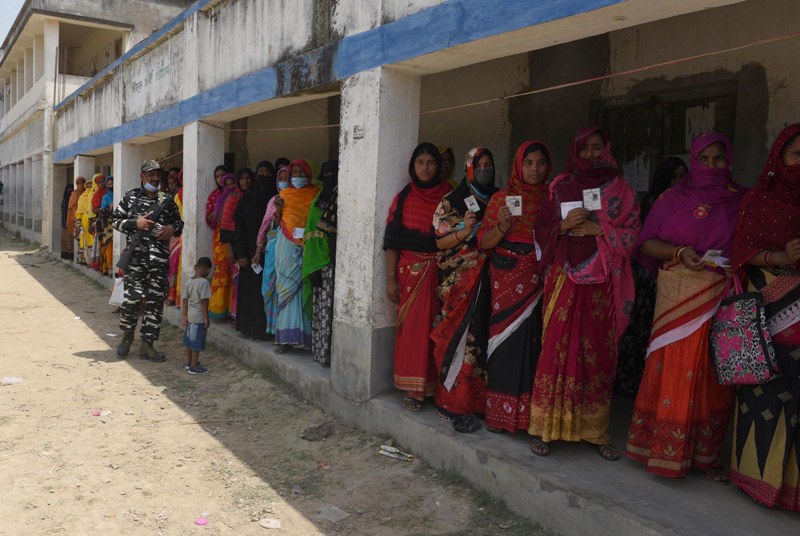 Although the EC said the voting was conducted peacefully in Bengal, the searing second phase of polling was marked by a two-hour-long tension in Nandigram's Boyal, as TMC and BJP workers engaged in a verbal spat after CM Mamata Banerjee visited a polling station.
According to media coverage, Banerjee was allegedly gheraoed at polling booth no 7 at Nandigram AC after she reached there around 1: 40 PM following reports that the TMC polling agent was denied an entry into a booth.
In his report at 4.06 pm from Boyal Moktab Primary School polling station (in Nandigram), General Observer Hemen Das reported that "polling was not disrupted at any moment at the polling booth."
"A separate handwritten complaint was received from Banerjee via CEO of West Bengal in the late afternoon. The same has been forwarded to Special General Observer Ajay Nayak and Special Police Observer Vivek Dube. They have been asked to send a report by tomorrow 6 pm," the EC said on the Boyal incident.
Earlier coming out of the polling booth with the help of CRPF and police personnel amid the clash between the party workers, Banerjee said she was worried about democracy and not her chance to win the seat.
"We were receiving complaints that some people were denied to vote. The BJP candidate has been doing goodaism since last night. People were threatened including our leader Abu Taher. We have filed 63 complaints," she said.
"I am not worried about Nandigram but democracy. They have done cheating," Banerjee added.
While her rival from the BJP, Suvendu Adhikari exuded confidence in winning the seat, the TMC supremo has accused Union Home Minister Amit Shah of controlling the CRPF and motivating them to work in favour of the saffron party.
"I won't blame the CRPF and police. The BJP has brought goons from outside the state. This is the unfortunate part. I feel sorry for the Election Commission for their silence. They are one-sidedly supporting the BJP candidate," she said.
Visiting Boyal after Banerjee departed, Suvendu Adhikari said with a smile, "Begum is not going to win here... She has lost the election."
Amid the second phase of voting, Prime Minister Narendra Modi held a campaign at Uluberia in West Bengal.
Speaking to the rally there, he said, "The Nandigram incident shows Mamata Banerjee has lost the election."
"Didi, are you filing your nomination from another seat?" Modi said, taking a swipe at Mamata.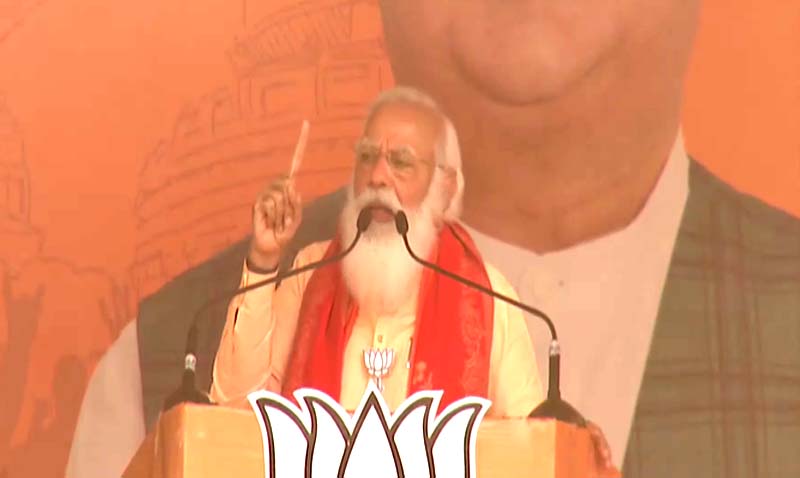 However, TMC sources said Mamata won't be fighting from any other seat as she is confident to win in Nandigram.
"The question of Mamata Banerjee fighting from any other seat does not arise. She is winning Nandigram comfortably," the party sources said.
"Mamata Banerjee has won Nandigram. No amount of mind game and godi media fixing can change it. BJP has lost Nandigram. TMC has done better than 2019 Lok Sabha polls. Dear Amit Shah ji, your mind game won't work," TMC MP Derek O'Brien said.
Former Union Minister Yashwant Sinha, who recently joined TMC after parting ways with the BJP, said: "As per our information, Mamata Banerjee is winning with a huge margin (in Nandigram) and the opposition candidate is nowhere near her."
The TMC supremo also questioned PM Modi's campaigns in West Bengal amidst the second phase of polling on Thursday saying it is a violation of the model code of conduct.
"Why Narendra Modi comes to Bengal on every polling day? Why will he campaign on election day? If we cannot campaign in election areas then why he addresses the people with all facilities including Doordarshan on polling day?" Banerjee questioned.
"Is it not a violation of the model code of conduct?" she raised these questions while talking to media persons.
Nandigram, which stood witness to a mass revolution in 2007 after the then Left Front government had attempted to acquire land to make a Special Economic Zone (SEZ), is once again a focal point of discourse after Mamata Banerjee decided to contest from this constituency in the ongoing Assembly polls against his once-trusted lieutenant Suvendu Adhikari, who is now a BJP candidate.
The 2007 land movement turned out to be a political gain for Banerjee, a then opposition leader, taking the reign of the protests alongside Suvendu Adhikari and his family.
In another incident on Thursday, a BJP candidate Pritish Ranjan Kuar was attacked and his vehicle was ransacked allegedly by TMC workers in West Medinipur's Keshpur, reports said.
According to reports, when Kuar was going to visit a polling station, a large mob attacked his convoy with bricks, sticks, rods and stones at Gunhara village.
Later a heavy police force along with Central paramilitary forces rushed to the scene and at least 17 villagers, including four men and 13 women, have been arrested so far in connection with the case.
One BJP worker Uday Dubey (48), a KGP IIT staffer, was found hanging in the balcony of his relative's house at Vetukia village in Nandigram on Thursday morning.
Family members claimed that local TMC leaders were torturing him mentally following which the man had committed suicide. Police initiated a probe and sent the body for autopsy. The TMC has, however, denied allegation against them.
Incidents of malfunctioning of EVMs were also reported in the morning from at least 150 polling booths, including 43 in East Medinipur, 56 in West Medinipur and 45 in South 24 Parganas.
The EC later said all those EVMs were replaced and the problem was solved.
"All those EVMs have been replaced as voting is underway at those polling booths," said the ECI.
All election images' credit: UNI
Modi's image credit: BJP Twitter Handle