Farmers' Protest
Khalsa Aid India facebook page
Foot massage, gyms and pizzas: Anatomy of a farmers' protest in India
New Delhi: While discussions fail and a deadlock persists, the farmers' protest in north India over the new farm laws is suddenly making a lifestyle statement as supporters of the agitation at Singhu and Tikri borders could be seen installing makeshift gyms and massage centres to revitalize the men. Well, also throw in some pizzas to spice it up further in the 'fair-like' environment at the venue.
Several volunteers have now established gyms and massage centres to maintain their health as images of elderly peasants receiving a foot massage done have already gone viral on social media.
At the Singhu border near New Delhi, elderly farmers were caught on camera waiting outside the camp set up by Khalsa Aid to get their foot massage done.
The organisation installed 'calf and leg massage machines' at the site Friday and invited farmers to a 10-minute session each, reports The Indian Express.
Ranjeet Singh (60), who enjoyed his foot massage session, told the newspaper: "When I looked at it, I was scared. But I am happy now. We have been walking for days and are tired. We sleep in our trolleys, which isn't comfortable either. Today, when my friends told me about this centre, we rushed here and waited for 20 minutes outside the camp. This machine is amazing. I want to fall asleep here."
Amarpreet Singh, director at Khalsa Aid, told the newspaper they wanted to help elderly farmers who have been protesting at the borders for two weeks.
"We wanted to do the same at Singhu but there are a lot of people here. We thought it would be better to buy machines for the farmers. They are liking the experience. The heat and vibration helps with the leg pain. We have also bought generators. People can charge their phones and light bulbs," said Amarpreet.
Professional weightlifters and sportsmen have even set up make-shift gym near the camp for the farmers to train and keep themselves fit.
Aman (25), a transporter from Amritsar, bought dumbbells and weight training bars from Punjab for the protesters and said the Centre should repeal the farm laws that have triggered the protest.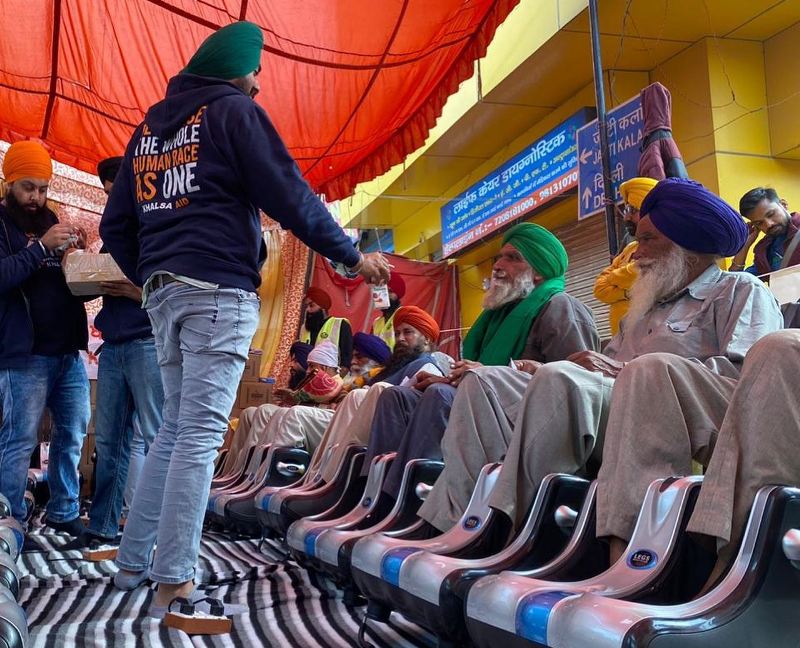 "The Centre should repeal the laws or we will open a gym and kabaddi ground here. I want people to concentrate on their health — play sports and exercise. I bought the equipment on the way to my house. There are a lot of young players who come and lift weights here," he told The Indian Express.
Not only Gym and massage machines, the farmers have been even treated with free pizzas at the sites of the protest.
Meanwhile, a section of netizens said the protest grounds have now changed to a 'huge fair'.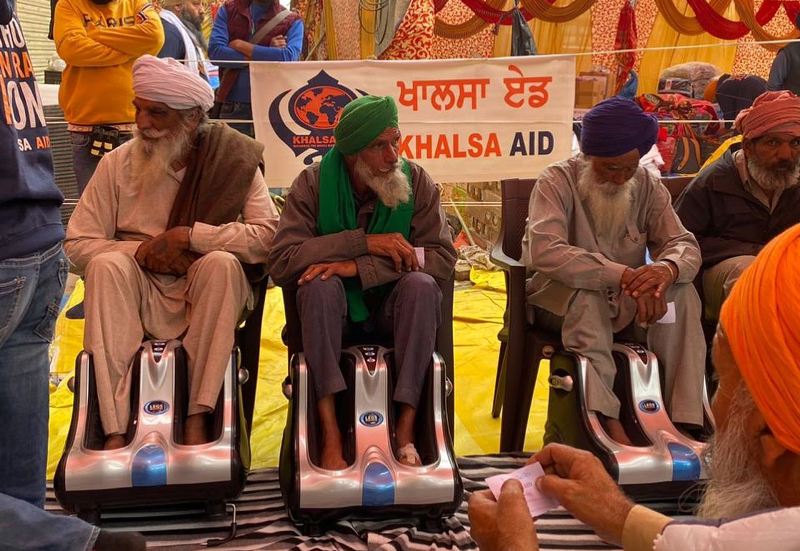 Image: Khalsa Aid FB page
One Rohini tweeted: "Instagram reels are coming from farmers protest ...it feels like everyone else and everything else is there except farmers.. it's a huge fair with variety of food, their own gym and entertainment."
Another netizen Dhruv said the protest has been 'hijacked'.
Another Amandeep Singh posted: "Farmers protest is becoming 'An event of the century' From Massage centre to Farming on National Highway, gym and theatre...all at Singhu border."
A netizen Rupa said: "After that foot massage and freshly baked pizza, one needs a workout too. Hence this make shift gym by and for the 'poor, hungry farmers'. Now I know why 'protests' are so popular in India."
Hundreds of farmers, mostly from Punjab, are camping at Delhi's Singhu, Tikri, Ghazipur and Chilla (Delhi-Noida) border points since the last 17 days.
The farmers' unions protesting the Centre's farm laws will take out a tractor rally on Sunday to block the Delhi-Jaipur Highway, vowing to intensify their protest even as Prime Minister Narendra Modi on Saturday said the laws are aimed at doubling their income by facilitating access to alternate markets.