Rajasthan Politics
Raised issues regarding party's working, never abused anyone: Sachin Pilot as he patches up with Congress
Jaipur/New Delhi/IBNS: Rebel Congress leader Sachin Pilot on Tuesday said he had only raised certain issues before the outfit's top brass, as the former Rajasthan Deputy Chief Minister is all set for a patch-up with his own party in the desert state Rajasthan.
Pilot told the media "I had raised certain issues. I have never spoken anything against anyone. I have no grudges. I have never abused anyone. I had issues regarding the working of the party.
"I had taken a stand over certain issues regarding working of the party. I am glad that the party has taken a roadmap to address the issues. I am working for the party. I am not thinking of any post."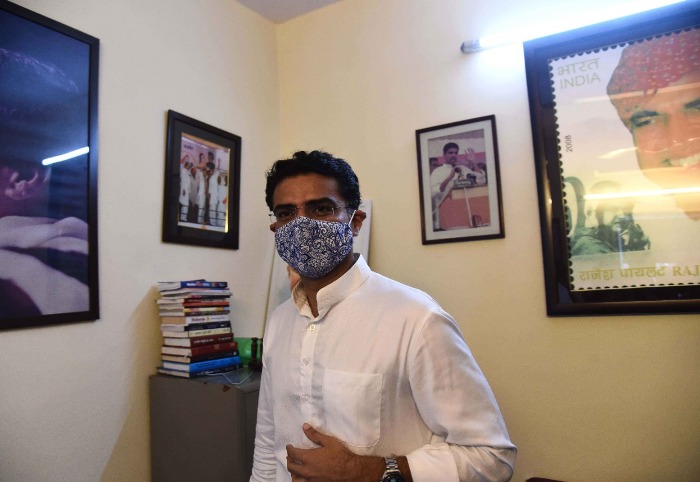 Congress leader Sachin Pilot interacting with media persons at his residence in New Delhi on Tuesday/UNI
The Congress in Rajasthan had earlier plunged into a political crisis, which went on for weeks, after Pilot and 19 of his loyalists flew to Delhi revolting against Chief Minister Ashok Gehlot.
The political turmoil reached the courtroom after the Pilot camp moved the Rajasthan High Court challenging the disqualification notices served to them by Speaker CP Joshi.
The breakthrough in the political crisis occurred on Monday after Pilot met Congress leaders Rahul Gandhi and Priyanka Gandhi Vadra, the two of the top three party leaders.
The political crisis has also been resolved just three days ahead of the Rajasthan Assembly session- called by Governor Kalraj Mishra- where Gehlot was supposed to prove his majority.
Meanwhile, in a meeting on Sunday, Congress MLAs have demanded that Pilot and the other rebel party lawmakers should not be accommodated in the party contrary to the wishes of Gehlot.
Rajasthan Urban Development and Housing Minister Shanti Dhariwal had said in the meeting held in Jaisalmer that betrayers should not be allowed to return, which was supported unanimously by other lawmakers, a Congress leader told HT.
All eyes will be on whether Pilot gets back his lost portfolios of Deputy CM and party's state unit chief.
After he had turned rebel, Pilot was sacked from both the posts by the Congress.