LIVE BLOG: Narendra Modi in Kolkata's Brigade Parade Ground
Prime Minister Narendra Modi on Sunday is addressing a high-voltage rally in Kolkata's iconic Brigade Parade Ground to set the ball rolling for BJP campaign ahead of the crucial Assembly elections in the state. This is Modi's first rally in the state after the announcement of the poll schedule.
Landed in Kolkata. On my way to the massive party rally. Looking forward to being among Party Karyakartas and the wonderful people of West Bengal.

— Narendra Modi (@narendramodi) March 7, 2021
Ahead of his arrival, actor Mithun Chakraborty joined the BJP at Brigade.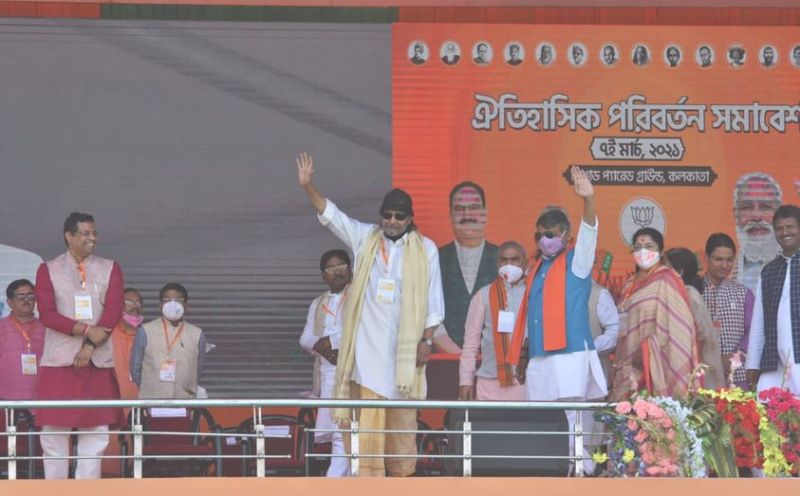 LIVE
Updates

Glimpses of Narendra Modi's Brigade Rally when actor Mithun Chakraborty also joined the saffron party
07 Mar 2021, 05:58 pm
Bengal is in DNA of Bengal, says Modi referring to Shyama Prasad Mukherjee
07 Mar 2021, 03:38 pm
"In Lok Sabha TMC became half, and this time TMC will be saaf (wipeout)," said Modi. 
You can start an Olympics on Corruption: Modi attacks Mamata
07 Mar 2021, 03:35 pm
"You keep saying- Khela Hobe, Khela Hobe. Well, you all are khiladis. You can organise an Olympic of corruption. Now this khel (game) should end. TMC game will now end and development will start," says Modi. I urge all: Do not be afraid. Vote against bad governance. Rid Bengal of fear. 
"Didi calls me Ravana, a demon. I am asking why she is so angry with me? If lotus is blooming in Bengal it is because of the cesspool you created."
Neither will I work, not let anyone work, that is what Didi has decided, says Modi
07 Mar 2021, 03:25 pm
He said: "BJP does not believe in only announcements. We will try to finish things within deadlines." "Many say I work for my friends. Well, like all of us we do not forget our growing up years and friends from childhood. I grew up among poor and so I know their problems," said Modi. He referred to the tea garden workers and said there are funds for their treatment. He said corona vaccines are free in government hospitals. "My friends are you all, all the poor."
Modi took dig at Mamata and ridiculed her on her attempt to ride a scooty recently to protest fuel price rise
07 Mar 2021, 03:15 pm
You chose to take the scooty to Nandigram instead of Bhowanipore, Modi said referring to Mamata's decision to contest from Nandigram. Modi said thank god you did not fall from the scooty, else you would have blamed the state where that scooty was manufactured. The scooty will trip in Nandigram, he said.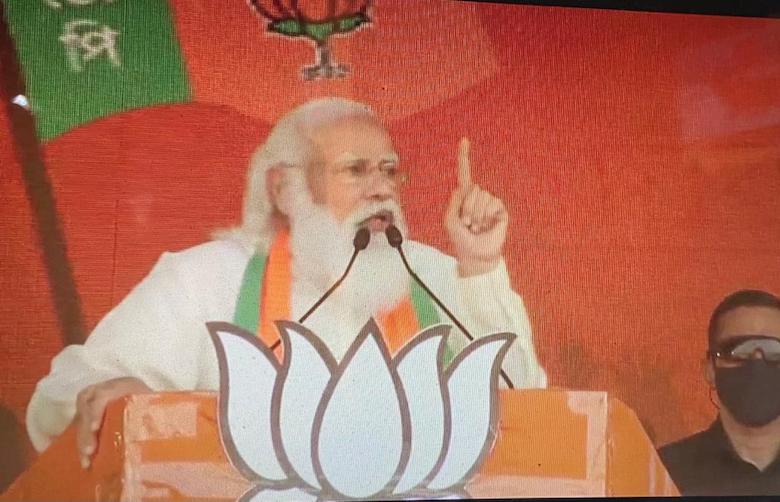 Modi attacks Left, says how come Leftists now seek blessing of Congress symbol hand that they wanted to break
07 Mar 2021, 03:04 pm
Have you seen any real change after Mamata Banerjee came? Have you seen that change? Is there a change in the politics of killings? You know what is happening now in the state of Ma, Mati and Manush (the slogan of Mamata). There is hardly a mother or daughter in Bengal who have not cried because of some atrocity. They have given away everything ot the syndicates and the black maketeers.
Now Bengal says in one voice: Aar Noy Anay (No More Injustice). Modi then urged people to raise voice against syndicates, extortion, violence, unemployment, terror, appeasement. The huge crowd hollered. 
Modi: We will finish the unfinished flyovers, the work of airport, we will give pucca houses for all
07 Mar 2021, 02:59 pm
We assure employment, educationa and healthcare for the elderly. The food processing industry will be developed in Bengal. You know how the democratic system has been destroyed here, we will bring back the people's faith in system. 
We will stop infiltration, we will ensure development for all and no appeasement: Modi
07 Mar 2021, 02:51 pm
Real change means a Bengal that people do not flee the state: Modi
07 Mar 2021, 02:50 pm
Real change means flourising of business and investment inflow. The poorest will also get an opportunity to move ahead.
People here have come for real Poribortan. I assure you of development of Bengal, to change the situation
07 Mar 2021, 02:47 pm
We will work 24 hours and very hard and live for you and for your dreams. We will serve you, we will win your hearts always with our work, our service and dedication and hard work. 
Referring to names of Netaji Subhas Bose and Swami Vivekananda Modi said Bengal tolerated a lot but it never lost hope of Poribartan (Change)
07 Mar 2021, 02:41 pm
Didi and his cadres destroyed your dreams and your hopes, said Modi. They destroyed the faith of Bengali people, they however could not break their courage. Bengal wants peace and development. 
Modi: Bengal made India proud with its great people it produced. I bow before this soil. I am lucky I am able to seek your blessing once again here in Brigade.
07 Mar 2021, 02:38 pm
Narendra Modi arrives at Brigade Parade Ground and waves at the people amid chants of the people
07 Mar 2021, 02:34 pm