Rajasthan
(From L to R) Ashok Gehlot and Sachin Pilot | Image Credit: Facebook/Ashok Gehlot/Sachin Pilot
Rajasthan political crisis: All Updates
The Rajasthan Congress once again fell into a crisis after over 90 of its MLAs loyal to Chief Minister Ashok Gehlot threatened to quit. The rebel MLAs demand either Gehlot, who is set to contest the Congress presidential elections, or his pick to be the Chief Minister of the state. Reports claimed the Congress top brass want former Deputy Chief Minister Sachin Pilot to replace Gehlot if the latter is elected to the Congress chief's post.
LIVE
Updates

Gehlot ousted for creating Rajasthan crisis, now Venugopal, Digvijaya, Kharge in Congress chief race
26 Sep 2022, 09:45 pm
Rajasthan rebellion can cost Ashok Gehlot his shot at the Congress chief's post
26 Sep 2022, 07:37 pm
Gandhis feel Gehlot 'humiliated' Congress and a rebellion by the Rajasthan MLAs couldn't have happened without his consent.
Ashok Gehlot apologises for Rajasthan situation but Gandhis upset with him
26 Sep 2022, 07:32 pm
Gandhis have not taken kindly to Ashok Gehlot's apologies as he denied a role in the mass resignation of over 90 MLAs, creating a political crisis in Rajasthan.
Entertainment game going on in Rajasthan Congress: Anurag Thakur
26 Sep 2022, 06:41 pm
Union Information and Broadcasting Minister, Anurag Thakur, said Monday an entertainment game was going on in Rajasthan Congress party.
He said, "While on one hand, the Chief Minister Ashok Gehlot is going to become the All India Congress party chief and on other hand, he was trying to save his government as there was a conflict in the party about the next Chief Minister."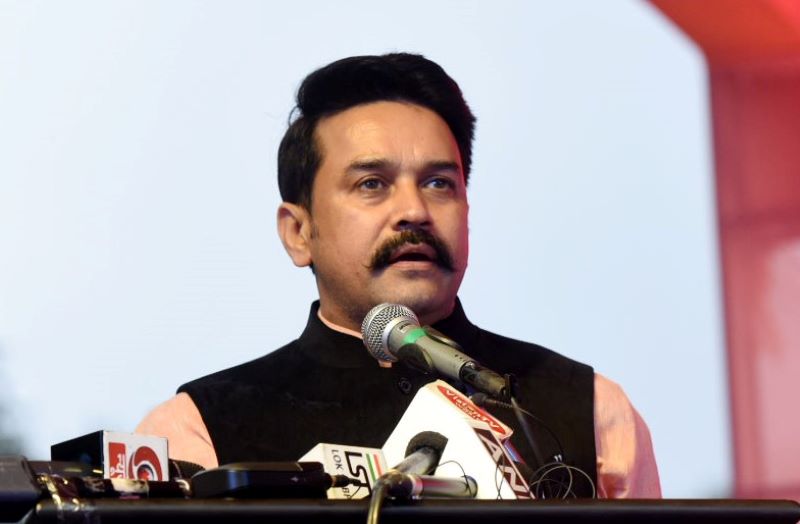 (Image Credit: UNI)
Kamal Nath arrives in Delhi
26 Sep 2022, 06:18 pm
Former Madhya Pradesh Chief Minister Kamal Nath arrived in Delhi to meet Congress interim chief Sonia Gandhi.
As per reports, Nath may mediate in the Rajasthan crisis. 
Ashok Gehlot to file nomination papers tomorrow
26 Sep 2022, 06:17 pm
Ashok Gehlot will be filing nomination papers for the upcoming Congress presidential elections Tuesday. 
Would be conflict of interest: Ajay Maken on Rajasthan MLAs' demand
26 Sep 2022, 02:37 pm
Responding to demands made by Ashok Gehlot loyalists and MLAs that any meeting on new Chief Minister be held after the Congress presidential election, Ajay Maken said as quoted by NDTV, "It would be conflict of interest as the resolution would be passed when Ashok Gehlot may already be party chief. So, he empowers himself to decide on his own successor in Rajasthan."
Gehlot says matter not in his hands
26 Sep 2022, 02:32 pm
Ashok Gehlot has claimed the matter is not in his hands and the rebel MLAs are not ready to accept Sachin Pilot as the next Rajasthan Chief Minister. 
Union Minister Anurag Thakur takes dig at Congress
26 Sep 2022, 01:20 pm
Mallikarjun Kharge, Ajay Maken to return to Delhi
26 Sep 2022, 01:18 pm
Congress senior leaders Mallikarjun Kharge and Ajay Maken, who went to Jaipur to resolve the crisis, are set to return to Delhi by 3:30 pm.