Sahana Bajpaie
Image Credit: IBNS
Young generation's liking of new kind of Rabindra Sangeet most important: Sahana Bajpaie
Bengali singer-songwriter Sahana Bajpaie took over the Hard Rock Cafe Kolkata's stage Sunday evening with Rabindra Sangeet, which is being played for the first time since the joint opened in the city's sunset strip that is Park Street. Bajpaie, who is originally from West Bengal's Shantiniketan, played Tagore, DL Ray and her own songs for the guests who gathered at the cafe when monsoon rains kept the city wet. India Blooms correspondent Souvik Ghosh speaks exclusively to Bajpaie on the sidelines
Q. Tagore songs being sung at Hard Rock Cafe for the first time!
A. This is the first time Rabindra Sangeet, (songs of) Dwijendralal Ray will be played here, yes.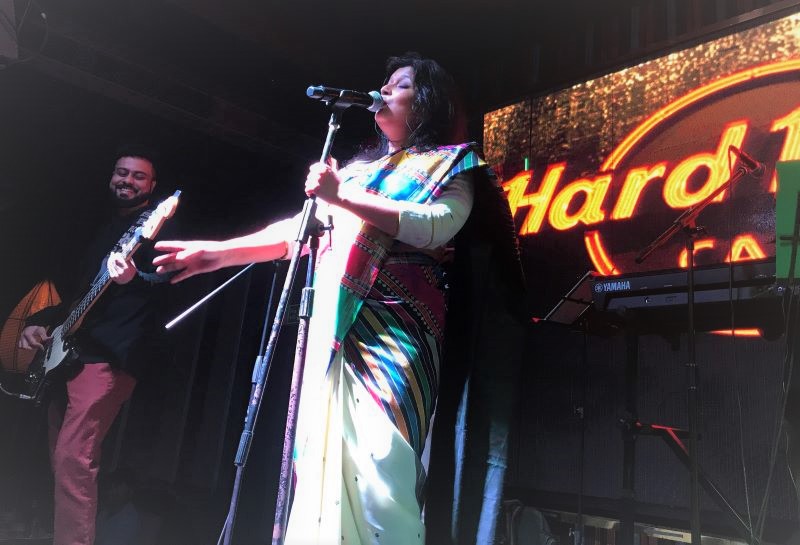 Q. How did you prepare yourself for this live show with such a heavy sound? Is the process the same?
A. The process is the same. It's all about practice. There is no other process actually. I have brilliant and experienced musicians with me.
Sahana Bajpaie initially was not keen to perform at this gig but she agreed after being pressed by her friend and Hard Rock Cafe Kolkata owner Ankur Saraogi
Q. Would you agree if I say you have somehow revolutionised Tagore songs.
A. I don't want to carry the weight of the word revolution on my shoulders. I would just say that we did start working on Rabindra Sangeet in Shantiniketan in the 1990s when singer-songwriters like Kabir Suman (then Suman Chatterjee), Nachiketa, Anjan Dutt apart from the bands were coming up.
From the late 1990s onwards, we started realising that kids from our generation were not listening to Rabindra Sangeet at all with the advent of band and guitar songs. So we thought if we sing Rabindra Sangeet with guitars, loops from keyboards, maybe it would be acceptable.
Q. So what was the idea?
A. We were not thinking of revolutionising Rabindra Sangeet. We were just thinking that we know such lovely songs and they are so instrumental in creating our subjectivity. We needed to make people hear it. It wasn't a conscious effort in deconstructing Rabindra Sangeet and performance.
We are very fortunate that a lot of people including kids and children listen to us. Children listening to us is the most important thing as they will live and remember this kind of Rabindra Sangeet and introduce it to their next generation. Children's liking of the kind of music perpetuates a particular art form that needs to be perpetuated.
Q. Often backlash comes when we try to deconstruct certain things, particularly when we celebrate a certain individual.
A. I do experience that in bits and pieces. Just a few days ago, I received a backlash from a very important Rabindra Sangeet singer's husband, who had an issue with singing Rabindra Sangeet with a lot of music. I didn't reply to him though. Like these, a lot of times I have experienced such backlashes.
Sahana Bajpaie, who claimed to be "scared" before the gig, performed with such heavy music for the first time
Q. You have started working on Tagore songs in a non-digital era. Has the work become easier with the coming of the digital medium?
A. It definitely has. It's quite helpful actually.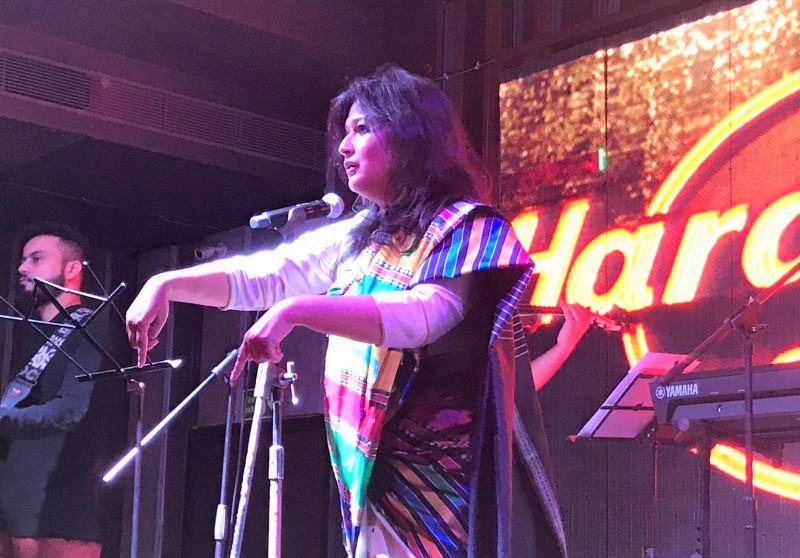 Q. You are travelling back to London.
A. I am going back. I have to join my job. I have been on my research leave for the last three years. I will have to finish my PhD.
Q. Will you be travelling back to India soon?
A. Of course, I will.
Q. So your fans won't be disappointed.
A. No, no, no. I will. I have always done it. I come every two months to have a gig.