The story behind "Leirum Phee" scarf worn by PM Modi during his lockdown address
Imphal: The entire nation waited with bated breath on Tuesday morning for Prime Minister Narendra Modi's message on lockdown-issue as India fights the deadly coronavirus pandemic.
As the news of the extension of the lockdown sank in, many, especially those, familiar with the intricacies and history of traditional fabric, realised that the Prime Minister used "Leirum Phee" as a scarf to cover his mouth and nose, and through it tell the people to do the same in their bid to arrest the spread of the deadly virus, during this critical juncture.
The Leirum Phee is a beautiful cotton cloth of ancient origin, intricately designed using only three colours-- red, black and white-- signifying three guardians of the Universe.
It is used by the people of Manipur to signify purity, strength, unity and heralding a new beginning in life.
Phee literally means cloth in Manipuri.
All the communities of Manipur, the tribal brethren mostly belonging to the Naga and Kuki groups, Pangal (Manipuri Muslim) and the Meitei people are proud owners of colourful clothes, fabrics interwoven with fables and history so fascinating that every design, the motif has its own tale.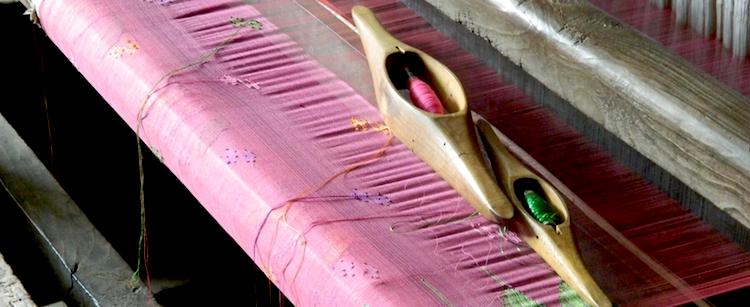 Image: Incredible India
Among the special fabrics the Leirum Phee is an important component of Meitei marriage as one such cloth has to be presented by the parents to their daughter. Manipur government also uses it while honouring all dignitaries and visiting luminaries.
The origin of the Leirum Phee has many theories, and identical designs can be seen in the dresses worn by Tangkhul and Meitei people. Earlier, it was used as a loincloth but with the passage of time, to meet high demands, it underwent changes in the production process.
There are references of the cloth being given as a gift by a Tangkhul chief during the marriage of his daughter to King Irengba (984-1074), the marriage of Goddess Ireima etc. There are many stories associated with the cloth and many communities have different versions which need an exhaustive debate and write up.
As soon as the announcement of the future course of action was announced by the Prime Minister today, the social network platforms witnessed a discussion on the use of the Manipuri cloth in this crucial time. Many recalled that the Prime Minister used the cloth during his address to the nation on Independence day from the ramparts Red Fort last year.
People largely reflected that the symbolic message of unity, purity and strength was conveyed by the Prime Minister as we are on the threshold of a major global struggle to contain the spread of coronavirus.
There was general consensus among the people that the nation will surely overcome the pandemic with the combined efforts of the Prime Minister and the people on the one hand, and the gift of the eternal Leirum Phee to the nation of a new beginning-- bright, peaceful and powerful.