Shiraz celebrates Ramdan with Haleem
Kolkata, July 5 (IBNS): Kolkata's Shiraz Golden Restaurant is laying out a special delightful spread this Ramdaan holding the 'Wah Haleem' Festival from Friday with preparations of Haleem from around the world.
Ramdan comes with the observation of Roza when this spicy stew is prepared with meat chunks, lentils and wheat.
"Haleem originated from the fusion of cuisine of Arabian and Persian settlers in India. The most important fact about it is that the original cooking style has not been changed," said Ishtiaque Akmed, Partner, Shiraz Golden Restaurant.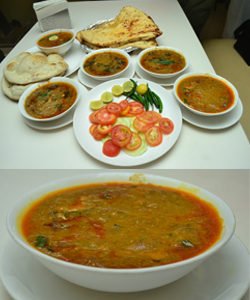 This Awadhi Restaurant has been flourishing in the heart of Kolkata at Mullickbazar for over five decades. The group aims in expanding its "food prints" all over India and abroad.
The Chief Chef of Shiraz boasted, "Our style of cooking has always kept us distinguished from the others." Shiraz embraced the 'Dum Pukht' style of cooking.
Although 'Ghost Haleem' and 'Murgh Haleem' are the most desired, other distinguished preparations are also in demand. A meal for two costs around Rs. 150/- plus taxes.
When asked on the popularity of Shiraz's dishes, Ishtiaque Ahmed said: "We have retained the Arabian version of using aromatic spices in our Haleem , this renders an edge over other preparations."
The festival that started on Friday will be on till 31st July.
(Reporting by Shubhashree Hom, image by Avishek Mitra)
Shiraz celebrates Ramdan with Haleem
India Blooms News Service
Post your comment: