Kolkata: Starmark, Poetry Paradigm host the launch of Ananya Chatterjee, Joie Bose's books
Kolkata, Nov 17 (IBNS): Kolkata's leading bookstore chain Starmark, in association with Poetry Paradigm, has recently hosted the launch of two books of poems at its Quest Mall outlet here – Ananya Chatterjee's The Blind Man's Rainbow and Joie Bose's Corazon Roto and Sixty Nine Other Treasons.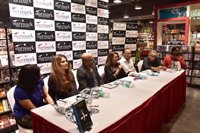 Present at the launch were Rita Bhimani, Barun Chanda, Jayant Kripalani and Ashoke Vishwanathan who took part in a lively and interesting discussion on the two books which followed their launches.

Thereafter, Ananya Chatterjee and Joie Bose signed their books at a book signing session.

Both the launch and the discussion were moderated by Arthur Cardozo, himself a poet, cartoonist, writer and advertising professional, who, like the two authors, is also an active member of the Poetry Paradigm group of poets.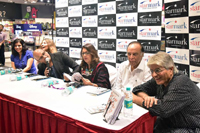 Ananya Chatterjee is a bilingual poet and translator in English. She is the author of the bestselling title The Poet & His Valentine, a collection of verses. Her work has also been published as part of the anthology on erotica Hot Summer Nights 2014 by Inner Child Press Ltd., USA. Ananya also worked as a translator for the poems by Soumitra Chatterjee, as published in the coffee-table book Forms Within. In 2014, she, with Shruti Goswami, co-authored Another Soliloquy, another book of poems.

Joie Bose is an educator and a corporate trainer, who has taught in Jadavpur University, Techno India University, Sikkim Manipal University, Heritage, Surendranath College, Wipro, Cognizant and Larsen & Toubro.