The French Loaf introduces an array of French éclair confectioneries for Valentine's Day
Bangalore, Feb 8 (IBNS): The French Loaf, a bakery chain in the country, has introduced wide range of French eclair confectionaries designed by Chef Boopesh, Corporate Chef- The French Loaf & Le Chocolatier.
On this occasion, the bakery chain hosted a special product preview event on Monday in presence of chefs, food connoisseurs and other dignitaries at The French Loaf, Clarke's road outlet.

To make the Valentine's Day more vibrant The French Loaf team unveiled the widest range of Éclair pastries in different exotic flavours.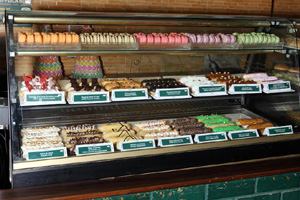 Crème de fruits frais - Fresh fruit Custard, Classique mousseline à la vanilla - Classic vanilla mousseline, Fantaisie de chocolat - Chocolate Fancy, Fraises fraîches sur le français crème patisserie - Fresh Strawberry on French pastry cream are a few from the newly introduced by the confectioners that will furnish the joy of love this season.

Apart from French éclair range they have also launched an array of mouth-watering sandwiches and savouries.

Speaking on the occassion, Chef Boopesh, Corporate Chef, The French Loaf & Le Chocolatier, said, "The French Loaf is known for offering hand-crafted exclusive products and has been always a sought after destination for bakery lovers. Every quarter we introduce a new range of products and today, we have launched a new range of authentic French éclair pastries. These products are blended with luscious flavors of Caramel, Chocolate, Strawberry and many more from the French cuisine to celebrate the occasion. Apart from this, we have also introduced varieties of sandwiches and savouries which would give an experience of complete joy".

This exclusive range of products will be available at The French Loaf outlets from Monday.