7 Most Common Mistakes Startups Make and how Lean Startup works
Almost all start-ups are known to have challenges in the initial stages. There is a whole lot of concerns that arise and that can result in mistakes, some of which can be big ones. So it is important for you to get an idea of which are the typical mistakes that startups make so that you can address those or at least be aware of them. A goodentrepreneurship management coursecan give you insights and awareness about these as well.
1. Not building a strong team – Agreed that all startups are driven and led by strong founders, but if the founders do not spend time and effort in building a strong team, the startup is likely to fail. The lack of a team means that the founder ends up doing everything – strategic as well as tactical work. And the latter is far more time-consuming in the initial stages, whereas the strategic element needs a higher degree of importance even then.
2. Not assessing the need of the market – You have a great idea for a startup. But does that mean that the market needs that product or service? Not necessarily. Many a times, startups work on creating a product or service based on the idea they have and believe it to be a viable one. Without sufficient and extensive research it is difficult to say whether it will work or not. Consumer needs should be at the core of all such decisions.
3. Not being fearless – It is understandable that you are working with limited resources, but even so, start-ups need to be able to work out how to take calculated risks. Being scared to take decisions or big steps is a mistake. In order to continue to grow and scale up, being fearless without being foolhardy, is important.
4. Being inward focused – You think your startup culture is the best and believe that you have the best practices for your workforce. Looking inwards is a mistake, you need to know what kind of new-age practices and programs are present in the market, and track what kinds of cultures attract the talent that you are looking for.
5. Not hiring correctly – If you do not recruit the correct team members or employees, it can prove to be disastrous. You need to have a robust hiring process that resonates with your business requirements. Replacement costs of those who exit the startup can be significantly high, as will be the business loss. So it is better to spend time in creating a great process right from the beginning.
6. Not persevering -Startups are not about instant success, no matter what the media tells you. They are about perseverance and hard-work. If you lose heart or interest because of some initial setbacks it can prove to be a big mistake, and you might have stopped before you realize the potential of your idea. So remember to remain committed.
7. Worrying about funding – It is understandable that you will be worried about how to financially sustain the venture. But being overly concerned about the funding can be a mistake. It will lead you to take steps that you might have otherwise not taken. You may also be tempted to shift focus, to suit the funders' requirements rather than your own belief. So do not fall into the trap of letting funding drive your decision making or the direction your startup takes.
The Lean Startup is a concept is explained visually in the below picture. It is an approach that works in the form of a loop, in order to create a startup that has long-term viability and develop a product faster. The whole focus is on ensuring a planned approach to start-up management. This helps to reduce or mitigate the risks that traditionally associated with startups. The build-measure-learn feedback loop makes sure that the learning is incorporated into the building process on an ongoing basis, rather than as a one-off strategy.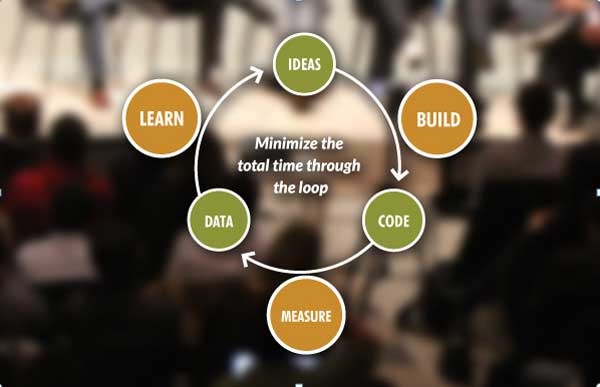 Using measurement and regular tracking as tools, the startup is able to make sure that it can assess and anticipate major challenges or glitches that can arise in its product, before it actually hits the market. However, those who do not believe in this approach feel that many start-ups tend to use this strategy to release incomplete products in the market. So that is yet again, a mistake that you need to be aware of. It might also be that the companies using this method to create a viable product are rushing it in order to gain funding support.
To get better understanding of this and the mistakes that happen at a practical level, do explore courses in entrepreneurship from Talentedge to learn more about startups and how to make them work.