Globsyn Skills hosts National Skill Convocation in Kolkata
Kolkata, Jan 17 (IBNS): Globsyn Skills (GSDL), in association with the National Skills Development (NSDC), hosted the second edition of its National Skills Convocation in Kolkata on Saturday to recognize over 1100 trainees.
West Bengal Technical Education and Training minister Ujjal Biswas was present at the event here as the chief guest.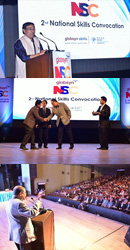 The convocation helped the participants of Globsyn's skill development programmes in improving their self-image and also provides them with a sense of empowerment by providing them a spectacular arena to get their achievements acknowledged.
Globsyn Skills used the National Skills Convocation as a platform to recognize and acknowledge the different stakeholders of the skills ecosystem – training partners, faculty and corporates – who play an invaluable role in transforming the lives of the youth who participated in the training programs.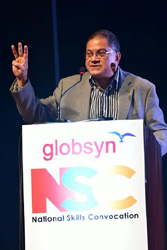 Managing Director of Globsyn Skills Rahul Dasgupta said, "In line with our Prime Minister Narendra Modi's vision of Skill India and his mandate of making vocational skills aspirational, Globsyn Skills organises the National Skills Convocation every year. This year, the Second National Skills Convocation will not only provide certificates to the students but also provide recognition to the other stakeholders - the training partners, faculty and corporate recruiters."
The Second National Skills Convocation also witnessed offer letters from notable corporate houses being given to over 50 successful trainees while the best students of Globsyn's Finishing School were offered apprenticeship opportunities with some of the leading IT companies.

(Reporting by Deepayan Sinha, Image: IBNS)