GST Bhawan
Image Credit: PIB
Finance Minister Nirmala Sitharaman inaugurates GST Bhawan at Agartala
Agartala: Finance Minister Nirmala Sitharaman inaugurated the 'GST Bhawan' in Tripura's capital Agartala on Friday.
The office complex will house the offices of CGST, CX and Customs for the Agartala, Guwahati Zone under CBIC.
The project is located at Mantri Bari Road, Agartala and has quick and easy access to all the taxpayers, the ministry said.
It is also located at a distance of about 10 km from the newly created Agartala Airport complex.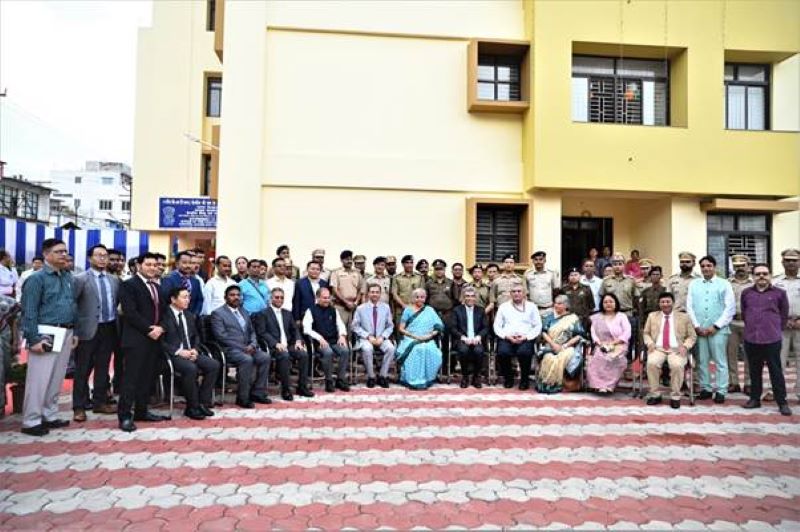 Revenue Secretary Sanjay Malhotra; Chairman of Central Board for Indirect Taxes and Customs (CBIC) Vivek Johri; Member, CBIC Sanjay Kumar Agarwal; Member, CBIC Alok Shukla; Chief Commissioner CGST, CX and Customs, Guwahati Zone Yogendra Garg; senior officers from CBIC, officers and staff from CGST & Customs, Guwahati zone were present.
Addressing the gathering, Finance Minister Nirmala Sitharaman congratulated the people of Tripura on inauguration of GST Bhawan.
She emphasised the importance of good infrastructure which can be leveraged to serve taxpayers in a better resulting in improved revenue collection.
"The building will help the common citizens to come and get facilitated in GST related matters. It increases accessibility of officers to the public. This will help the common citizens to come and get facilitated in GST related matters," she said.
The Finance Minister highlighted that post GST, revenue generation for Tripura has been extremely favourable.
"Before the GST was introduced, Tripura received only Rs 4.21 crore as Central Sales Tax (CST) in FY 2016-17, whereas the state collected Rs 982.50 crore IGST in FY 2022-23 from Inter-State trade. Also, with GST Bhawan, it becomes important to carry out outreach along with State to make people aware of benefits of GST and encourage more people to get enrolled," Sitharaman stated.
Revenue Secretary Sanjay Malhotra said that infrastructure is important but is relatively easier to create. The more difficult task is to maintain it and ensure that it is used effectively.
Chief Commissioner CGST & Customs, Guwahati Vivek Johri stated that GST Bhawan Agartala would address the need to provide better taxpayer services by CGST Commissionerate as the number of taxpayers has grown from 1,734 pre-GST to over 12,500 taxpayers in 6 years of GST.
He assured that GST outreach programmes would be conducted both in this new office as also offsite as directed by the finance minister.
The project was completed in time despite two waves of COVID-19 affecting work and within stipulated timelines of agreement.
"The plot of 0.71 acres has a built-up area of 3,000 Sq. mtrs or 32,300 sq. ft, thus the average cost of construction is pegged at Rs. 93,333/- per sq. mts or Rs. 8,668/- Sq feet. The cost of Rs. 8,668 per sq ft is far less than the average cost of construction in Agartala despite best possible facilities and best-branded fittings," the Finance Ministry said.
The CGST Agartala Commissionerate was created and started functioning in a rented building initially located at Lenin Sarani, Jackson Gate Building, Agartala, Tripura in 2017.
The Customs Division and Audit Circle were also functioning at other rented buildings at Agartala.
The proposal for CGST Bhawan was approved for construction by CPWD in July 2019.
The land measuring 0.71 acre, which was selected for the construction of the building, was owned by the Customs Division, Agartala.
The building was completed at a cost of around Rs. 28 crore and handed over by CPWD in December 2022. The total area of the building is about 3,000 sq. mt.
There are a total of 8 floors including the ground floor.
The building possesses an 11 KVA transformer fed by dedicated underground cables and also owns a DG set for handling power failures.
The 1st, 2nd, and 3rd floor contains the CGST Commissionerate Office. The Audit Circle and Customs Division are sharing the 4th floor and the Customs Division is housed on full of the 5th floor.